Swiss Army Man (2016)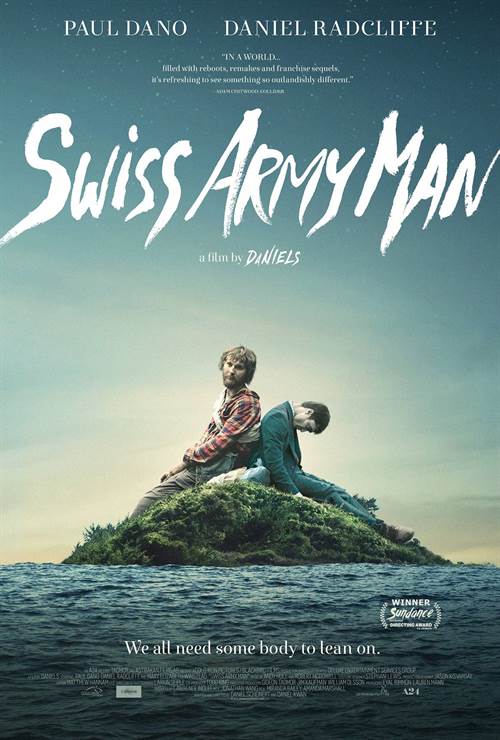 | | |
| --- | --- |
| Director: | |
| Writers: | |
| Cast: | |
| Released: | Friday, June 24, 2016 |
| Length: | 97 minutes |
| Studio: | A24 |
| Genre: | Drama |
| Rating: | Under 17 requires accompanying parent or adult guardian. |
Swiss Army Man Synopsis
Hank (Paul Dano) is stranded on a deserted island, having given up all hope of ever making it home again. But one day everything changes when a corpse named Manny (Daniel Radcliffe) washes up on shore; the two become fast friends, and ultimately go on an epic adventure that will bring Hank back to the woman of his dreams. Outrageously fun and deeply affecting, Swiss Army Man is a gonzo buddy comedy that is the feature film debut of acclaimed music video directors Daniel Scheinert and Daniel Kwan (collectively known as DANIELS, and responsible for the visionary "Turn Down For What" video, among many others). Bursting with limitless creativity in both form and content, Swiss Army Man goes from the absurd to the emotional to the whimsical to the profound and back again.

Purchase DVD/Blu-ray/4K UHD physical copy of Swiss Army Man today at Amazon.com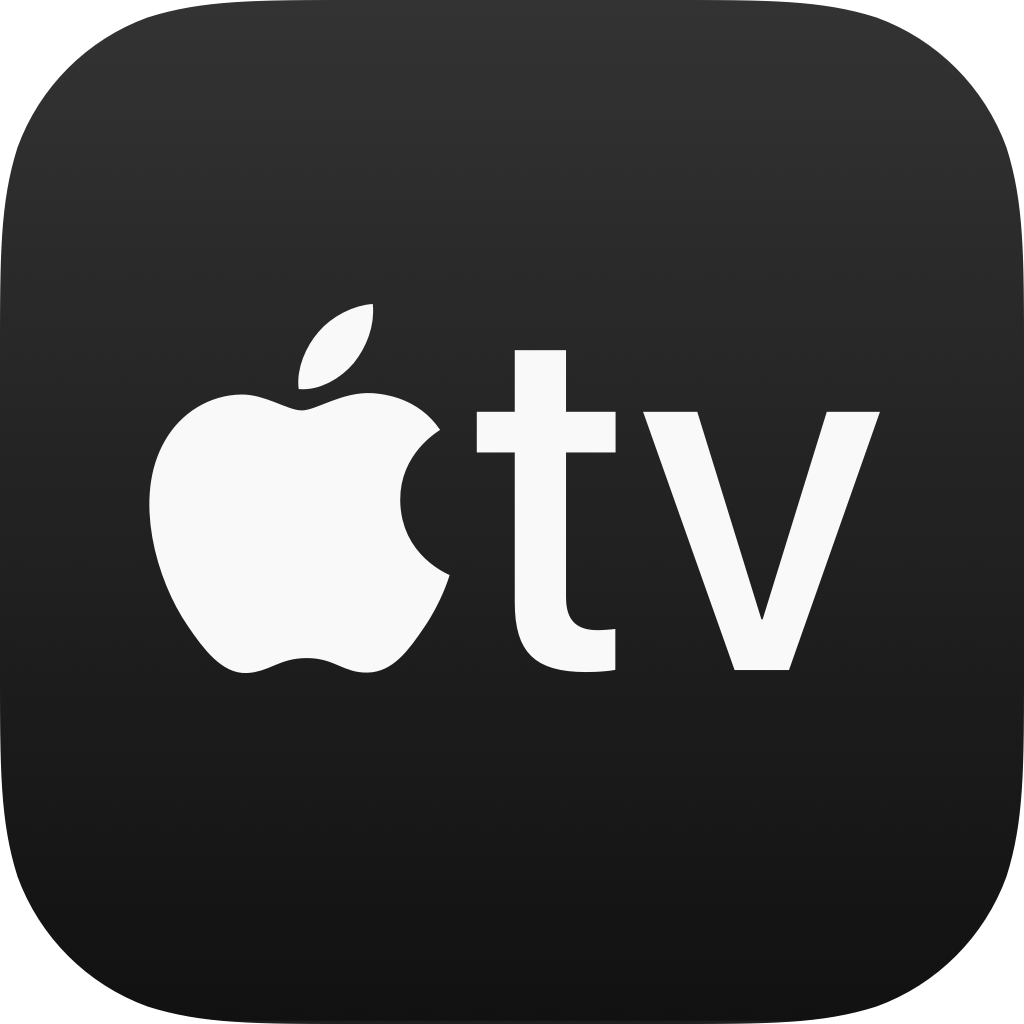 Stream Swiss Army Man in Digital HD/4K from the AppleTV store.
Swiss Army Man images are © A24. All Rights Reserved.
Swiss Army Man Blu-ray Review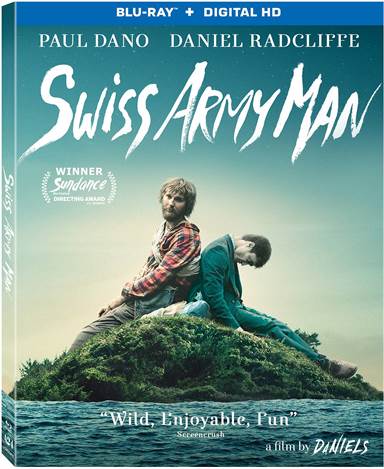 There have been so many moments while watching movies that I complain endlessly about the lack of creativity in Hollywood. Well, for the first time, I have to admit this is not one of those films. Out this week on Bluray is Swiss Army Man, starring Paul Dano (Little Miss Sunshine, Looper) and Mr. Harry Potter himself, Daniel Radcliff. (And, I'm sorry Daniel - no matter how many films you do…you will always be Harry Potter!) The funny thing is, this film is basically just the two of them! In fact, the whole entire cast only includes 11 people! While Mary Elisabeth Winstead is a small bit of a focus in the story, for most of the film, she's a photo on a phone and only shows up in small cameo form.
So, let's dive into this! Basically, Swiss Army Man starts off with Hank (Paul Dano) hanging from a rope, standing on a cooler about to kill himself after being stranded on an island for a unknown amount of time. While standing on that cooler, he looks out at the waters edge and sees a body. He rushes to the body and finds that it was pushed in from sea and is pretty much dead. Hank pulls the belt off the body and attempts to re-hang himself. While standing on that cooler the second time, he hears a fart. Yes. The body is now farting. Farting so much that the body is flopping around like a fish. At this point, Hank gets down one more time, runs down to the shore where the body is now moving, as if the farts were a motorboat jet. Hank then jumps on top of the body and uses the farting corpse as a jet ski. Why are you looking at me like that? I'm not messing with you! This all happens before the title credit.
Upon walking up on another shore, Hank decides to explore to find if civilization is out there and decides to take Manny (The body played by Daniel Radcliff) with him. While using a cave as shelter, Manny decides to start talking (after a weird water moment that I will let you enjoy for yourself). As Manny asks questions about life in general (it seems as if after death you have no memory), Hank starts teaching Manny all about life, the universe and everything in it.
While on this journey together, Hank finds that Manny has many unusual gifts (beside farting a a lot). He can shoot things from his mouth and use his arm like a chopping tool; hence, the Swiss Army Man title. Smart, huh?
I won't go into the ending, and since it's only 90 mins long, it's not deep in plot story or content, but suffice it to say, the most intriguing part is Hank and his explanations and realizations about life. Truly, at the heart of the film, that's what its all about. There's so many questions one wants to ask. Like, how does he get there? How long was he stranded? Is Manny really alive/dead or the un-walking dead? Is this supposed to be a fantasy piece or is Hanks character just insane? You'll have to watch it to see for yourself, but I will warn you… there's A LOT of farting going on. Not to mention a sighting of Daniel Radcliff's pale white butt that you cant unsee.
I will say this - I can't say Swiss Army Man isn't creative or new. In fact, one of my favorite things about this film is the use of the soundtrack! The soundtrack is all acapella arrangements, using the voices of Radcliff and Dano. It's really quite cool and who doesn't love the idea of hearing John Williams in acapella!
At the end of the day, I thought Swiss Army Man was creative for sure, and kept my attention, but just made me feel like I watched one weird movie! I even hate the idea of saying this, but I think it may have been… too creative! Dammit! I said it and hate myself for doing so!
The Blu-ray extras are equally as weird as the film itself. There is the obligatory commentary with the writer/directors and sound mixer/fartist (yup -fartist) as well as the deleted scenes. Then, you have the more interesting Q&A with the filmmakers that clocks in at just over an hour. Finally, there is the somewhat worthless "Making Manny", which could have been done differently and been a real showcase piece of all the extras, plus a 16 minute Swiss Army Man: Behind the Scenes that was simply ok and, you guessed it…a little weird.
The video is presented in 1080p high definition with a 2.40:1 aspect ratio. The audio is Dolby Atmos/Dolby True HD 7.1 and both are a real treat. The video is vibrant with a range of colors, which is especially true in the forest sequences with the lush leaves, and the fullness of the audio is truly a gem in this overall so-so film.
If you like creative, strange, little films, you'll love Swiss Army Man. If you're looking for a date night film, this is not the flick for you! But if you've already binge watched all your TV shows and want to see something different, it's worth a look see.
I give Swiss Army Man 2.5 stars out of 5. It wasn't Oscar worthy, but it was a fun little picture and Kudos for the soundtrack decisions, that was brilliant. But, points off for the vision of Harry Potter's pale a**, motor-boating through the ocean!

Grade: C+
For more reviews please visit our film/television review section.
SPONSORED LINKS