A Star Is Born (2018)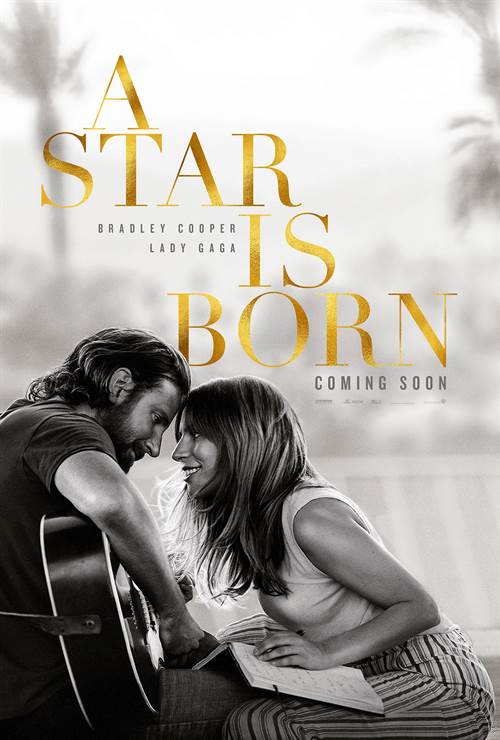 Share this:
| | |
| --- | --- |
| Director: | |
| Writers: | |
| Cast: | |
| Released: | Friday, October 5, 2018 |
| Length: | 135 minutes |
| Studio: | Warner Bros. |
| Genre: | Musical |
| Rating: | Under 17 requires accompanying parent or adult guardian. |
Synopsis
"A Star is Born" stars four-time Oscar nominee Bradley Cooper ("American Sniper," "American Hustle," "Silver Linings Playbook") and multiple award-winning, Oscar-nominated music superstar Lady Gaga, in her first leading role in a major motion picture. Cooper helms the drama, marking his directorial debut.

In this new take on the tragic love story, he plays seasoned musician Jackson Maine, who discovers—and falls in love with—struggling artist Ally (Gaga). She has just about given up on her dream to make it big as a singer… until Jack coaxes her into the spotlight. But even as Ally's career takes off, the personal side of their relationship is breaking down, as Jack fights an ongoing battle with his own internal demons.

The cast of "A Star is Born" also includes Andrew Dice Clay, with Dave Chappelle and Sam Elliott. In addition to playing Ally, Gaga, who earned her Oscar nod for the song "Til It Happens to You" from "The Hunting Ground," performs original songs in the film, which she wrote with Cooper and a handful of artists, including Lukas Nelson, Jason Isbell and Mark Ronson. All the music is original and was recorded live.

"A Star is Born" is produced by Bill Gerber, Jon Peters, Bradley Cooper, Todd Phillips and Lynette Howell Taylor. Ravi Mehta, Basil Iwanyk, Niija Kuykendall, Sue Kroll, Michael Rapino and Heather Parry serve as executive producers. The screenplay is by Eric Roth and Bradley Cooper & Will Fetters.

Collaborating with Cooper behind the scenes are Oscar-nominated director of photography Matty Libatique ("Black Swan"), production designer Karen Murphy, three-time Oscar-nominated editor Jay Cassidy ("American Hustle," "Silver Linings Playbook," "Into the Wild"), and costume designer Erin Benach.

Purchase DVD/Blu-ray/4K UHD physical copy of A Star Is Born today at Amazon.com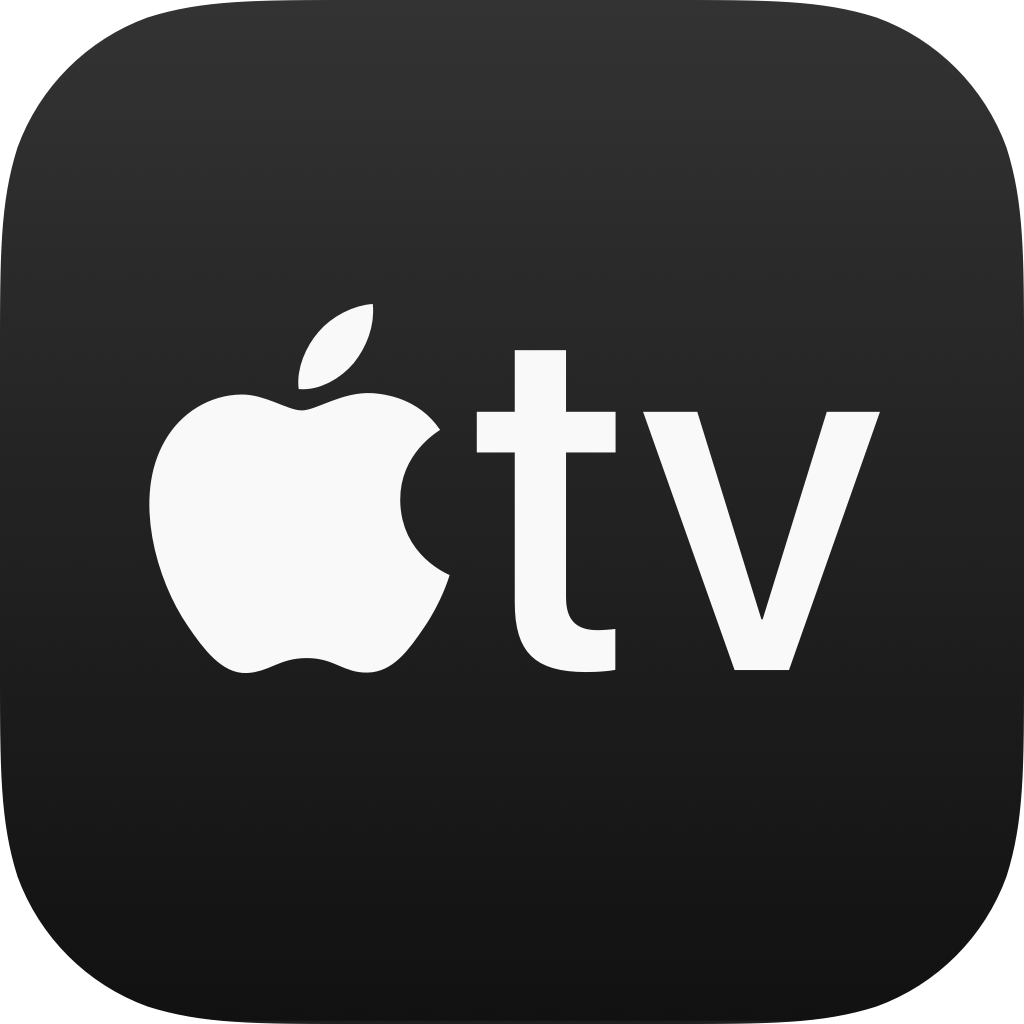 Download A Star Is Born in Digital HD/4K from the iTunes store.
Listen to the A Star Is Born soundtrack on Apple Music.
A Star Is Born images are © Warner Bros.. All Rights Reserved.
Bradley Cooper and Lady Gaga to Perform at the Oscars
2/3/2019 6:55 PM EST
Lady Gaga and Bradley Cooper have officially been added to the list of performers for this year's Oscars. The duo will perform their song "Shallow" from their film "A Star is Born"The song has been nominated for Best Orginal Song along with four others. Each of the nominees will reportedly perform 90 seconds of their song. Originally, it was said that not all of the nominees would be able to perfo...
More>>
A Star Is Born Theatrical Review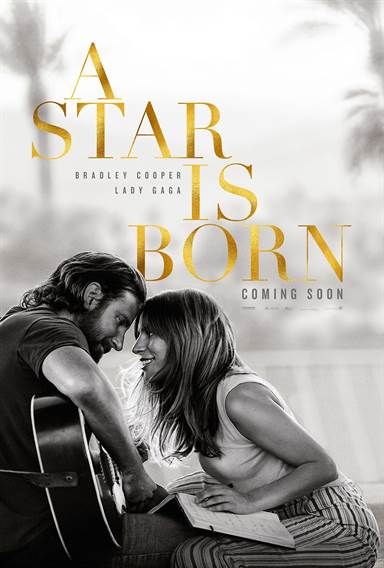 An actress emerges from her shell…a new director proves his worth…a movie that entices all of the senses and emotions in one's body…
A Star is Born
and the fourth iteration of the movie may be the best one to date. The first film from 1937 starred Janet Gaynor (
Sunrise
) and Fredric March (
The Best Years of Our Lives
) and tells the story of Esther who becomes an overnight sensation after being cast in a movie. In 1954 Judy Garland (
The Wizard of Oz
) and James Mason (
20,000 leagues under the Sea
) remade the movie and then again in 1976 the movie once again hit the big screen starring Barbra Streisand (
Funny Girl
) and Kris Kristofferson (
Blade
) this time. Here we are in 2018 and Bradley Cooper (
Silver Linings Playbook
) and Lady Gaga (
American Horror Story
) have taken up the reigns.
Jackson Maine (Cooper) is a world-famous musician. He is also an alcoholic loner. Ally (Lady Gaga) is a singer/songwriter who performs in a drag club. When their paths cross it is "fate" and Jackson is instantly smitten with her. Ally, on the other hand, lacks the confidence to believe the talent Jackson sees in her until he forces her hand and makes her sing one of her songs with him on stage. From that point on he is truly in love wither while her world is completely changing.
Ally suddenly finds her self on tour with Jackson while sharing his bed. As she gains more and more attention, Jackson seemingly becomes jealous. He also tries to warn her of the hazards of fame while watching her change everything she is and does which causes a strain on their relationship. Ultimately, her newfound fame and his declining popularity cause irrevocable damage to their personal lives creating a chasm between them that is too wide to bridge.
As the fourth go around you can't help but wonder why remake this story again. However, it is extremely difficult to find anything wrong with this film, which is a convincing argument for another version. Cooper is excellent as the tortured musician and his dedication to this role pays off. Lady Gaga is a wonder as Ally. It is well documented that she is a talented musician but her previous acting roles haven't captured the depth and range she has. She is a breath of fresh air as she drives almost every scene in this movie. The chemistry these two actors share is palpable making their story all the more believable. Sam Elliot (Road House) as Jackson's manager is perfectly cast as is Anthony Ramos (Younger) as one of Ally's closest friends.
Cooper also displays a new talent as a skilled director. The performances he pulls out of this cast are remarkable. His eye for framing shots also makes this movie feel large and wide open while intimate and personal all at the same time. It evokes so many emotions from the audience that you aren't sure what to feel first. His pace doesn't lag and his panache for fully developing a scene is a skill not many people have.
Even the soundtrack has a robust and full array of songs to enjoy. Everything from Jackson's biggest hits to Ally's original songs and pop "schlock" moves the plot along as if they were their own character. Written by Lady Gaga and Lukas Nelson (Dumb and Dumber To) they range from driving melodies to beautiful ballads that showcase Gag's vocals while shocking audiences with Cooper's musical talents.
The story is neither fresh nor unique but Cooper's take on it is fantastic. His ability to assemble and direct a wonderful cast and helm such a grand project his first time out is incredible. With one shot he has established himself as a talent to be reckoned with the result is magnificent. Even if you don't like a romance, there is so much more to this story for you to enjoy.
You should see A Star is Born... no questions asked.
Grade: A+
Read More A Star Is Born Reviews
For more reviews please visit our film/television review section.
"A Star is Born" stars four-time Oscar nominee Bradley Cooper ("American Sniper," "American Hustle,"...

"A Star is Born" stars four-time Oscar nominee Bradley Cooper ("American Sniper," "American Hustle,"...

For this edition of This Weekend At The Movies, FlickDirect's Austin Putnam reviews A STAR IS BO...
SPONSORED LINKS