The Bye Bye Man (2017)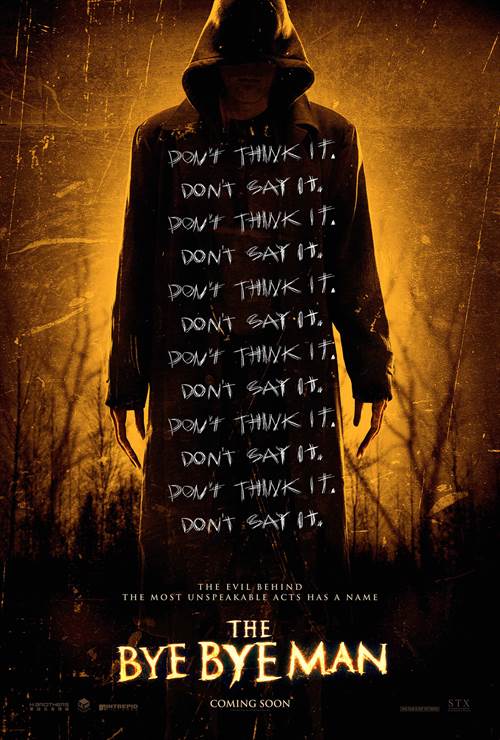 | | |
| --- | --- |
| Director: | |
| Writers: | |
| Cast: | |
| Released: | Friday, January 13, 2017 |
| Length: | 96 minutes |
| Studio: | STX Entertainment |
| Genre: | Horror |
| Rating: | Some material may be inappropriate for children under 13. |
The Bye Bye Man Synopsis
People commit unthinkable acts every day. Time and again, we grapple to understand what drives a person to do such terrible things. But what if all of the questions we're asking are wrong? What if the cause of all evil is not a matter of what…but who?

From the producer of Oculus and The Strangers comes The Bye Bye Man, a chilling horror-thriller that exposes the evil behind the most unspeakable acts committed by man. When three college friends stumble upon the horrific origins of the Bye Bye Man, they discover that there is only one way to avoid his curse: don't think it, don't say it. But once the Bye Bye Man gets inside your head, he takes control. Is there a way to survive his possession?

Purchase DVD/Blu-ray/4K UHD physical copy of The Bye Bye Man today at Amazon.com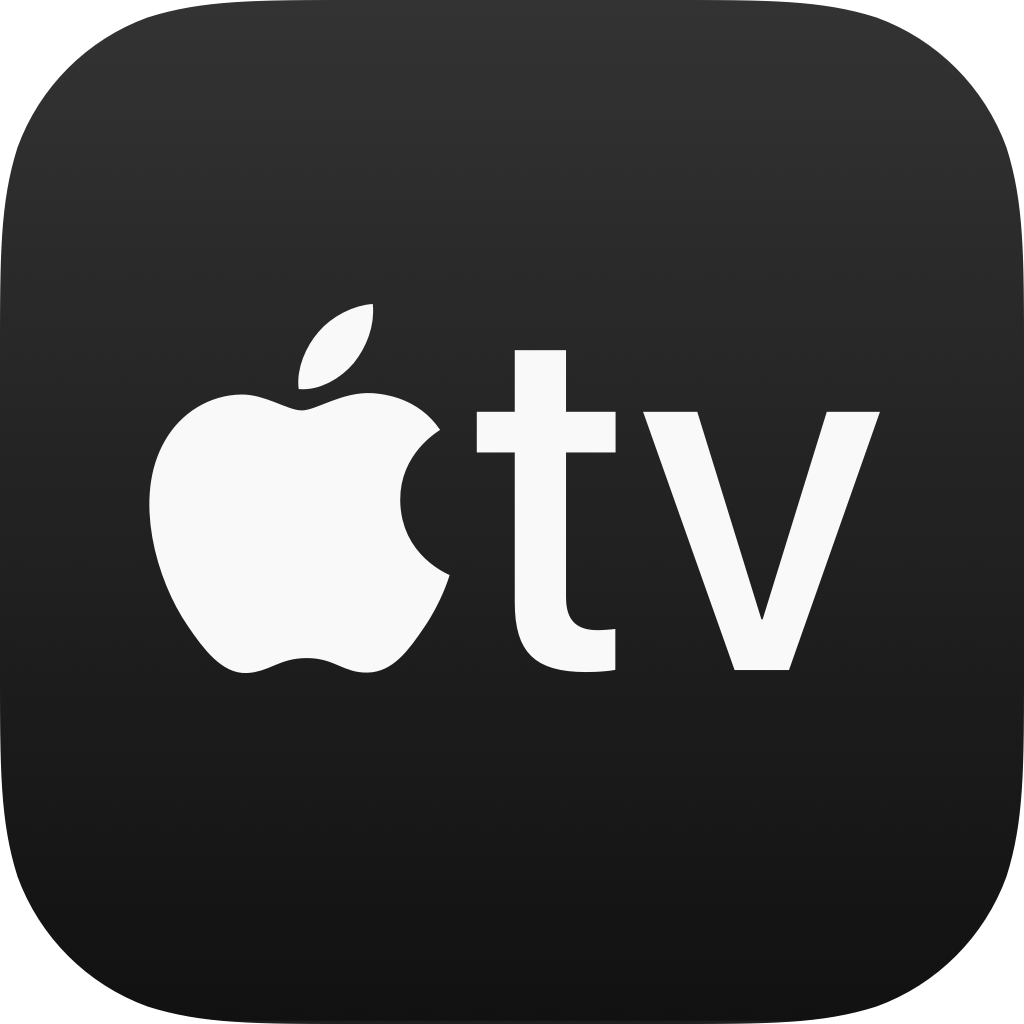 Stream The Bye Bye Man in Digital HD/4K from the AppleTV store.
The Bye Bye Man images are © STX Entertainment. All Rights Reserved.
The Bye Bye Man Blu-ray Review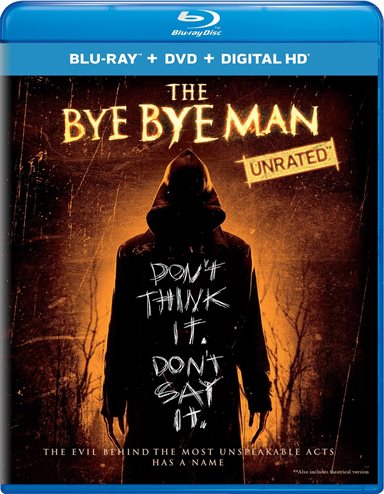 Back in the 1980's, horror films were all about blood and gore and people chasing teenagers and popping out from every corner. Nowadays, they have evolved into more of psychological thrillers with characters and story lines playing with our minds. There are also more horror movies centering around "urban legends" than ever before, a la The Blair Witch Project.
The Bye Bye Man
Unrated
, out on Blu-ray, DVD and Digital Download, falls into this latter category of horror.
Elliot (Douglas Smith; Big Love), his best friend John (Lucien Laviscount; Scream Queens) and his girlfriend Sasha (Cressida Bonas; Doctor Thorne) were tired of living in the college dorms and decided to get a house off campus. The fully furnished home is a little dilapidated but functional. Most of the furniture is fine except for an old nightstand with mysterious coins that seem to fall out of nowhere and writing inside the drawer that repeats the words "Don't think it, Don't say it". When Elliot finds the nightstand and says the words "The Bye Bye Man" out loud to Sasha and John, things begin to go very wrong.
Suddenly, each of them are having visions and nightmares… everything from creepy creatures haunting them to Sasha cheating on Elliot with John. After researching the legend some more, Elliot comes to find out that a teenager killed his family many years ago and blamed it on "The Bye Bye Man" and the reporter who wrote about the teenager also went on a killing spree. It seems that once you hear his name, "The Bye Bye Man" haunts you, making you crazy, and you try to kill those whom you told about him.
Director Stacy Title (Hood of Horror) offers some interesting angles and shots to give one the feeling of some surreal alternative reality. Some of those shots work while others, unfortunately, do not. For example, there is a shot of Sasha in the bedroom that is wide and suddenly tilts. It takes the audience out of the scene and doesn't fit well with the rest of the film. She also makes The Bye Bye Man look somewhat of a caricature making him unintentionally funny.
The main cast is young but fairly experienced, so they do a good job for the most part. Smith is strong as the main focus and his tortured mind is evident by the end of the film. Laviscount also does a fine job, at first not believing Elliot and then "freaking out" somewhat when he realizes there are strange events occurring. Carrie-Anne Moss (The Matrix) has a smaller role as the police detective and she is always good and a Cameo by Faye Dunaway (Bonnie and Clyde) is a welcomed addition.
The story is somewhat unique but not fully fleshed out. I wanted to know more about this mysterious "Bye Bye Man" and about the teenager and reporter who went on their killing sprees. I finished the movie being unfulfilled, which was somewhat frustrating. They also never touched upon why "The Bye Bye Man" has a hideous dog-like creature with him or why when they were near there was the noise of a train. Since the movie was only 96 minutes long, I felt they could have added some dialog to explain these gaps.
The Blu-ray is presented in 1080p High Definition video with and 1.85:1 aspect ratio. The deep blacks are distinct and the color hues are somewhat muted to enhance the sense of suspense and terror. The audio is standard Dolby Digital 5.1 and I will say the train horn sounded great in surround sound.
Unfortunately, the combo pack came without extras, which would have been nice as it may have explained more of the plots points that detailed were missing earlier. The unrated version simply adds three additional minutes of suspense to the movie but not much added plot.
Overall, this movie had some potential but maybe for budget reasons the characters and plot never fully get fleshed out which is a shame. It had the makings of an original psychological/sci-fi thriller but just can't seem to deliver.
Grade: C-
For more reviews please visit our film/television review section.
SPONSORED LINKS