Clash of The Titans (1981)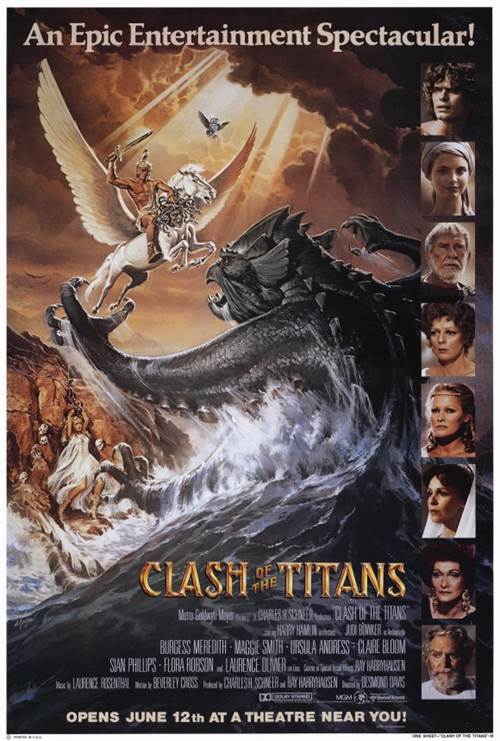 | | |
| --- | --- |
| Director: | |
| Cast: | |
| Released: | Friday, June 12, 1981 |
| Length: | 118 minutes |
| Studio: | MGM Studios |
| Genre: | Sci-Fi/Fantasy, Action/Adventure |
| Rating: | Some material may not be suitable for children. |
Clash of The Titans Synopsis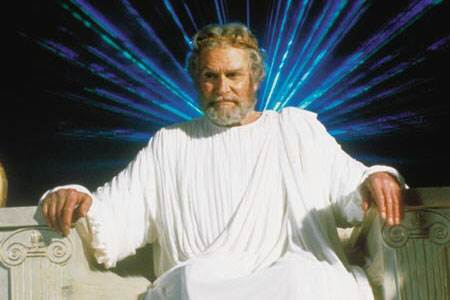 Though special effects techniques today have been dramatically transformed by CGI, the highly-imaginative and incredibly detailed work by Ray Harryhausen in his legendary films continues to hold audiences spellbound today. Now, even more so on Blu-ray. A disciple of stop-motion pioneer Willis O'Brien (King Kong), Harryhausen adapted the techniques O'Brien developed and created his own genre of film from the 1950s to the 1980s utilizing his own stop-motion animation process eventually identified as "Dynamation," which makes small, well-articulated models come to life by photographing them one frame at a time and then moving them slightly between exposures. Besides Clash of the Titans, some of his memorable special/visual effects films include The Beast from 20,000 Fathoms (1953), It Came from Beneath the Sea (1955), The 7th Voyage of Sinbad (1958), Jason and the Argonauts (1963), One Million Years, B.C. (1966), The Valley of Gwangi (1969), and The Golden Voyage of Sinbad (1974).
The machinations of the gods above and the fates of man and monsters on earth play out in a Clash of the Titans. Harry Hamlin stars as the brave Perseus, mortal son of Zeus (Laurence Olivier), who sets out to fulfill his destiny by rescuing his beloved Andromeda from the wrath of the goddess Thetis (Maggie Smith). Perils await Perseus time and again, as he faces snake-haired Medusa, fearsome Kraken, winged Pegasus, two-headed dog Dioskilos, giant scorpions and more.


Purchase DVD/Blu-ray/4K UHD physical copy of Clash of The Titans today at Amazon.com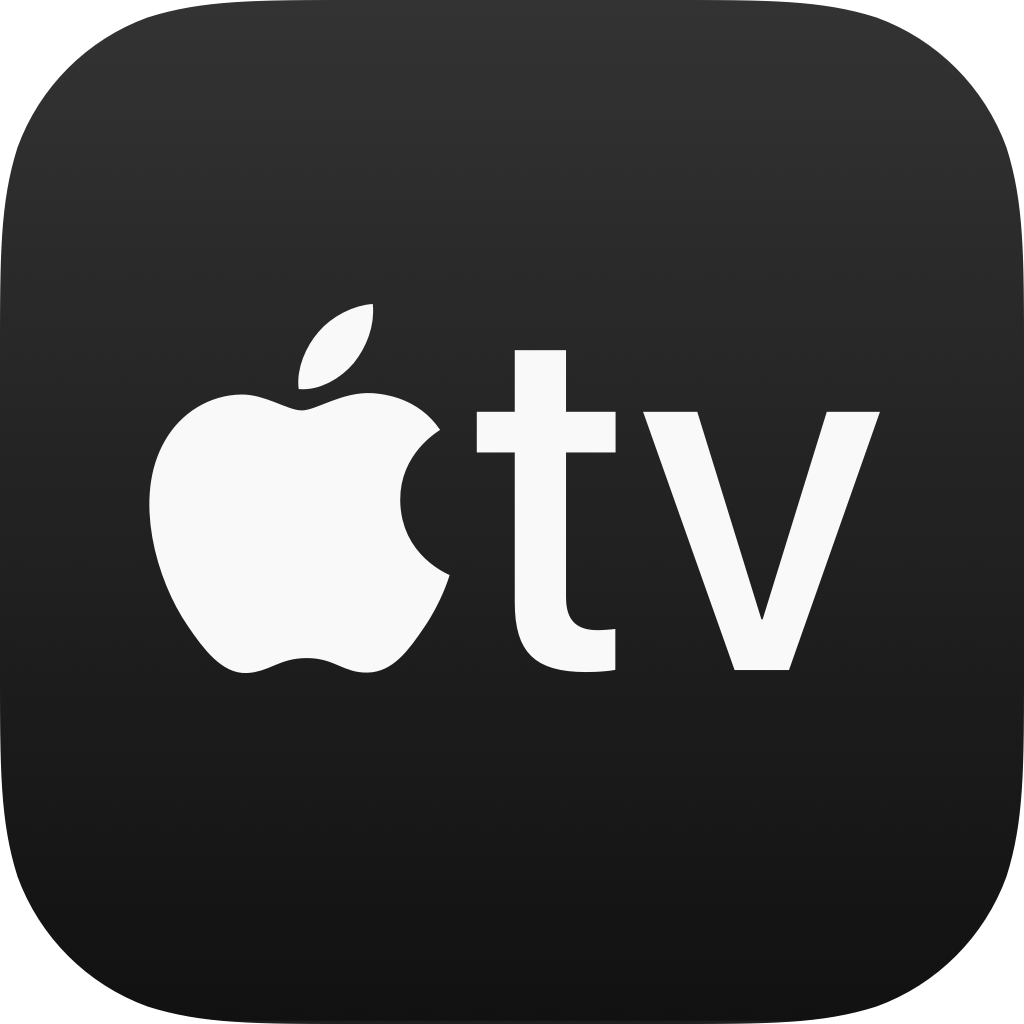 Stream Clash of The Titans in Digital HD/4K from the AppleTV store.
Clash of The Titans images are © MGM Studios. All Rights Reserved.
Clash of The Titans Review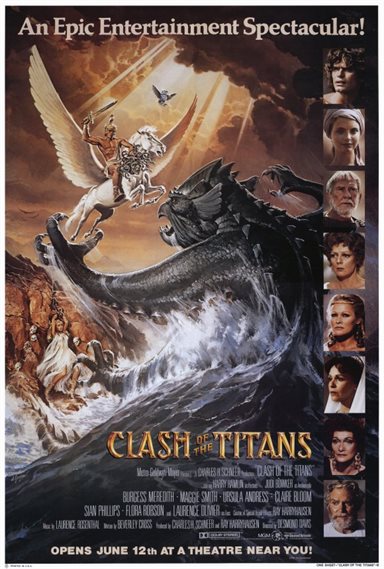 With the remake coming out soon, you might be interested in seeing the original Clash of the Titans. If you were interested, here is how you may do that -- download it from iTunes United States store for $10.00.
Clash of the Titans was possibly the last gasp of the classic mythology movies. Ray Harryhausen, and this his last film, was a wizard of stop-motion animation which is what we had before CGI; however, we still do have it, with things like Coraline. Remember, though, that stop-motion movies were not treated like animation. Back in the day, they were full on live-action features. The movies took place in various, vaguely historical mythologies (Greek myth, the Sinbad stories, etc.) and showcased what was, for the time, very impressive monster effects, as well as muscled bare chests, some scantily clothed beautiful women, and sword fights.
The Clash of the Titans story gives us Harry Hamlin as Peresus, who must do battle with various beasts before finally facing the Kraken from Scandinavian mythology. There are Greek gods and goddesses who bear almost no historical relation to the historical personages and a lot of stop-motion-assisted action scenes -- many of which involve the flying horse Pegasus where Harryhausen's work manages to evoke some actual majesty.
I remember seeing it in 1981 as a kid where the appeal of the racier aspects were lost on me. It is PG and not especially racy even at that level, but I was fascinated by the story line which, if overly complex, manages not to slow down too much. I feel Clash of the Titans is a classic example of the genre, and if you were going to start looking at the stop-motion movies, you would do worse than to start here.
So what about how you get it? Well the download is high-def. It comes off the iTunes application, and it took me about an hour or so to get the whole thing over a nothing-special DSL line. Once you have it, you can watch it as much as you want...on your computer, Apple TV, iPod, iTouch, or iPhone.
Compare this to Netflix which, if you have the right device, you can watch on your TV (just as you can with Apple's AppleTV product). I think that if you are the kind of person who watches movies on your computer, then this isn't too bad -- the cut is great and the sound, through my head-set is as good as I could ask for. The picture is huge (I have a very large screen), but even if it weren't, you are really close to it. You can also check your email while watching the show.
This version comes with a 20-min, sneak-peek for the remake. It shows the way that CGI is being used and includes some fascinating before and after shots showing unfinished work. The new movie relies at least as heavily on state of the art CGI as the original did on stop-motion, and you can see where technology has taken us. If you are really excited about the upcoming Clash and don't mind seeing stuff ahead of time, this is something you should check out!
On a final note, let me explain the DRM security features enabled with this download on iTunes. When you download the movie, you are only licensing it. It can be played on five PCs, and you can add or drop one (or more) as necessary. DRM (Digital Rights Management) is part of the modern landscape and represents the current state of our media and the economy. As far as DRM schemes go, iTunes has one of the better ones, so as long as you don't plan to make a backup copy to a DVD, you should be fine.
I, for one, can not personally wait for the remake to hit theaters, and this classic is a sure fire way to get me in the spirit to see the 2010 version on April 2, 2010 in 3D.
-- Marco Chacon
For more reviews please visit our film/television review section.
SPONSORED LINKS