6 Souls Blu-ray Review
6 Souls Is A very cool horror flick for a dark rainy night at home.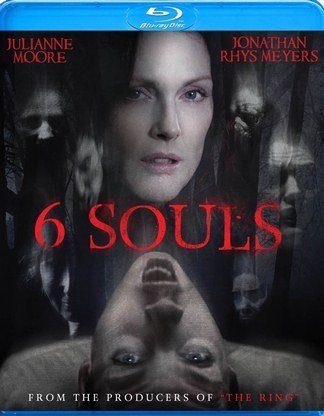 Disturbing and violent the mystery thriller 6 Souls creates a cool brand of horror that creeps and surprises. The film has very good acting, good direction and some excellent cinematography with special effects. Now on Blu-ray and DVD the movie makes for a spooky night in your home.

The story centers on forensic psychologist Dr. Cara Harding (Julianne Moore) who takes a special case after her father Dr. Harding (Jeffrey DeMunn) entices her to do so. She gets introduced to Adam (Jonathan Rhys Meyers) who appears to have several personalities including David and Wesley. During the interviews we find out that each of his personalities have been killed violently. She starts to investigate Adam by checking out his mother, police records and other people associated with the deaths of his multiple personality syndrome persons. When her digging comes close to the truth and her daughter gets abducted, the case turns into a wicked ordeal testing Cara's ability to resist being conjured by a purveyor of death.

The film gets saved with good acting by Julianne Moore and Jonathan Rhys Meyers who make their characters tantalizing. Moore makes a believable psychologist who gets caught in this nightmare of being challenged by the murderous personalities of her client. She's creative in showing her respect for her trade, but wary of those who would try to dissuade her from her practice. Even though her investigation goes way beyond the boundaries of what a normal psychologist would attempt, it's just a movie after all.

Jonathan Rhys Meyers puts on a good show as the afflicted and conflicted multi personality victim. He keeps in role throughout providing a creepy feel as he changes into his David and then Wesley characters that sense Cara has abilities that can affect their presence. Meyers does some very disconcerting gyrations during his interviews that get scary at times, but special prostheses may be in play here.

6 Souls has been rated R by the MPAA for violent content, disturbing images and terror. Cinematography and special effects make-up are a big assist keeping the film eerie and horror filled. The blood flows, knives slash and there's enough twists to keep you interested to the very end. Be cautious when deciding to allow immature children under the age of 17 see the film as it does have some scenes that are inappropriate.

The video presentation is very good with very little distortion. The special effects using some excellent make-up are craftily undetected even in close-up. The overall appearance has no distractions and plays out on my 16x9 TV using provided 1080p Widescreen 2.35:1 Aspect Ratio with just a small bar top and bottom.

The audio quality taking advantage of the disc's DTS-HD Master Audio 5.1 through my sound system is very good. The dialogue, action sounds and background music are well designed and come across clear and clean.

There are not bonus features on the Blu-ray disc.

FINAL ANALYSIS: A very cool horror flick for a dark rainy night at home. (B)

Purchase your copy of 6 Souls today at
Download 6 Souls from the iTunes Store in Digial HD.
About John Delia
comments powered by

Disqus