The Monuments Men Theatrical Review
Monuments Men Is For WWII history buffs and grade school students who need to know.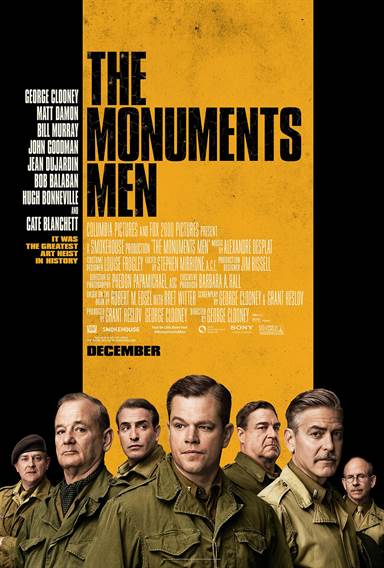 If you are looking for a big action film from this weekend's Monuments Men, it's not. More of a historical recreation of the true events, the movie tries very hard to open the window to an important part of WWII history, but barely achieves it. Loading the movie with familiar faces of top actors, director George Clooney makes his film more of a docudrama than an entertaining action film. If you are looking for a lot of action, it's all in the trailer. Beyond that, get on the bus for the tour of Europe complete with 1940's soldier uniforms and fine art lectures.

Loosely based on a true story the movie centers on Frank L. Stokes (George Clooney) a museum director who (according to the movie) convinces President Franklin Roosevelt that Americans must protect the art from being destroyed and stolen by Hitler. After consideration and given the go ahead, Stokes assembles a team of museum curators, art historians, architects and sculptors. Their mission, to find and save the architecture, paintings, statues and cathedral pieces that are being destroyed or taken from Europe's churches, homes and museums.

Stokes along with his artistic talented men go through combat training and then on to Europe. Writer and director George Clooney moves his film along at medium pace introducing his characters and their skill to join his important detail. On to Europe they land on the beaches of Normandy where he goes over their objectives so they can start looking for specific pieces according to their talent to identify them.

At the same time they are putting the team together, Clooney introduces Claire Simone into the film, a French museum worker played by Cate Blanchett. She has been functioning under duress with the Nazis forcing her to ship paintings out of France. Here the film gets more intriguing and appealing showing the importance of Stokes's operation through the daring of Claire. Blanchett gives an excellent performance. She adds the elements that show the urgency of the operation giving credence to the film and upping the entertainment value.

Clooney adds actor Justus von Dohnányi who makes a very ominous Viktor Stahl. He's an SS Nazi who's been put in charge of finding significant art for Hitler's museum. His interaction with Claire reminded me of Inglourious Basterds where Shosanna Dreyfus is at odds with Nazi Colonel Hans Landa. Maybe there hatred is not as seething, but its close.

The familiar cast including icons Matt Damon (The Bourne Identity), Bill Murray (Hyde Park on the Hudson), John Goodman (O Brother, Where Art Thou?), Jean Dujardin (The Artist, The Wolf of Wall Street) and Bob Balaban (Gosford Park) are interesting choices, but their performance levels are way out of whack. Unfortunately they don't provide any energy to the film and are not very inspiring, considering the amazing contribution the men they represent made to the art world. On the other hand, controlling these guys on the same set may have been a nearly impossible chore for Clooney. You be the judge.

Monuments Men has been rated PG-13 by the MPAA for some images of war violence and historical smoking. "Historical Smoking"? I didn't know there was a type of smoking that made the history books. I believe it's time to rotate the MPAA judges. As for the war violence, believe me there was nothing close of Saving Private Ryan in this film. Actually it should have been considered "mild" war violence, if I could add a new category.

FINAL ANALYSIS: For WWII history buffs and grade school students who need to know. (C-)
Purchase your copy of The Monuments Men today at
Download The Monuments Men from the iTunes Store in Digial HD.