Gone Girl Theatrical Review
By
Allison Rose
,
Oct 03, 2014 12:44 PM EST
I expect Gone Girl to be up for several, well deserved, academy awards.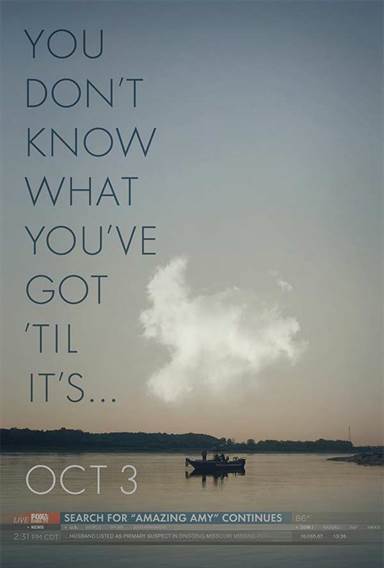 Just when you think you've figured it all out, a new twist is added to the plot of Gone Girl, which once again leaves you paying close attention to see what happens next. Based on the book of the same name, author and screenwriter, Gillian Flynn takes the audience on a journey of lies, deception, and psychological cunning played out in "anytown, Missouri, America". The story is so well written and acted that after two and a half hours you are hoping there is more. The movie ending opens itself up for a sequel and if it can be done in the right way, with Flynn at the helm, it would promise to be as equally an excellent movie as it's predecessor.

Gone Girl delves into the lives of Amy (Rosamund Pike; Jack Reacher) and Nick (Ben Affleck; Argo, The Town) Dunne, a seemingly happily married couple who move from New York City to his rural hometown in Missouri to take care of his dying mother. Losing their jobs and leaving their former life behind, Amy and Nick lose sight of what they fell in love with from the start. When Amy goes missing on their fifth wedding anniversary, a series of events play out that points the finger at Nick as her murderer. Ultimately, the movie is much more complicated than simply a murder mystery and it makes you wonder what goes on in Flynn's mind to write such a thriller.

The cast, including Affleck and Pike, are excellent with especially noteworthy performances from Kim Dickens (The Blind Side) as Detective Rhonda Boney and Carrie Coon (The Leftovers) as Nick's twin sister, Margo. Supporting roles from Neil Patrick Harris (How I Met Your Mother) as Amy's jilted ex-boyfriend, Desi Collings and Tyler Perry (Why Did I Get Married, Madea Gets a Job) as Nick's high powered attorney, Tanner Bolt, add another layer to an already complex plot and cast. Amy's parents, Rand and MayBeth Elliott, played by David Clennon (Extraordinary Measures) and Lisa Barnes (Royal Paines) give us some insight into why Amy grew into the woman she became.


Gone girl is everything you would expect of a David Fincher (The Social Network, Girl with the Dragon Tattoo) movie and his direction is straight forward and direct while building layer upon layer of visuals and plot points. Like most of his films, every scene has a purpose and the audience never feels bored. The long duration, another characteristic of many of Filcher's films, could deter movie goers but it never drags or feels forced. As the end credits rolled, I couldn't believe the movie was over and wanted to see more.

While audiences may think the film is geared towards a mostly female audience, I can assure you it isn't and has plenty of thought provoking and thrilling moments for either gender, along with one particularly gory and bloody scene that could rival the best horror movies. This is one movie that is well worth the price of admission and between the screenplay, direction and acting, I expect Gone Girl to be up for several, well deserved, Academy Awards. A-

Purchase a DVD/Blu-ray/4K UHD physical copy of Gone Girl today at Amazon.com
MPAA Rating:
R
Running Time:
145 minutes
Distributed By:
20th Century Fox
For more information about Gone Girl visit the FlickDirect Movie Database.
Read More Reviews For Gone Girl
About Allison Rose