Race to Witch Mountain Theatrical Review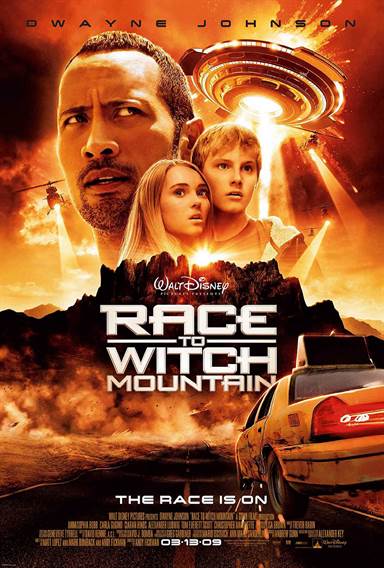 For decades, the Disney name has been synonymous with family entertainment. But in recent years, this usually meant younger female audiences that shied away from the young boy audience. However, this is all about to change as Walt Disney Pictures brings their re-imagining of the 1970's classic, Escape to Witch Mountain, to the silver screen with Race to Witch Mountain.
For years, stories have circulated about a secret place in the middle of the Nevada desert that is known for unexplained phenomena and strange sightings. It is called Witch Mountain; and when a Las Vegas cab driver (Dwayne Johnson) finds two teens with supernatural powers in his cab, he suddenly finds himself in the middle of an adventure he can't explain. When they discover that the only chance to save the world lies in unraveling the secrets of Witch Mountain, the race begins, as the government, mobsters and even extraterrestrials try to stop them.
For the most part, the performances by the main cast are top-notch.
Dwayne, "The Rock", Johnson
really performs well in his role, and Anna Sophia Robb, the actress of the young Sara really shines through. The only stumbling block to the main cast was that of the young Seth, played by Alexander Ludwig. His performance was very wooden and unfortunately brought back terrible flashbacks of Jack Lloyd from Star Wars - Episode One.
The story itself was wonderfully scripted, and the CG in the film was top notch. Andrew Finkman (The Game Plan) keeps the film evenly paced and takes time to make sure that dialog and character development are as important as the explosions.
The film had some great nods to the past production of the film (i.e. a 1975 license plate, previous cast member appearances) and also great synergy with other Disney products that are current as well as to come out in the future (ABC Television and Tron).
Watching Race to Witch Mountain certainly does bring back memories of such 80's classics of Flight of The Navigator and War Games. In fact, the nostalgia feeling of the film was one of the most endearing qualities of the film.
All-in-all Race to Witch Mountain is a superb retake on a Disney classic, and a great way for Disney to connect with today's audiences. One can only hope that a sequel is already in the works, and also a new take on the classic Disney family film is here to stay.
Purchase your copy of Race to Witch Mountain today at
Download Race to Witch Mountain from the iTunes Store in Digial HD.
About Nathan M Rose
comments powered by

Disqus
Today's iTunes Digital HD Deals