A Quiet Place Part II Theatrical Review
By
Allison Skornick-Rose
,
May 26, 2021 01:23 PM EST
Fans will be pleased to learn this second installment is every bit as good, if not better, as its predecessor.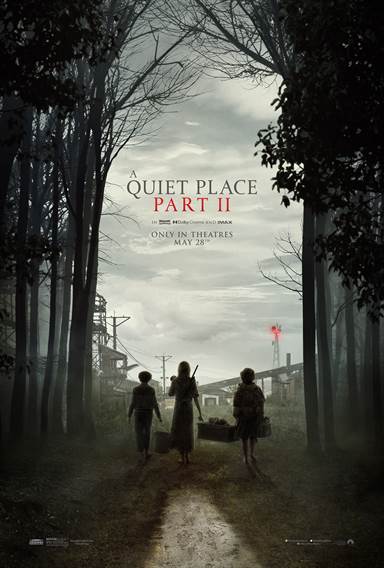 College friends and co-writers Brian Woods and Scott Beck (Haunt) had an idea for a film and wrote a "spec script" for it. In 2016, John Krasinski (The Office) read A Quiet Place and signed on to direct and rewrite the script. By the time filming began in the Fall of 2017, Krasinski and his wife, actress Emily Blunt (Mary Poppins Returns) were set to star in the movie. With a budget of approximately $20 million, the movie opened the following Spring and became one of the biggest films of 2018, grossing $340 million worldwide. Three years later, and one pandemic down, A Quiet Place Part II opens in theaters this week.
It's a normal day in the small, quaint town in New York and Lee Abbott (Krasinski) is running to grab supplies from the store before heading to meet the others at Marcus' (Noah Jupe; Wonder) little league game. While most of the town is at the game, they witness a fireball dropping from the sky. As the group disperses, heading back to their cars, suddenly alien creatures begin attacking.
This was day one. Four hundred and seventy-four days later, Lee is dead and his widow, Evelyn (Blunt) is fleeing their burning home with her three children - Marcus, Regan (Millicent Simmonds; Wonderstruck), and her infant son. Heading towards the fire in the hills, they have no idea what they will find when they get there.
Besides the story, the script, and the directing, the cast is part of what makes this film so incredible. Blunt can portray a wide variety of characters but her strength and determination while playing Evelyn is apparent. Jupe does a terrific job once again and he is one to watch out for in the future. Cillian Murphy (Inception) who plays Emmett, a friend of the Abbott family who reluctantly helps Evelyn and the kids, is competent as always.
However, the star of A Quiet Place Part II is Simmonds. She is strong, powerful, and vulnerable all at the same time. She shines as the brave girl who, despite being deaf, goes out on her own to look for other survivors. As Regan lectures Emmitt about doing the right thing, the audience can see the maturity and resolve on Simmonds' face. She was a standout in Wonderstruck then A Quiet Place and now the latter film's sequel. She has a commanding on-screen presence and could steal almost any scene she is in.
The rule of thumb is typically that a sequel is generally never as good as the original, but fans will be pleased to learn this second installment is every bit as good, if not better, as its predecessor. The jump scares are frightening, the tension keeps you on the edge of your seat the entire time, and your heart pounds from start to finish.
Krasinski once again does a wonderful job building the suspense through visuals and music. His shots tell a story of their own from the fire in the distant hills to the close-up of the water dripping from the pipes in the old factory. Since so much of the movie is absent of sound, the images become even more important.
A Quiet Place Part II is intense and depressing while offering more background and insight to the story. For a moment, you think it might be more of an origin story but then it switches back to present day, and we are once again reminded that Lee is gone, along with most of the town, and that things will never be the same again.
If Krasinski can come up with another plausible story, there will most likely be a third film. If not, A Quiet Place Part II is a worthwhile sequel to a blockbuster film.
Grade: A-

Purchase a DVD/Blu-ray/4K UHD physical copy of A Quiet Place Part II today at Amazon.com
Listen to the A Quiet Place Part II soundtrack on Apple Music.