The Social Network Theatrical Review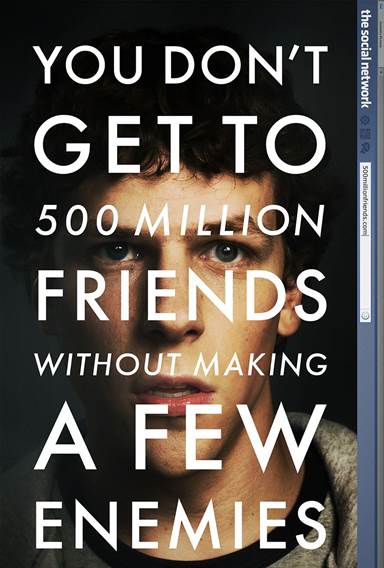 What most surprised me regarding
The Social Network
was the degree to which I sympathized with its subject, Facebook founder Mark Zuckerberg (Jesse Eisenberg,
Zombieland
,
Solitary Man
). I've followed the recent controversy surrounding Facebook's poor privacy and found their response entirely lacking, if not surprising. But this film is about the people, not the service, and there are no easy villains here.
Take Zuckerberg, who is depicted as not entirely aware or participatory in the events propelling him through life. This is not an unheard-of phenomenon in the hacker world. While I'm not entirely accepting of the notion, advanced by screenwriter Aaron Sorkin (
The West Wing
,
A Few Good Men
), that he has no say in his own personality, I also won't accept the anti-psychological position, likely to be held by many who see this film, that he could simply "snap out of it". I'm willing to believe, for the sake of the drama if not reality, that he really didn't know how much he was hurting the people around him.
Sorkin doesn't traditionally do well with technical matter; it would be fair to say, as of 2008, that he doesn't know a damn thing about computers. So I'll assume someone else took care of that aspect of the story, in which not one nonexistent piece of software was ever mentioned. Nevertheless, I was disappointed with how he dwelt on Zuckerberg's "theft" of the ideas of the Winklevoss brothers (Armie Hammer and Josh Pence) and Diyva Narendra (Max Minghella,
Syriana
,
How to Lose Friends & Alienate People
) for a similar social networking site. As software entrepreneur Paul Graham stated in
"Ideas for Startups"
:
Actually, startup ideas are not million dollar ideas, and here's an experiment you can try to prove it: just try to sell one. Nothing evolves faster than markets. The fact that there's no market for startup ideas suggests there's no demand. Which means, in the narrow sense of the word, that startup ideas are worthless.
Especially in software, execution is everything.
Lest we dwell on the characters and their failings, we should move on and briefly admire the framing device of the film, two parallel series of depositions for two major legal cases spawned by the events of the film. Far from dragging down the action, it propels it, giving us further insight into the parties involved.
Sorkin fans will be happy to hear that two of his signatures bookend
The Social Network
. At the beginning, a high-speed dialogue, full of topic stacking and dangling modifiers, opens the film with Zuckerberg's breakup with his girlfriend (Rooney Mara,
A Nightmare on Elm Street
). In the end, Zuckerberg sits alone, his actions reinforcing Sean Parker's (Justin Timberlake,
Alpha Dog
) assertion that everything men do is done to impress women.
Purchase your copy of The Social Network today at
Download The Social Network from the iTunes Store in Digial HD.