The Roommate Theatrical Review
By Chris Rebholz,
Feb 06, 2011 02:08 PM EST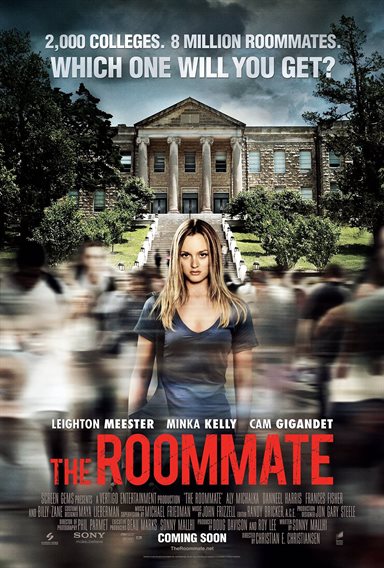 There have been a lot of remakes coming to theaters for a while now. Some of them have been passable and others have been beyond laughable. With these remakes there have been some movies that have come to theaters that are more of a retooling rather than a remake. The Roommate is fairly typical thriller/horror movie and for those of you who are the right age it will seem very familiar in many ways.

The film stars Minka Kelly as Sara Matthews, a young college student who is returning for another year of college. Like many students, Sara is living on campus in the dorm rooms assigned by the college and like many students as she is returning to school she is being assigned a new roommate. Naturally she is a bit apprehensive about having to get to know a new living partner, but once she meets Rebecca, played by Leighton Meester, her fears are alleviated as they seem to have so much in common and get along so well.

They begin spending a lot of time together, going to parties, meeting boys, and just having your typical college fun. It isn't long though that Sara begins to notice some odd behavior coming from Rebecca; at first she just assumes it was just a misunderstanding or miscommunication while still becoming comfortable with a new person but things continue to escalate as more time passes. What started off as odd behavior quickly become indications of a troubled mind. Rebecca starts keeping tabs on Sara more and more. When Sara doesn't get home until late one night Rebecca acts like a mother to Sara, scolding her for not notifying her about her tardiness. Soon after Sara notices that Rebecca is starting to act and even dress more like her.

The last straw coming when Rebecca changes her hair style to one eerily similar to Sara's. Sara decides that she has had enough and wants Rebecca to find another dorm to stay in. Rebecca acts as though she understands how Sara feels but to anyone to who has half a brain we know that isn't the case. From here the plot heads down a familiar path. Rebecca begins to really break down mentally at this point, making attempts to kill Sara and take her place. For anyone who can remember this movie throws back to the film Single White Female, which was about a young woman living in the city who needs a roommate, finds one through a newspaper ad and the new roommate turns out to be psychotic.

The Roommate is rehashing of that film from the 1990's and other than a few simple tweaks the two films to could pass twins. The original film from the nineties brought forth the feelings a lot of Americans felt about finding roommates through the newspaper, this film does nothing other than offer trite dialogue, pretty faces and cheap thrills for an audience that, quite frankly, is smarter than that. It's not easy to come up with a story that doesn't seem familiar to audiences now-a-days but you can have a successful film when you get the right director and actors. This film has neither of those and relies on flashy images and the pretty faces of its actors to carry the entire movie which it doesn't.

The Roommate is a simple film with a simple plot and any audience member with intelligence can see that this film will come to theaters as quietly as it leaves.

Purchase your copy of The Roommate today at
Download The Roommate from the iTunes Store in Digial HD.