Night School (2018)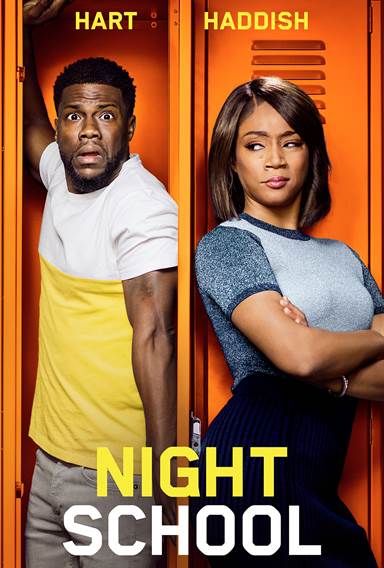 | | |
| --- | --- |
| Director: | |
| Writers: | Kevin Hart, Harry Ratchford, Joey Wells, Matt Kellard, Nicholas Stoller, John Hamburg |
| Cast: | |
| Released: | Friday, September 28, 2018 |
| Length: | 111 minutes |
| Studio: | Universal Pictures |
| Genre: | Comedy |
| Rating: | Some material may be inappropriate for children under 13. |
Synopsis
Star Kevin Hart and producer Will Packer, who partnered for the hit Ride Along and Think Like a Man series, bring their signature style to Night School. The comedy from director Malcolm D. Lee (Girls Trip) follows a group of misfits who are forced to attend adult classes in the longshot chance they'll pass the GED exam.
Purchase your copy of Night School today at
Download Night School in Digital HD from the iTunes store.
SPONSORED STORIES
Comments

Courtesy of
Movie Hype App
josiah31
Gonna be funny
12/09/2018 11:11 PM EST
alishacj
Alisha
12/09/2018 11:33 AM EST
tiarra21
Gonna Be Funny
12/08/2018 1:45 PM EST
montrell
Night school
12/02/2018 7:43 PM EST
miracle6
It's going to be so funny
12/01/2018 2:34 PM EST
yungeenquan
❤️❤️❤️
11/29/2018 9:14 PM EST
cool890
Good movie
11/26/2018 8:39 PM EST
tinysim76
Getting ready to check it out
11/17/2018 5:21 PM EST
monet10_99
Bout to watch it
11/17/2018 1:24 AM EST
jackie
Night school
11/11/2018 9:12 AM EST
tammeahhh
Lovin' it
11/10/2018 12:43 AM EST
tyremileer
Love it
11/06/2018 5:02 PM EST
kierra
I love this
10/30/2018 12:18 AM EST
angelstacy31
I love this movie
10/27/2018 1:30 PM EST
cutie_missy123
Yayyy I live this mooo bbiiere
10/24/2018 6:22 PM EST
Night School images are © Universal Pictures. All Rights Reserved.


Win Complimentary Passes For Two To An Advance Screening of Univ...
09/18/2018 4:38 PM EST
What do you get when you combined Kevin Hart (Jumanji: Welcome to the Jungle) with Tiffany Haddish (Girls Trip)?  Comedy gold in the form of a new film from Universal Studios called NIGHT SCHOOL.  The two have teamed up to bring the laughs as they explore the idea of going back to high school to earn a GED. Universal Pictures, in conjunction with FlickDirect, want to give some lucky winners the op...
More>>
Night School Theatrical Review
Summer is over, the Fall has begun. Kids are back in school, learning and striving towards the goal of earning their High School Diplomas. This achievement is a milestone in the lives of so many young people and seems to be a necessity in today's society to get almost any kind of job. For those who drop out before they graduate, this can be a setback to getting ahead professionally and financially and a decision they may regret down the road. Luckily, with hard work and perseverance, they can earn a GED (General Equivalency Diploma). This is exactly the situation Teddy (Kevin Hart; Jumanji: Welcome to the Jungle) finds himself in in Universal Studio's latest release, Night School.

When Theodore "Teddy" Walker was a teenager he excelled in various aspects of High school; namely, sports, dating, and friends. Academics, however, weren't his strong suit and when he was required to take a comprehensive exam at the end of his senior year he "protested" and therefore never graduated. He managed to make a decent living as a salesman though he lives beyond his means to impress his girlfriend, Lisa (Megalyn Echikunwoke; House of Lies). Unfortunately, his good luck ends soon after his engagement when he loses his job, his fancy car is repossessed and the only way for him to get a decent job is for him to earn his GED.

Teddy, trying to better himself, decides to enroll in night school to study for the dreaded test and ends up in a classroom with a group of misfits. Hoping to get by on his charm, Teddy learns that his usual tactics won't work with the night school teacher, Carrie (Tiffany Haddish; Girls Trip) so he and his fellow classmates decide to steal the practice exam. This experience helps them bond and by the end of the movie, the former antagonists become friends.

If one was putting together a comedy dream team Hart and Haddish would certainly be on it. There is no denying they have talent and are two of the hottest comedians around right now. Even their banter on stage at Cinemacon this past April was fun with a number of laughs as they introduced a preview of this film. However, great Comedians with mediocre material simply doesn't work no matter how good they are. The supporting cast had funnier moments than the leads and they shined. Rob Riggle (The Daily Show), Taran Killam (12 Years a Slave), Mary Lyn RajSkub (24), Anne Winters (13 Reasons Why), Al Madrigal (The Daily Show), Fat Joe (Happy Feet) and Romany Malco (Weeds) are the meat behind the jokes and they all blend to create a terrific comedy stew.

While some of the laughs and gags that are so funny that you can't hear the next dialog because the audience is laughing too hard, those moments are few and far between. Hart's "Shtick" grows tired and Haddish's talent is wasted playing the straight man. Malco, Rajskub, and Madrigal get the best scenes and they certainly make the most of them. Even Fat Joe is a surprise even though he isn't in the film all that much.

If you were wondering what happened to the group from 1987's Summer School… here they are 30 years later and still trying to pass. The premise of both movies is basically the same just with updated technology and wording (Skype and anal sex jokes?). The story is just as heartwarming as it was back then though.

It is nice to see a teacher who really cares and Haddish does the profession justice. The movie also tackles the topic of learning disabilities in a practical way while still be sensitive to those that deal with issues on a daily basis.

A new classic Night School is not but it will be a fun night out with a few laughs along the way.

Grade: C
For more reviews please visit our film/television review section.