Johnny English Strikes Again (2018)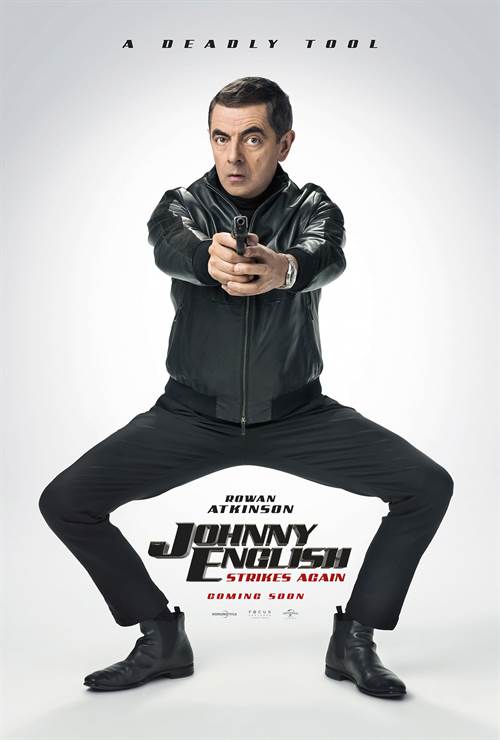 | | |
| --- | --- |
| Director: | |
| Writers: | |
| Cast: | |
| Released: | Friday, October 26, 2018 |
| Length: | 98 minutes |
| Studio: | Universal Pictures |
| Genre: | Comedy |
| Rating: | Some material may not be suitable for children. |
Johnny English Strikes Again Synopsis
The UK is in peril. Five days before the Prime Minister (Emma Thompson) is to host her first G12 summit, MI7's security is breached and every agent in the field identified and exposed. The only hope of finding the perpetrator is to bring an agent out of retirement, but with most of them either dead or close to it, the head of MI7 is left with only one choice, and his name is English… Johnny English (Rowan Atkinson). Casting aside his job as a teacher, Johnny English accepts his mission, but things have changed since he was last in the field; guns and gadgets have been replaced by digital phones, sports cars by electric hatchbacks. English is aghast, but quickly finds a way around this new protocol, reasoning that it takes an analogue approach to catch a digital mastermind. And so, blowing the dust off the fully loaded Aston Martin, digging out the exoskeleton suit and magnetic boots, arming himself with transmitter sherbet dips and exploding ear buds and retrieving Bough (Ben Miller) from the forgotten basement of MI7, English embarks on his mission. English and Bough head to the French Riviera where the last signal was detected that exposed the British agents, but chaos quickly ensues when their undercover activity leads to the razing to the ground of one of the most glamourous restaurants on the Cote D'Azur. Undeterred, they pick up the scent again. This time their sights set on a state of the art yacht moored in the bay, that just happens to belong America's youngest billionaire, super savvy, super sophisticated tech giant Jason Volta (Jake Lacy). It quickly becomes clear to our hero that Volta is behind the plot, but English needs evidence if he is to convince the PM, who has been won over by Volta's persuasive charm. What ensues is a battle of wit versus the witless, mastermind versus Mr. Mindless, high tech versus analogue as Johnny English lurches from one mishap to the next in his attempt to expose Volta and save the world from his master plan – to have complete control of the world-wide web.

Purchase DVD/Blu-ray/4K UHD physical copy of Johnny English Strikes Again today at Amazon.com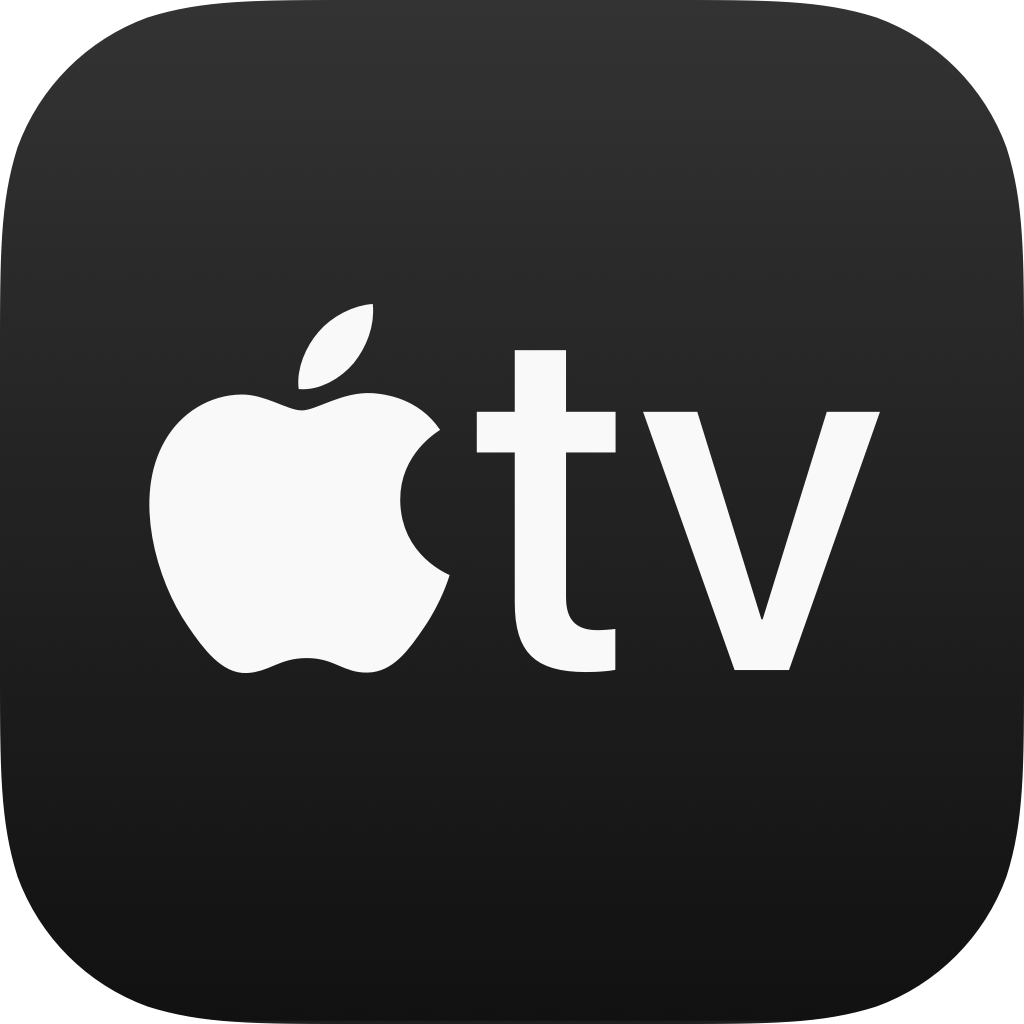 Stream Johnny English Strikes Again in Digital HD/4K from the AppleTV store.
Listen to the Johnny English Strikes Again soundtrack on Apple Music.
Johnny English Strikes Again images are © Universal Pictures. All Rights Reserved.
Enter For Your Chance To Win a Blu-ray of UNIVERSAL'S JOHNNY ENG...
1/9/2019 3:15 PM EST
Are you a fan of Spy thriller movies with debonair men tracking the bad guys and saving the world?  Then this movie may not be the one for you.  However, if you like the brilliantly talented Rowan Atkins and his brand of slapstick comedy then you have hopefully enjoyed him portray International spy Johnny English.  If I have just described you then you will want to enter this contest.In anticipati...
More>>
Johnny English Strikes Again Blu-ray Review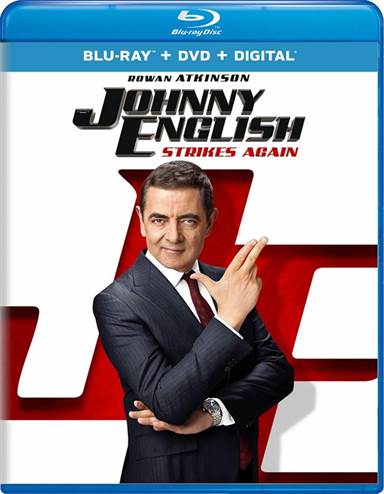 Since the 1980s, Rowan Atkinson has been a fixture in film and on television. From his breakthrough role in
The Black Adder
to the incomparable
Mr. Bean
, Atkinson has been an international entertainer for almost 40 years. In 2003, he starred as the lead in
Johnny English
, a spoof on the
James Bond
series. The film was followed by
Johnny English Reborn
in 2011 and the latest installment in the franchise,
Johnny English Strikes Again
, is set to be released January 22 on Blu-ray and DVD.
Johnny English is retired from being a spy and is now teaching at a private school in England. And while he enjoys teaching, he finds it hard to part ways with the "spy" side of himself - even giving his students the occasional lesson on espionage. So when the Prime Minister (Emma Thompson; Love Actually) needs him to come back to service, he dutifully obliges. The situation is dire as someone has hacked into the National Security database, exposing all of their undercover agents. English's sidekick, Bough (Ben Miller; Paddington 2) joins him on the mission, both employing "old school" techniques to solve a high tech villain set on taking over the world.
While this film didn't see much love at the box office last fall, to be fair, it had entered a saturated market, one of the most competitive the film industry had seen in a fall in years. However, it should hopefully find its groove in the home entertainment market. Why may you ask? Because this movie can be summed up in one word, "FUN". It is the perfect feel-good movie to pull out when you have had a hard day or week.
Atkinson performance is the best in the series, while the supporting cast, only helps to enhance the hijinks seen on screen. Miller is the straight man to Atkinson with each other perfectly getting back in the roles they respectively had in the original Johnny English. Thompson is a natural playing the most powerful person in the country but it can't help but shows off her comedic skills yet again (last time seen in Men in Black III). Olga Kurylenko (Quantum of Solace) shows a comedic side as well that is not often used with her normal action roles. Lacy once again plays the bad guy as he did in Rampage. His character is so over the top that he is the perfect match Atkinson own performance.
Johnny English Strikes Again is presented in its original aspect ratio of 2.39:1 with a 1080p AVC encoding. Colors are vibrant and blacks are true with zero signs of artifacting. For only being a Blu-ray transfer the quality here is superb. One can only imagine what a 4K release of this film would look like if this is the quality for just Blu-ray.
The audio is presented in DTS-HD MA 7.1 is provides the perfect ear candy to go with the video component of this release. The sound perfectly envelops the room. With crisp and clear dialog on the center channel and all other speakers relegated to special effects.
Aside from the Movies Anywhere Digital HD copy included in release has some pretty impressive featurettes considering this was not a huge moneymaker on it's theatrical release. These featurettes include:
The Comedy of Rowan Atkinson
The Johnny English Legacy
Virtual Reality Johnny English Style
The Gadgets
The Cars
Locations and Design
A Cast of Characters
If you are Rowan Atkinson fan, this film is right up your alley; it's the typical Atkinson fare that he is known for. It's a great way to spend a night just relaxing and laughing without having to put much thought into what you are watching. The cast meshes well together, all being equally important, in my opinion, and it's always fun to see Emma Thompson in a comedic role.
Grade: B+
** Warning
Please do not have any food or drinks near or on you while watching the film's VR scene. You will be rolling so hard in laughter you will spill it all over the place!
Read More Johnny English Strikes Again Reviews
For more reviews please visit our film/television review section.
Learn how the famous VR Sequence in Johnny English Strikes Again made its way from storyboard to film....
SPONSORED LINKS