Johnny English Strikes Again (2018)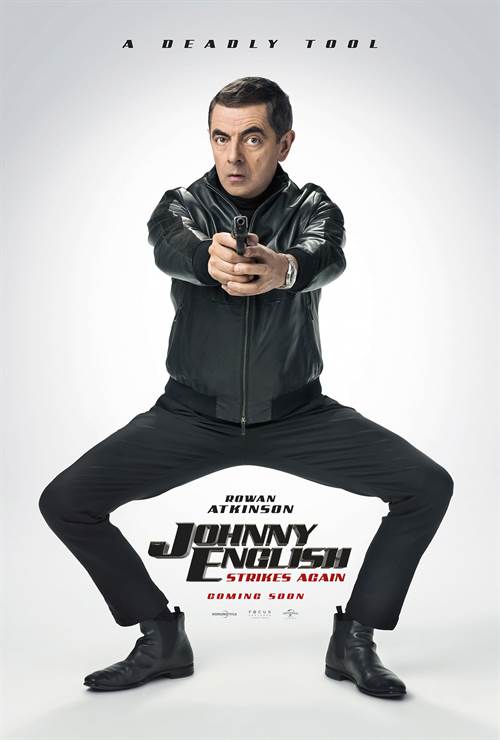 Share this:
| | |
| --- | --- |
| Director: | |
| Writers: | William Davies |
| Cast: | |
| Released: | Friday, October 26, 2018 |
| Length: | 98 minutes |
| Studio: | Universal Pictures |
| Genre: | Comedy |
| Rating: | Some material may not be suitable for children. |
Synopsis
The UK is in peril. Five days before the Prime Minister (Emma Thompson) is to host her first G12 summit, MI7's security is breached and every agent in the field identified and exposed. The only hope of finding the perpetrator is to bring an agent out of retirement, but with most of them either dead or close to it, the head of MI7 is left with only one choice, and his name is English… Johnny English (Rowan Atkinson). Casting aside his job as a teacher, Johnny English accepts his mission, but things have changed since he was last in the field; guns and gadgets have been replaced by digital phones, sports cars by electric hatchbacks. English is aghast, but quickly finds a way around this new protocol, reasoning that it takes an analogue approach to catch a digital mastermind. And so, blowing the dust off the fully loaded Aston Martin, digging out the exoskeleton suit and magnetic boots, arming himself with transmitter sherbet dips and exploding ear buds and retrieving Bough (Ben Miller) from the forgotten basement of MI7, English embarks on his mission. English and Bough head to the French Riviera where the last signal was detected that exposed the British agents, but chaos quickly ensues when their undercover activity leads to the razing to the ground of one of the most glamourous restaurants on the Cote D'Azur. Undeterred, they pick up the scent again. This time their sights set on a state of the art yacht moored in the bay, that just happens to belong America's youngest billionaire, super savvy, super sophisticated tech giant Jason Volta (Jake Lacy). It quickly becomes clear to our hero that Volta is behind the plot, but English needs evidence if he is to convince the PM, who has been won over by Volta's persuasive charm. What ensues is a battle of wit versus the witless, mastermind versus Mr. Mindless, high tech versus analogue as Johnny English lurches from one mishap to the next in his attempt to expose Volta and save the world from his master plan – to have complete control of the world-wide web.
Purchase DVD/Blu-ray/4K physical copy of Johnny English Strikes Again today at
Download Johnny English Strikes Again in Digital HD/4K from the iTunes store.
Listen to the Johnny English Strikes Again soundtrack on Apple Music.
Johnny English Strikes Again images are © Universal Pictures. All Rights Reserved.


Enter For Your Chance To Win a Blu-ray of UNIVERSAL'S JOHNNY ENG...
1/9/2019 3:15 PM EST
Are you a fan of Spy thriller movies with debonair men tracking the bad guys and saving the world?  Then this movie may not be the one for you.  However, if you like the brilliantly talented Rowan Atkins and his brand of slapstick comedy then you have hopefully enjoyed him portray International spy Johnny English.  If I have just described you then you will want to enter this contest.In anticipati...
More>>
Johnny English Strikes Again Theatrical Review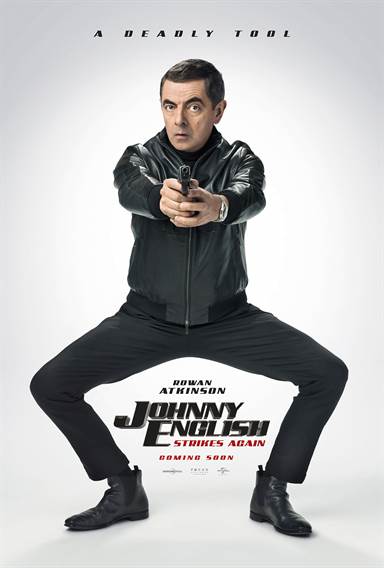 Rowan Atkinson (
Four Weddings and a Funeral)
is known for his British, slapstick characters like Mr. Bean, and probably one of his most popular behind Bean is Johnny English. Johnny first graced the big screen in
Johnny English
back in 2003 and he returned again in 2011's
Johnny English Reborn
. Now, after a seven-year hiatus, he resurfaces once again in October's release
Johnny English Strikes Again
. Trying once again to bring the laughs, Atkinson finds himself in familiar territory as he slips into this persona like a well-worn and comfortable suit.
When we meet up with English once again he has "retired" from the spy game and is teaching at a private school in the English countryside. However, it is obvious he longs for " the good old days" as he peppers his classroom lessons with lessons on tactical espionage. He seems content and truly seems to like his students but finds himself pulled back in when the Prime Minister (Emma Thompson; Love Actually) needs his help. It seems someone has hacked the National Security database and has exposed all of the undercover agents making them vulnerable. The Prime minister must call in those agents no longer in service and when English accidentally kills the other three agents it is left up to him to finds the person responsible for the breach and a stop them.
Along with his trusty sidekick, Bough (Ben Miller; Paddington 2, English goes "old school" to find the perpetrator who keeps launching a series of cyber attacks on the United Kingdom. Meanwhile, the Prime Minister is trying to stop the attacks by forming an alliance with an American Businessman, Jason (Jake Lacy; Rampage), who specializes in computer security. As the G-12 Summit approaches, time is running out for English to solve the puzzle and save the day.
Let's call a spade a spade here. Johnny English is what I refer to as "stupid" humor. There is an element of slapstick and certainly a British sensibility underlying the script but it mostly relies on the audiences' need to laugh at simply anything and everything. I liken it to the Austin Powers films though not as well done as those. Atkinson is known for this type of persona and he fits the part well though. His facial expressions are fantastic and his ability to still do the physical comedy is a testament to the man himself.
The supporting cast are all great. Miller is the straight man to Atkinson but his lines and mannerisms are often the funnier parts of the movie. Thompson is a natural playing the most powerful person in the country but I can't help but wonder what made her decide to take the part in the first place. I see her as a dramatic, award-winning actress rather than the brunt of Atkinson's jokes but she pulls off the role with her own unique flair regardless. Lacy once again plays the bad guy as he did in Rampage though this time much more intelligently. He is so rude and condescending that you instantly hate him which is really the point.
Besides a few funny moments, the movie offers a few bright notes. The scenery is beautiful (when it is real) and the scenes with Atkinson and English's students are heartwarming and fun. No, Johnny English Strikes Again won't win any awards (except maybe a Razzie) but it will resonate with fans of the character and Atkinson's shtick. So if you are looking for a nonsensical, mind-numbing hour and a half then feel free to check this film out.
Grade: C-
Read More Johnny English Strikes Again Reviews
For more reviews please visit our film/television review section.
Learn how the famous VR Sequence in Johnny English Strikes Again made its way from storyboard to fil...
SPONSORED LINKS