Devil (2010)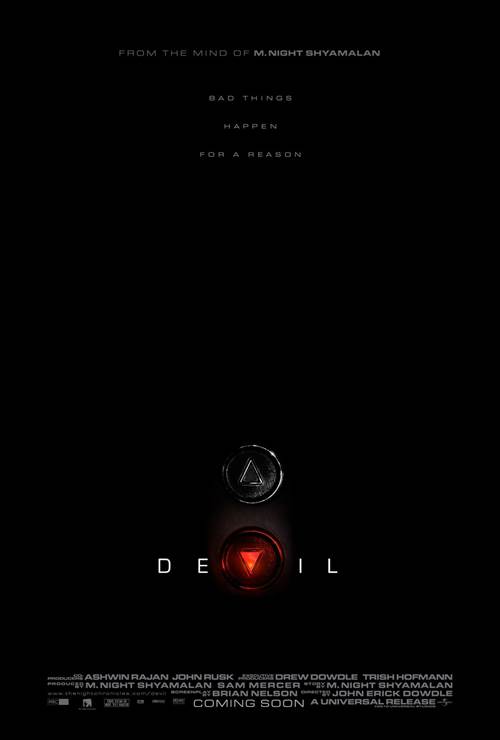 | | |
| --- | --- |
| Director: | |
| Writers: | |
| Cast: | |
| Released: | Friday, September 17, 2010 |
| Length: | 80 minutes |
| Studio: | Universal Pictures |
| Genre: | Horror |
| Rating: | Some material may be inappropriate for children under 13. |
Devil Synopsis
A group of people, including a formerly alcoholic homicide detective (Messina), trapped in an elevator discover that one of them is the devil. Written and produced by M. Night Shyamalan.

Purchase DVD/Blu-ray/4K UHD physical copy of Devil today at Amazon.com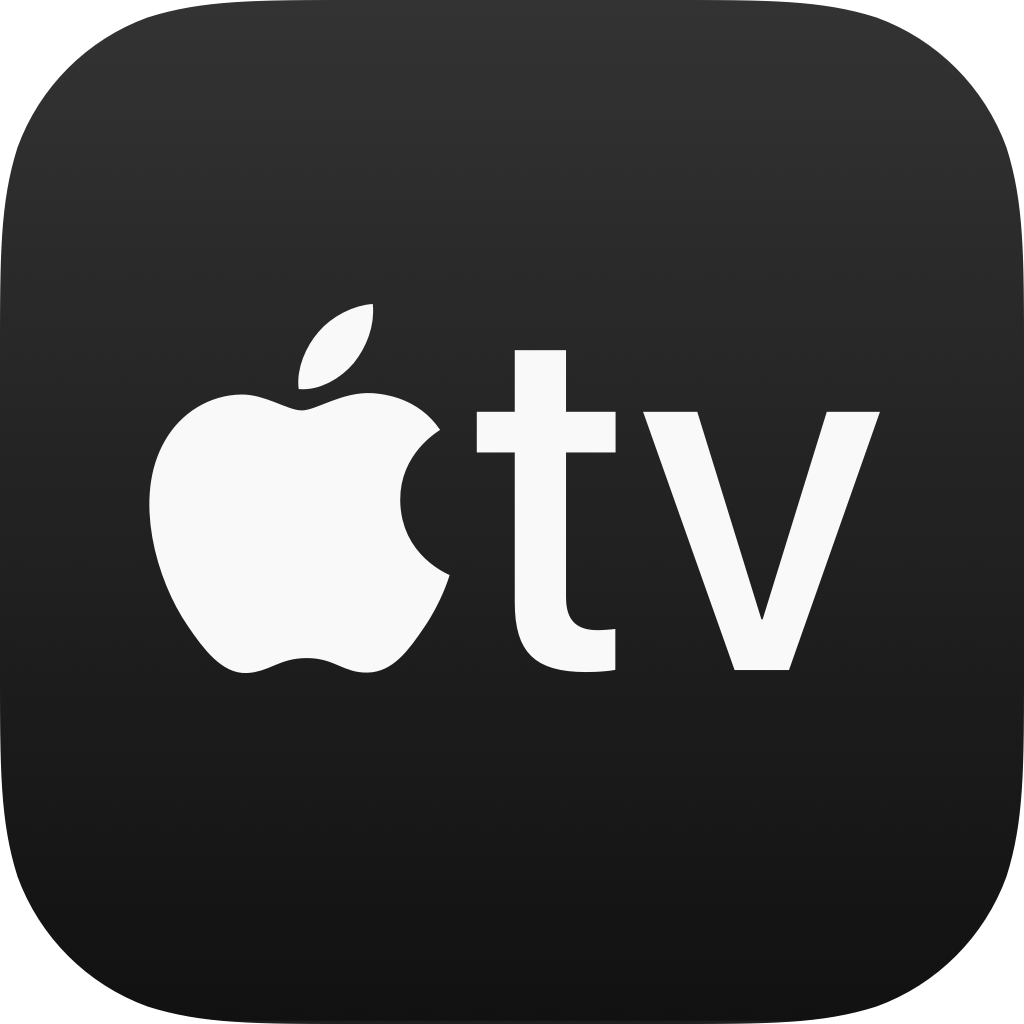 Stream Devil in Digital HD/4K from the AppleTV store.
Devil images are © Universal Pictures. All Rights Reserved.
Devil Theatrical Review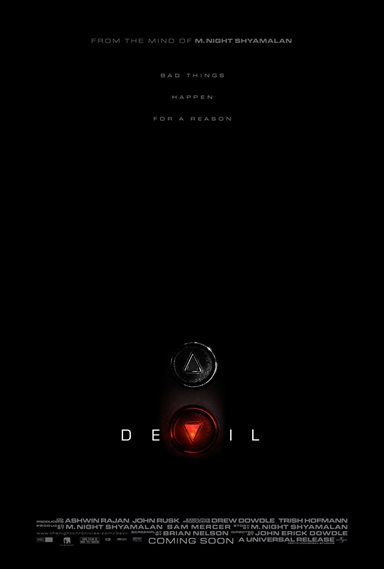 A few years ago we saw the first of many M. Night Shyamalan movies, The Sixth Sense. That movie came out of left field and astounded audiences with the deep well of emotion from all the characters and also the final surprise ending. As time passed more movies from him cropped up and it seems as though he has become a one trick pony. His most recent movie was an adaption of a popular kids show called The Last Airbender. Now another movie written by him but directed by John Erik Dowdle has arrived in theaters. That movie is Devil, which is about 5 strangers who get trapped in an elevator and slowly succumb to paranoia and fear as other passengers get killed.

The movie opens with a narration about how the Devil sometimes comes to earth to torment the damned before dragging them to hell. We then are introduced to our main character, Detective Bowden (Chris Messina) who is in AA and attempting to pick up the pieces of his life. We cut to watch our five unfortunate souls enter the elevator and the beginning of their punishment. We watch as the elevator gets stuck and naturally everyone is annoyed at this inconvienence. As time passes and nothing is getting done the passengers begin to get panicky as odd things begin to happen. All the time the audience is left to wonder who amongst these people the Devil might be disguised as. Detective Bowden then gets pulled into the situation while investigating a suicide within the same building as the elevator victims.

One of the people trapped inside the elevator gets killed (we don't see how ), and now the Detective has to figure out who did the crime before it happens again. As he searches for clues he discovers that these people all have sketchy pasts and it is no wonder that the Devil is among them. As the movie goes on we begin to see slight clichés that are fairly common in other movies today and once we come to the final act the story has lost sense of fear and tension.

There are a few problems with this movie. One is that most of its actors are not very engaging in any way. They lack the emotional depth to keep you completely entranced throughout the whole movie. At the beginning we learn a little bit why Messina's character is in AA and it is obviously a painful memory but we don't feel the depth of that pain. Later during the scenes with the passengers inside the elevator, we certainly feel an amount of curiousity as to who the Devil might be, but it's difficult to care whether or not these people survive. Another thing that plagues this movie is that it seems to start off as a horror movie and halfway through becomes a tale of the human condition. Perhaps this is the fault of the production company and bad marketing, but going into this movie everyone is going to be expecting a horror movie. What we get is a movie that is just confused and badly acted, though not nearly as bad as "The Happening".

For all its faults Devil is not a terrible movie, there is a good message within it. Forgiveness is the way to allow love into your life. The movie would have been better served if it had attempted to convey that message from the start rather than have us sit through a full ninety minutes.
For more reviews please visit our film/television review section.
SPONSORED LINKS