Richard Jewell (2019)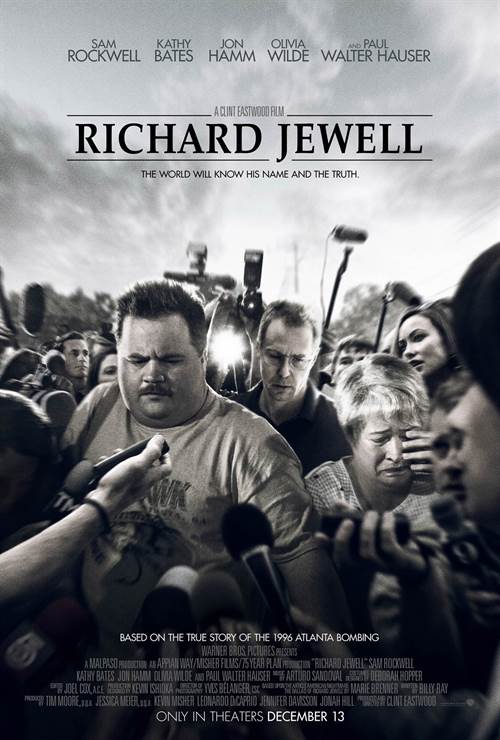 | | |
| --- | --- |
| Director: | |
| Writers: | |
| Cast: | |
| Released: | Friday, December 13, 2019 |
| Length: | 129 minutes |
| Studio: | Warner Bros. |
| Genre: | Drama |
| Rating: | Under 17 requires accompanying parent or adult guardian. |
Synopsis
Directed by Clint Eastwood and based on true events, "Richard Jewell" is a story of what happens when what is reported as fact obscures the truth.

"There is a bomb in Centennial Park. You have thirty minutes." The world is first introduced to Richard Jewell as the security guard who reports finding the device at the 1996 Atlanta bombing—his report making him a hero whose swift actions save countless lives. But within days, the law enforcement wannabe becomes the FBI's number one suspect, vilified by press and public alike, his life ripped apart. Reaching out to independent, anti-establishment attorney Watson Bryant, Jewell staunchly professes his innocence. But Bryant finds he is out of his depth as he fights the combined powers of the FBI, GBI and APD to clear his client's name, while keeping Richard from trusting the very people trying to destroy him.

The film stars Oscar winners Sam Rockwell ("Three Billboards Outside Ebbing, Missouri") as Watson Bryant and Kathy Bates ("Misery," TV's "American Horror Story") as Richard's mom, Bobi; Jon Hamm ("Baby Driver") as the lead FBI investigator; Olivia Wilde ("Life Itself") as Atlanta Journal-Constitution reporter Kathy Scruggs; and Paul Walter Hauser ("I, Tonya") stars as Richard Jewell.

Oscar-winner Eastwood directed from a screenplay by Oscar nominee Billy Ray ("Captain Phillips"), based on the Vanity Fair article "American Nightmare—The Ballad of Richard Jewell" by Marie Brenner. Eastwood also produced under his Malpaso banner, alongside Tim Moore, Jessica Meier, Kevin Misher, Leonardo DiCaprio, Jennifer Davisson and Jonah Hill.

Eastwood's creative team includes director of photography Yves Bélanger and production designer Kevin Ishioka, along with longtime costume designer Deborah Hopper and Oscar-winning editor Joel Cox ("Unforgiven"), who have worked with Eastwood throughout the years on numerous projects. The music is by Arturo Sandoval, who scored 2018's "The Mule."

Warner Bros. Pictures Presents a Malpaso Production, an Appian Way/Misher Films/75 Year Plan Production, "Richard Jewell." The film will be in theaters on December 13, 2019 and will be distributed worldwide by Warner Bros. Pictures.

Purchase DVD/Blu-ray/4K UHD physical copy of Richard Jewell today at Amazon.com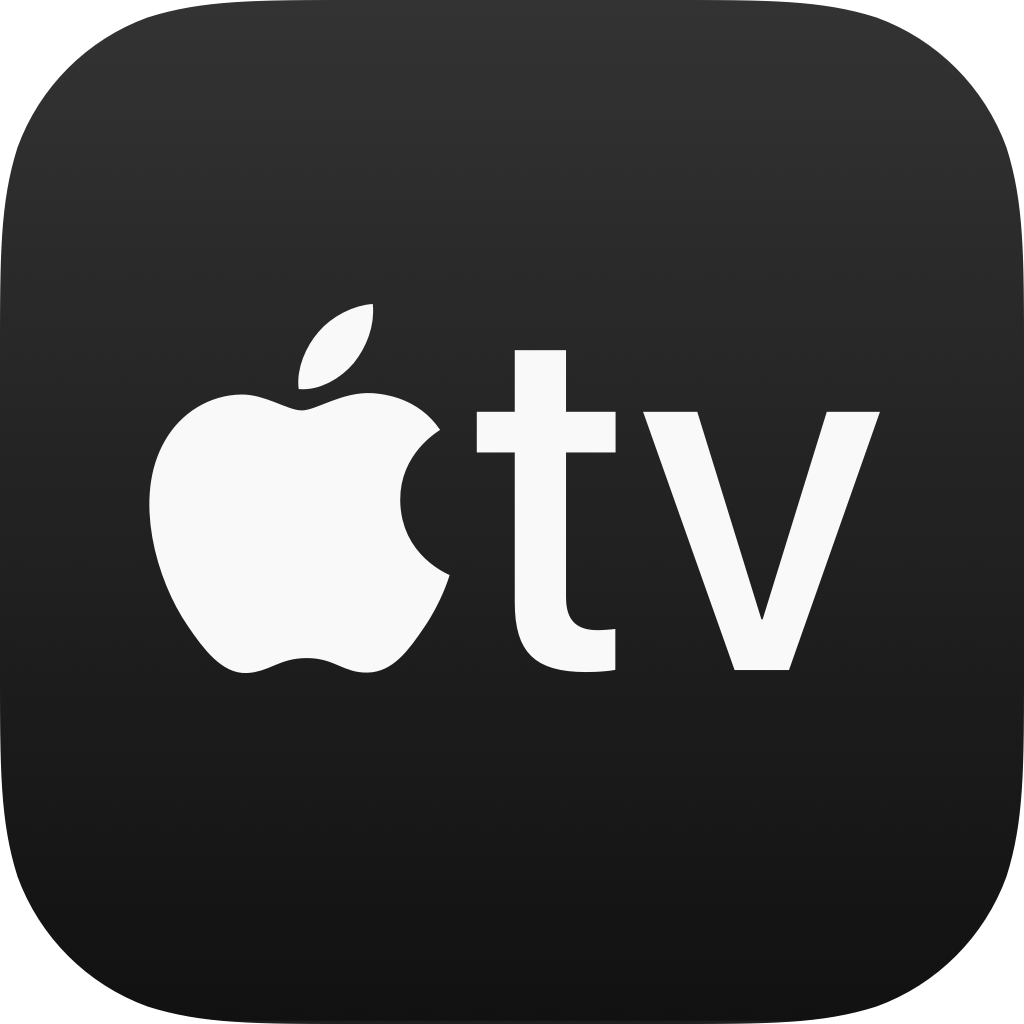 Download Richard Jewell in Digital HD/4K from the iTunes store.
Richard Jewell images are © Warner Bros.. All Rights Reserved.
Win Passes For 2 To An Advance Screening of Warner Bros.' Richar...
12/9/2019 8:51 AM EST
The year was 1996 and the United States was excited as we would be hosting the Summer Olympic Games in Atlanta, Georgia.  At a celebration in Centennial Olympic Park, a security guard, named Richard Jewell, found a bomb in a backpack and alerted police.  That simple act would change his life forever.  This holiday season the story of those events is being brought to the big screen.   Before it is ...
More>>
Richard Jewell Blu-ray Review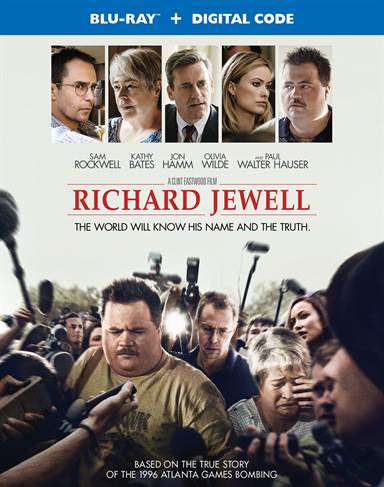 There is a problem in this country when someone is even vaguely accused of a crime. Law enforcement and the media seem to convict the suspected perpetrator, sometimes with little to no real evidence. The media also add fuel to the fire in the court of public opinion and so often people believe what they say without question. If you don't believe me, just look at the case against Richard Jewell. The man was accused of planting a bomb during the 1996 Olympics in Atlanta. Even though he was eventually exonerated of any crime, he lived through three months of hell and was believed to be guilty even after the real bomber was found.
Richard Jewell (Paul Walter Hauser; I, Tonya) wanted nothing more than to help people and to have a career in law enforcement. He was the "by the book" kind of guy which got him into trouble. He was overzealous and thought he was doing what was best for the community but instead people just saw him as crazy. When he found a suspicious backpack at Centennial Park during the Atlanta Olympics celebration the authorities thought he was overreacting until they found a pipe bomb inside.
Initially touted as a hero, Jewell suddenly found himself to be the prime suspect in the FBI investigation. Railroaded by the government agency and "burned at the stake" by the media, Jewell went from a superstar to a criminal overnight and convicted by public opinion before he was ever charged with anything. Over a three month period, he and his mother were harassed by reporters and the FBI and the false claims "ruined his life". Eventually, he was released as a suspect and got a job in law enforcement but there are still people today who think he was guilty of placing that bomb that injured 100 people and killed two.
Hauser was a great option to portray Jewell, not only for his physical resemblance but because he emitted an aura of truly caring for people while following the rules to a point of taking them overboard. Kathy Bates (Misery) did an excellent job as Richard's mother, Bobi, offering a range of emotions from pride in her son to sadness and terror thinking that anyone could believe her son planted a pipe bomb. Olivia Wilde (TRON: Legacy) John Hamm (Mad Men) and Sam Rockwell (Three Billboards Outside Ebbing, Missouri) round out this talented cast.
The Blu-ray is presented in the standard 1080p resolution from a true 4K digital intermediate and a 2.39:1 aspect ratio. Therefore, you can expect the overall quality to be excellent, which it is. Details are sharp and coloring is good. The DTS-HD Master audio 5.1 is adequate but does not offer the "punch" during the explosion that we become used to with Dolby Atmos audio. The most disappointing part of this combo pack are the special features. There are only two and neither offers any footage of the real Richard Jewell. They are The Making of Richard Jewell and The Real Story of Richard Jewell and have a combined length of 13 minutes. Sadly, they offer little depth and tend to be more surface oriented.
The film starts off rather slow and works its way through the events of July 1996 and only really picks up in the third act when we see Jewell, in his own quiet and gentle way, fight back against the FBI and, by extension, and the media. This "railroading" by government agencies and the media is unfortunately still prevalent almost 25 years later and, while helping to shed some light onto the subject matter, Richard Jewell does very little in the way of changing the climate we live in.
Grade: B-
Read More Richard Jewell Reviews
For more reviews please visit our film/television review section.
Directed by Clint Eastwood and based on true events, "Richard Jewell" is a story of what happens whe...
SPONSORED LINKS