Freaky (2020)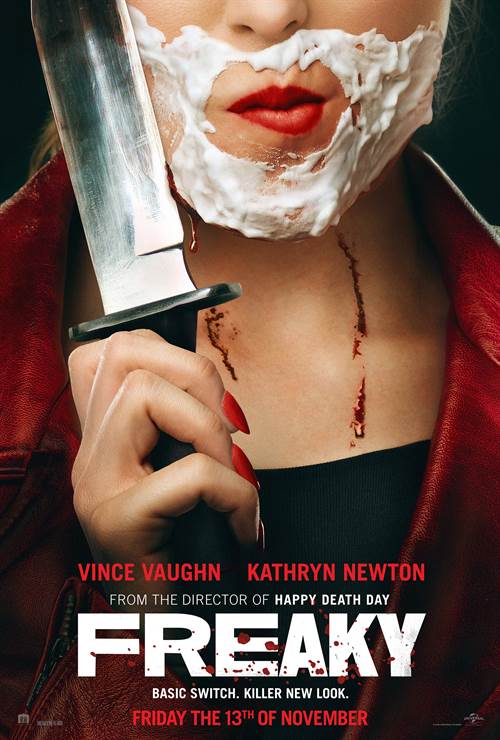 Share this:
| | |
| --- | --- |
| Director: | |
| Writers: | Christopher Landon, Michael Kennedy |
| Cast: | |
| Released: | Friday, November 13, 2020 |
| Length: | 101 minutes |
| Studio: | Universal Pictures |
| Genre: | Horror, Comedy |
| Rating: | Under 17 requires accompanying parent or adult guardian. |
Synopsis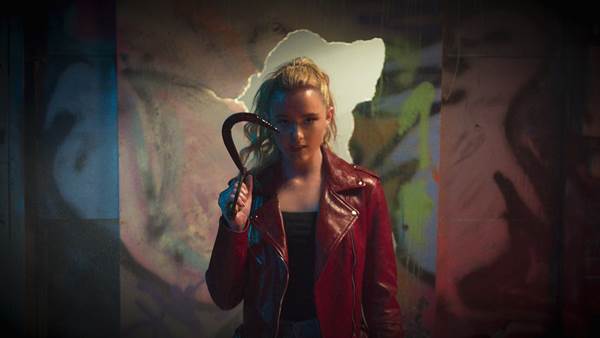 Seventeen-year-old Millie Kessler (Kathryn Newton, Blockers, HBO's Big Little Lies) is just trying to survive the bloodthirsty halls of Blissfield High and the cruelty of the popular crowd. But when she becomes the newest target of The Butcher (Vince Vaughn), her town's infamous serial killer, her senior year becomes the least of her worries.

When The Butcher's mystical ancient dagger causes him and Millie to wake up in each other's bodies, Millie learns that she has just 24 hours to get her body back before the switch becomes permanent and she's trapped in the form of a middle-aged maniac forever. The only problem is she now looks like a towering psychopath who's the target of a city-wide manhunt while The Butcher looks like her and has brought his appetite for carnage to Homecoming.

With some help from her friends—ultra-woke Nyla (Celeste O'Connor, Ghostbusters: Afterlife), ultra-fabulous Joshua (Misha Osherovich, The Goldfinch) and her crush Booker (Uriah Shelton, Enter the Warriors Gate)—Millie races against the clock to reverse the curse while The Butcher discovers that having a female teen body is the perfect cover for a little Homecoming killing spree.

The film also stars Alan Ruck (HBO's Succession), Katie Finneran (TV's Why Women Kill) and Dana Drori (Hulu's High Fidelity).

From the deliciously debased mind of writer-director Christopher Landon (Happy Death Day, the Paranormal Activity franchise) comes a pitch-black horror-comedy about a slasher, a senior, and the brutal truth about high school.

Freaky is written by Christopher Landon and Michael Kennedy (Fox's Bordertown) and is produced by Jason Blum (Halloween, The Invisible Man). The film is produced by Blumhouse Productions in association with Divide/Conquer. The executive producers are Couper Samuelson and Jeanette Volturno.

Purchase DVD/Blu-ray/4K UHD physical copy of Freaky today at Amazon.com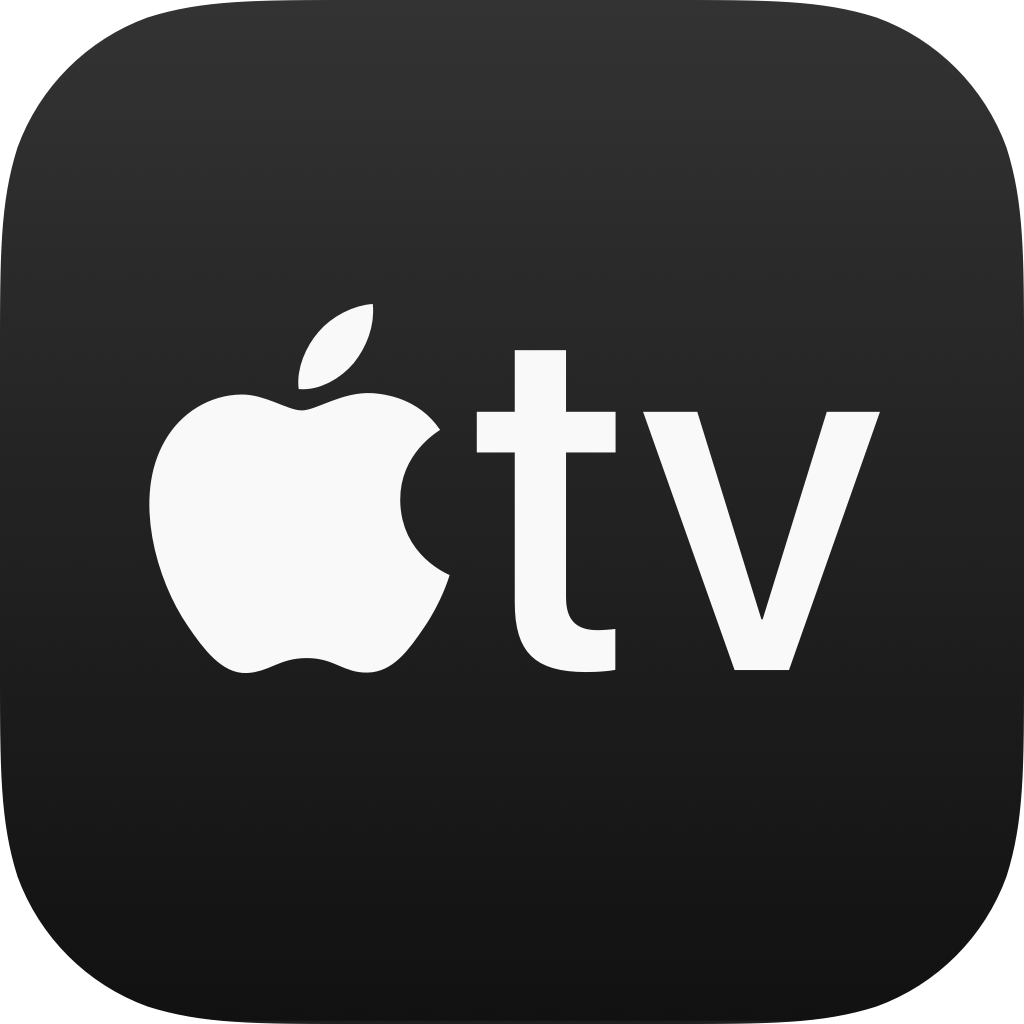 Download Freaky in Digital HD/4K from the iTunes store.
Listen to the Freaky soundtrack on Apple Music.
Freaky images are © Universal Pictures. All Rights Reserved.


Freaky Theatrical Review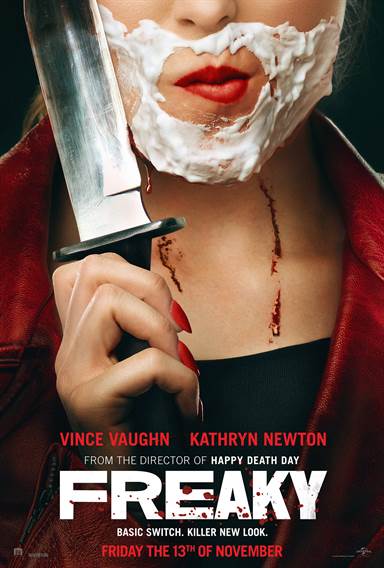 How often do you see on the internet a film categorized as Horror/Comedy? It's a rare event indeed as one would not normally think of those two film genres together. Some might argue that the Scream franchise has some hints of comedy in them but not enough to label them as such. Interestingly, Happy Death Day is listed as Horror/Mystery/Thriller yet last year's Happy Death Day 2U loses the Thriller distinction and adds Comedy to its list of genres instead. Opening this week from the same director that brought you the Happy Death Day films, is Freaky…a comedy, horror, thriller.
If the Happy Death Day movies were the horror version of Groundhog Day (1993), then Freaky is the demonized version of Freaky Friday (2003). Millie (Kathryn Newton; Pokemon Detective Pikachu) is a dorky high school girl who is bullied all the time except by her two best friends, Nyla (Celeste O'Connor; Wetlands) and Josh (Misha Osherovich; The Goldfinch). Having lost her father the year before, Millie is mostly quiet and withdrawn and spends most of her time with her mother who took her husband's death extremely hard.
When four of the school's most popular teenagers are found murdered and an ancient dagger has gone missing, everyone is on edge but continue with the school's homecoming festivities. Suddenly, after the football game (Millie is the school's mascot - the Beaver), Millie finds herself alone and faced with the Blissfield Butcher (Vince Vaughn; Wedding Crashers) who stabs her with the dagger. The next morning, she finds herself in the killer's body while he inhabits hers, going on a murder spree. Millie and her friends discover, due to the dagger's spell, she only has until midnight to switch back or stay in the Butcher's body forever.
Newton has had a few notable roles and she is a standout in each one of them. While she sometimes outshined in Freaky by her co-star Vaughn, she has an intense stare and wicked smile that would convince almost anyone there is evil inside her (well, him but you know what I mean). Vaughn has a real future portraying unpopular, teenage girls as his "Millie" is spot on and hilarious (hence the comedy description). Jack Black (School of Rock) offered a similar depiction of Bethany in the Jumanji films but I think Vaughn did a slightly better job of not turning into a caricature of a typical teenager. The supporting cast is generally good and O'Conner and Osherovich interact with Vaughn very well.
As I mentioned, if you have seen Freaky Friday, you know the general idea behind the movie except it is no longer about a mother and daughter trying to understand each other but about a shy, nerdy girl looking to save her town from a serial killer. Director (and co-writer) Christopher Landon (Scouts Guide to the Zombie Apocalypse) definitely has a fun and quirky style which is why his movies tend to lean towards the comedy side even though the film's premise may not be based on comedy.
If you were hoping for another Happy Death Day type film, you will be slightly disappointed as Freaky isn't as smart or as funny as the former movies. It also takes a good 30 minutes to get going so, even if you have the urge to turn it off twenty-five minutes in, stick with it as the movie does pick up and gets better/funnier. There are also some gruesome murder scenes (table saw anyone?) with lots of blood and gore giving Freaky more of the typical horror/slasher film feel than Happy Death Day.
With a strong cast, especially Newton and Vaughn, and a reimagining of a classic "switcharoo", Freaky has some good points and some bad ones but overall, it definitely could have been worse. It's a movie you should see at least once.
Grade: B-

Read More Freaky Reviews
For more reviews please visit our film/television review section.
Seventeen-year-old Millie Kessler (Kathryn Newton, Blockers, HBO's Big Little Lies) is just trying t...

FlickDirect's Austin Putnam talks about FREAKY, the latest film by director Christopher Landon a...
SPONSORED LINKS