Breakdown (1997)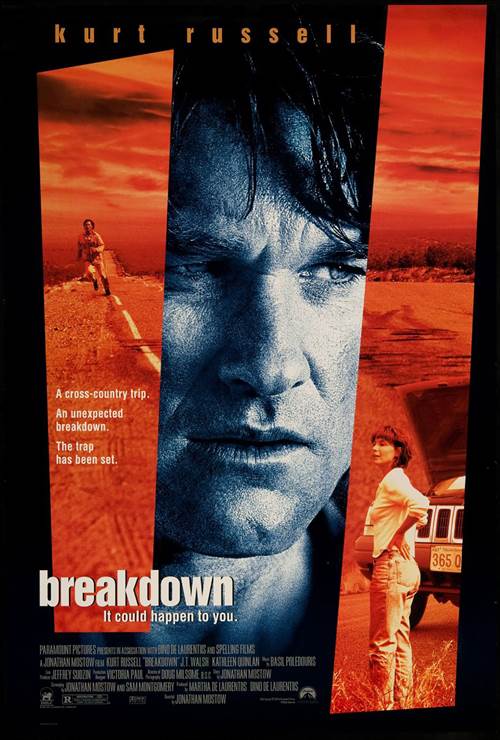 | | |
| --- | --- |
| Director: | |
| Writers: | |
| Cast: | |
| Released: | Friday, May 2, 1997 |
| Length: | 93 minutes |
| Studio: | Paramount Pictures |
| Genre: | Drama |
| Rating: | Under 17 requires accompanying parent or adult guardian. |
Breakdown Synopsis
All roads lead to excitement with Kurt Russell in Breakdown, the non-stop thrill ride that's "a movie of nerve-frying intensity...Kurt Russell's best performance yet" (Rex Reed, New York Observer). Jeff Taylor (Russell) and his wife Amy (Kathleen Quinlan) are headed toward a new life in California when their car's engine dies on a remote highway. Amy accepts a ride from a helpful trucker (J.T. Walsh) while Jeff waits with the car. But when Jeff shows up at the agreed rendezvous, he finds his wife's not there. The locals aren't talking; the police aren't much help. With no one to turn to, Jeff battles his worst fears and begins a desperate, danger-ridden search to find Amy - Before it's too late!

Purchase DVD/Blu-ray/4K UHD physical copy of Breakdown today at Amazon.com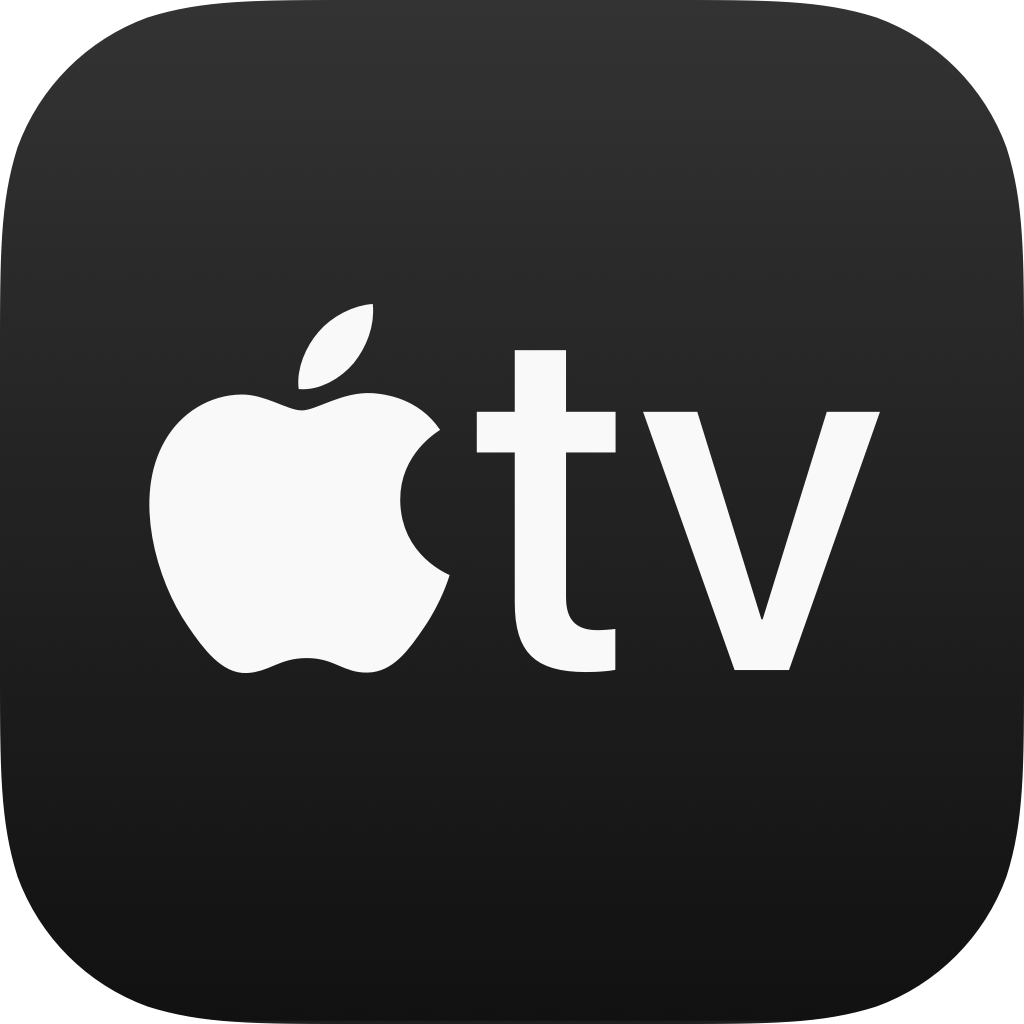 Download Breakdown in Digital HD/4K from the iTunes store.
Breakdown images are © Paramount Pictures. All Rights Reserved.
Paramount Presents: Breakdown Blu-ray Review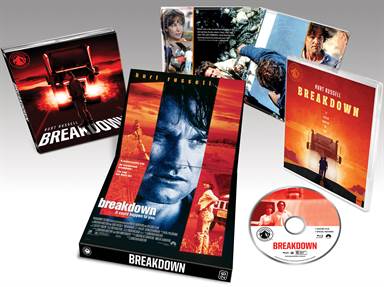 It has been almost a year and a half since Paramount Pictures started releasing remastered versions of some of their classic film through their series, Paramount Presents. Since last April they have been busy combing through their catalog and choosing some terrific movies to bring back. The latest pick is the 1997 Kurt Russell (Big Trouble In Little China)/ Kathleen Quinlan (Event Horizon) action/thriller, Breakdown. It's hard to believe that a 24-year-old movie is considered a classic, but I guess if they had to pick a "newer" classic, Breakdown is a good choice.
Jeff (Russell) and Amy (Quinlan) Taylor are driving cross country from Massachusetts to California for Jeff's new job. While Amy naps as Jeff drives through Arizona, he leans over to get something to drink and almost hits a pickup truck entering the roadway. When they stop at a gas station, the owner of the truck taunts them. A little way down the road, their car breaks down and the truck shows up. Luckily, a semi-truck drives down the road and, after trying to fix their car, the trucker (J.T.Walsh; Needful Things) offers to drive them to the nearest town. Jeff stays with their car while Amy takes the ride but, after fixing the car, Jeff shows up in town. Amy is nowhere to be found and the trucker claims to have no knowledge of the situation.
Russell and Quinlan are an odd pairing and not one that works especially well. However, individually they are very good in their respective roles. Walsh is one of those actors that is never the lead but has been in so many movies in a supporting role that you instantly recognize his face (I call it the "Stanley Tucci"). He was a smart choice for the part and plays the "devil in plain sight" part convincingly. The supporting cast is good, so they don't distract the viewer from the main actors.
The Paramount Presents series creates a new master from a 4K film scan which is going to result in a sharper-looking film and cleaner details. The incredibly bright, desert-like sun glows like liquid gold. The night scenes are enhanced with deeper hues especially the black tones of the shadows.
The audio also got an uptick with the upgraded DTS-HD Master Audio 5.1. Gunfire echoes through the speakers as if the viewer was in the canyon right along with Russell. The dialogue is crisp, and the soundtrack and score are beautifully presented.

One of the best parts about this release is that it offers some new extras instead of just recycling those that were previously released. Besides the fold-out case that offers the original movie poster, the extras include audio commentary by director Jonathan Mostow and Kurt Russell, Filmmaker Focus: Director Jonathan Mostow on Breakdown, Victory Is Hers – Kathleen Quinlan on Breakdown, A Brilliant Partnership – Martha De Laurentiis on Breakdown, Alternate Opening (With or without commentary), Isolated Score, and Theatrical Trailers.

Director Jonathan Mostow (Terminator 3: Rise of the Machines) also penned the original story and is wholeheartedly invested in Breakdown. The film starts off slowly as if he is establishing the characters and details one by one but eventually it picks up and becomes a mystery/thriller with some blood and action thrown in. Mostow's shots and angles are standard fare, but I suspect he was focused on the story and the actors more than the scenery. I'm not sure what I was doing in 1997 that caused me to miss this film in the theaters but I'm glad I saw it now. Despite a few hiccups, Breakdown is a solid movie and Paramount Pictures made a very good choice adding to their Paramount Presents collection.

Grade: B
-- Allison Rose
For more reviews please visit our film/television review section.
SPONSORED LINKS