I Want You Back (2022)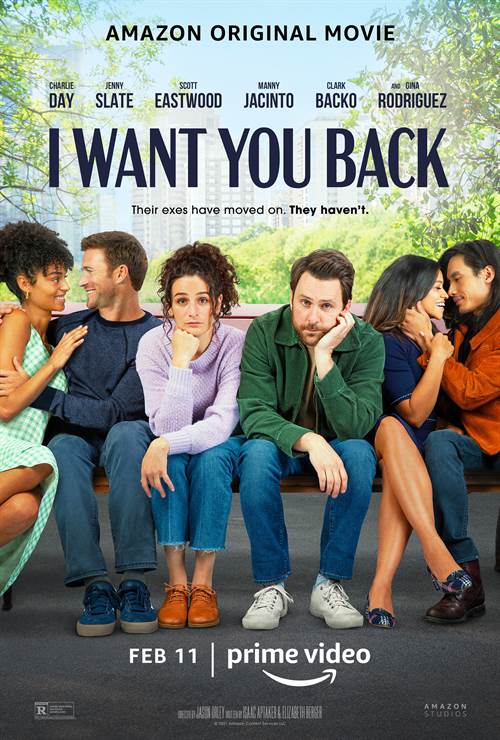 | | |
| --- | --- |
| Director: | |
| Writers: | |
| Cast: | |
| Released: | Friday, February 11, 2022 |
| Length: | 111 minutes |
| Studio: | Amazon Studios |
| Genre: | Comedy |
| Rating: | Under 17 requires accompanying parent or adult guardian. |
I Want You Back Synopsis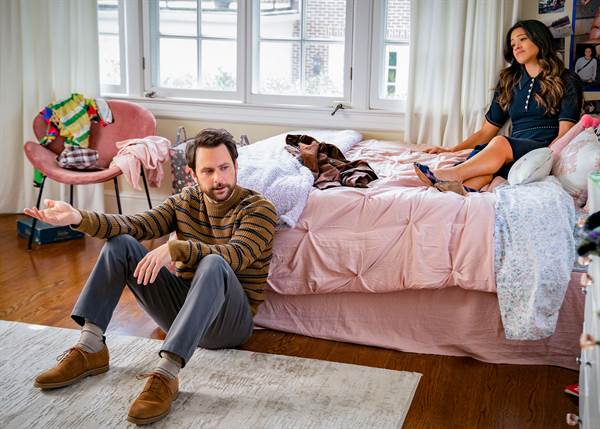 Peter (Charlie Day) and Emma (Jenny Slate) were total strangers, but when they meet, one thing instantly bonds them: they were both unexpectedly dumped by their respective partners, Anne (Gina Rodriguez) and Noah (Scott Eastwood), on the same weekend. As the saying goes, "misery loves company," but their commiseration turns into a mission when they see on social media that their exes have happily moved on to new romances, Anne with Logan (Manny Jacinto) and Noah with Ginny (Clark Backo). Terrified that, in their 30s, they have lost their shot at happily ever after and horrified at the prospect of having to start over, Peter and Emma hatch a desperate plot to win the loves of their lives back. Each will do whatever it takes to put an end to their exes' new relationships and send them running back to their arms.
I Want You Back images are © Amazon Studios. All Rights Reserved.
I Want You Back Theatrical Review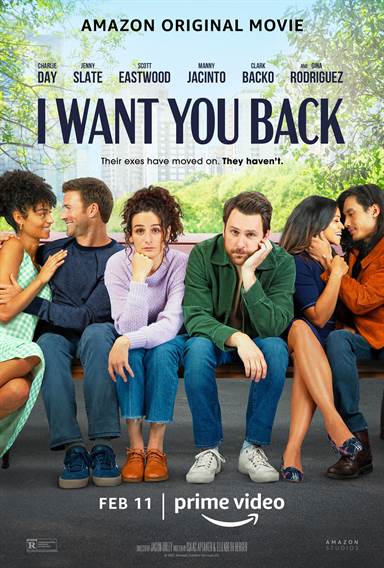 What do you get when you combined the month of February with streaming services and two comedic actors? If you answered, "a new rom-com", you would be 100% correct. I Want You Back, Starring Charlie Day (It's Always Sunny in Philadelphia) and Jenny Slate (Gifted), is set to premiere on Amazon Prime Video this weekend, just in time to pop some popcorn (or eat a whole pint of ice cream), snuggle up on the couch and have a "movie night in". The rom-com pretty much follows the usual format to an unsurprising ending but along the way it has some real heart and cute moments.
Emma (Slate) and Noah (Scott Eastwood; The Longest Ride) have been dating for a year and a half when he breaks up with her over brunch. She is blindsided and devastated. Meanwhile, Peter (Day) and Anne (Gina Rodriguez; Jane the Virgin) have been together for five years but sensing no spark any longer, Anne dumps Peter. A few days later, Peter and Emma meet in the stairwell of the building they both work in while crying over their respective exes and striking up a friendship. After finding out that their exes are dating other people already, the two devise a plan to use each other to break up the new relationships so they can win back the "loves of their lives".
I love Jenny Slate. She is "every average woman" in the world. Not abnormally beautiful she is classic but with excellent comedic timing. Day is also sharp and quick-witted and is perfect as the nice, everyday guy who, more often than not, ends up in the "friend zone". Rodriguez is good as Anne who comes off a little cold and bitchy. Eastwood almost has the "dumb but good-looking jock" vibe going on, only Noah isn't terribly stupid and is more like a guy one would want to befriend and go have a beer with.
Slate and Day have great "friendship" chemistry, but truth be told, I don't think they work as a romantic couple. I love their banter and their easiness together on screen, but I didn't really sense that "spark" that many romcom stars have. Clark Backo (Designated Survivor) who plays Noah's new girlfriend is flat and dull and makes me wonder what Noah sees in her. However, Logan (Manny Jacinto; The Good Place), Anne's new boyfriend, is "artistic and enlightened" and seems to have more depth than Backo.
Aiding this film and actors is a well-written script. Screenwriters Isaac Aptaker and Elizabeth Berger (Love, Simon) give Slate and Day plenty of terrific dialogue to play with and don't go for the usual, cliché lines. They invite viewers in and keep them interested throughout most of the film. Sadly, what has some great potential falls off in the last 25 minutes and loses any momentum it built up in the first hour or so. As mentioned earlier, Slate and Day build a great friendship, but it simply doesn't translate into a love affair.
Overall, the cast is good but if I had to choose one standout, it would be Slate. She can play depressed, sexy, funny, and sweet and make herself endearing to almost anyone. Without her, I Want You Back would be a decent rom-com but not as special as it is with her. She even has some entertaining moments with a middle schooler named Trevor (Luke David Blumm; The King of Staten Island).
I Want You Back is most definitely a rom-com but perhaps a slightly elevated version of one, as it is witty, smart, and not the same old thing regurgitated back at the audience.
Grade: B
-- Allison Rose
For more reviews please visit our film/television review section.
SPONSORED LINKS