Ghostbusters (2016)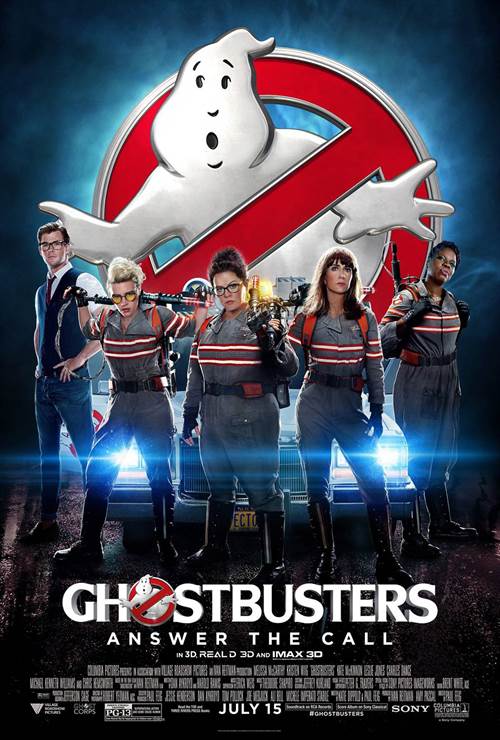 | | |
| --- | --- |
| Director: | |
| Writers: | |
| Cast: | |
| Released: | Friday, July 15, 2016 |
| Length: | 116 minutes |
| Studio: | Columbia Pictures |
| Genre: | Comedy |
| Rating: | Some material may be inappropriate for children under 13. |
This film contains a scene during or after the credits.
Synopsis
Thirty years after the original film took the world by storm, Ghostbusters is back and fully rebooted for a new generation. Director Paul Feig combines all the paranormal fighting elements that made the original franchise so beloved with a cast of new characters, played by the funniest actors working today. Get ready to watch them save the world this summer!

Purchase DVD/Blu-ray/4K UHD physical copy of Ghostbusters today at Amazon.com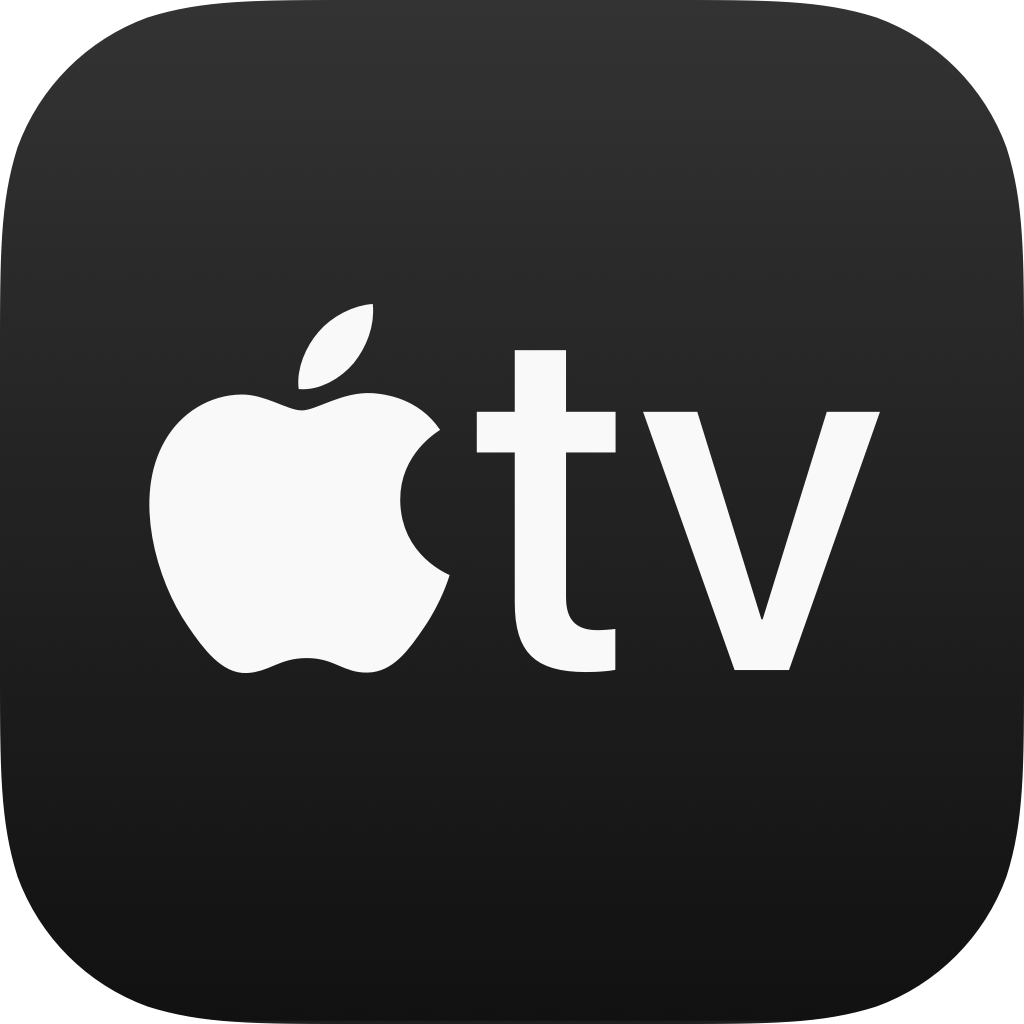 Download Ghostbusters in Digital HD/4K from the iTunes store.
Ghostbusters images are © Columbia Pictures. All Rights Reserved.
Sony Pictures Ghostbusters Offers First-Ever Front and Rear-Faci...
7/7/2016 12:07 PM EST
For the first time ever, Snapchatters can use both the front and rear cameras of their phones with a new type of Lens as millions of users become true Ghostbusters on the popular digital platform.  Using the front camera on your smart phone, you can "Bust" ghosts. By switching to the rear camera, users can "Slime" unsuspecting friends or themselves.Sony Pictures is the first brand partner to use t...
More>>
Sigourney Weaver to Join Ghostbusters Cast
9/25/2015 11:59 AM EST
Direct Paul Feig tweeted some Ghostbusters casting news today, letting a little cat out of the bag."Gang, trying to keep surprises but this is about to leak, so I'll tell you myself: the awesome Sigourney Weaver is going to be in our movie!"Weaver will be joining the cast, which already includes Melissa McCarthy, Kristen Wiig, Leslie Jones, Kate McKinnon and Chris Hemsworth.  Bill Murray, Dan Akro...
More>>
Ghostbusters Theatrical Review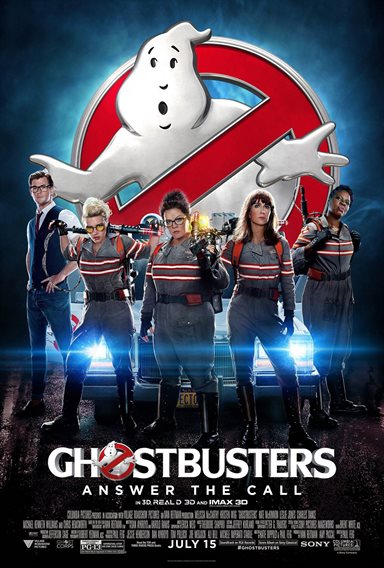 If you were a child of the 80's, you will undoubtedly remember the classic movie,
Ghostbusters,
starring Dan Aykroyd (
The Blues Brothers
), Bill Murray (
Caddyshack
), Harold Ramis (
Stripes
), and Ernie Hudson (
The Crow
).
I'm not sure why Columbia pictures decided to reimagine
Ghostbusters,
but for some reason it did.
Dr. Erin Gilbert (Kristen Wiig; The Martian) is a professor at Columbia University, who years ago wrote a book on the paranormal with her former partner, Abbie Yates (Melissa McCarthy; Spy). Abbie has continued that research at a much less prestigious college. When that book surfaces, Erin is faced with a claim that one of New York's agent landmarks is haunted. Upon further investigation, the ladies come face-to-face with a ghost.
When a second ghost shows up in the NYC subway, Erin and Abbie, along with Jillian Holtzman (Kate McKinnon; Saturday Night Live), and Patty Tolan (Leslie Jones; Saturday Night Live) set up shop ready to capture and study these apparitions. Unfortunately, the Mayor wants to discredit them to avoid mass hysteria until the vortex is charged and a portal is opened unleashing ghosts all over the city.
I was cautiously optimistic when this movie was announced but less enthusiastic once I saw the trailer. This version is a little scarier and decidedly much less humorous than the original one. The story isn't well thought out or well written and can't live up to its predecessor.
McCarthy isn't funny and her voice is annoyingly nasal. Wiig is slightly better but mostly uninspired. Jones adds a few moments of hilarity and a streetwise toughness that works most of the time, but the real star is McKinnon. Her portrayal of the intelligent inventor with a tinge of slightly mad scientist is refreshing and chaotic. She adds an element to the dynamic that is ingenious and disturbing, and she stands out in every scene she is in.
The other saving grace of the movie is the cameos from almost every significant member of the original cast. Those moments are nostalgic and terrific. Conversely, the sexist role reversal with the dumb, hot, yet inept male secretary (Chris Hemsworth; Thor) had the potential to be funny, but sadly falls flat.
The graphics were one of the few shinning moments in the film with fantastic looking ghosts that aren't cheesy or cheap looking. However, sometimes they we too well done and could be scary to younger audience members.
The direction also misses the mark, and it is very obvious in scenes such as the dance sequence that could have been epic but was cut and stuck in the credits to keep audiences in their seats. Not only should the dance have been kept in the film, but it would have been better if they had broken into the Thriller dance. Just one of many missed opportunities throughout the movie that helped makes it the disappointment it ultimately becomes.
If you have never seen the original films, you may enjoy this reinvention; but for those of us who fell in love with the movie in 1984, the new Ghostbusters can't hold a candle to what paved the way.
See it for the nostalgia, the cameos, and McKinnon; but go in with low expectations.
Grade: C-
For more reviews please visit our film/television review section.
Thirty years after the original film took the world by storm, Ghostbusters is back and fully reboote...
SPONSORED LINKS