Labyrinth (1986)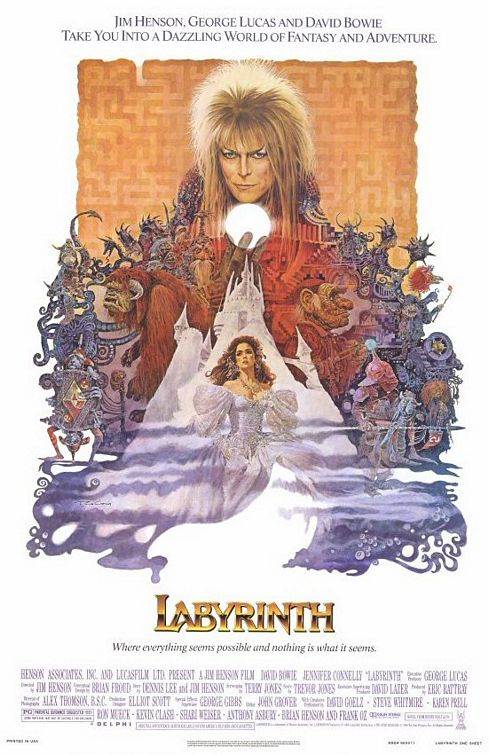 Share this:
| | |
| --- | --- |
| Director: | |
| Writers: | |
| Cast: | |
| Released: | Friday, June 27, 1986 |
| Length: | 102 minutes |
| Studio: | TriStar Pictures |
| Genre: | Sci-Fi/Fantasy |
| Rating: | Some material may not be suitable for children. |
Synopsis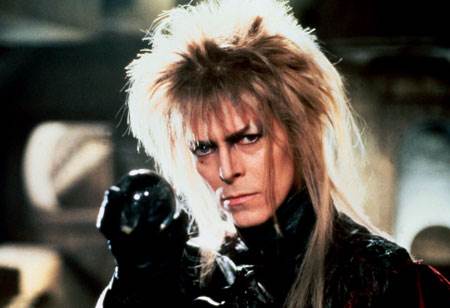 Young Sarah (Jennifer Connelly) is left home alone by her parents and she has to babysit her little brother Toby. But the baby keeps crying and Sarah, while telling him a story to make him sleep, inadvertently conjures from a fantasy world the Goblin King (David Bowie) who steals the child and brings him to his castle in the middle of a labyrinth. Sarah has to rescue him before midnight, or the baby will became a goblin...

Purchase DVD/Blu-ray/4K UHD physical copy of Labyrinth today at Amazon.com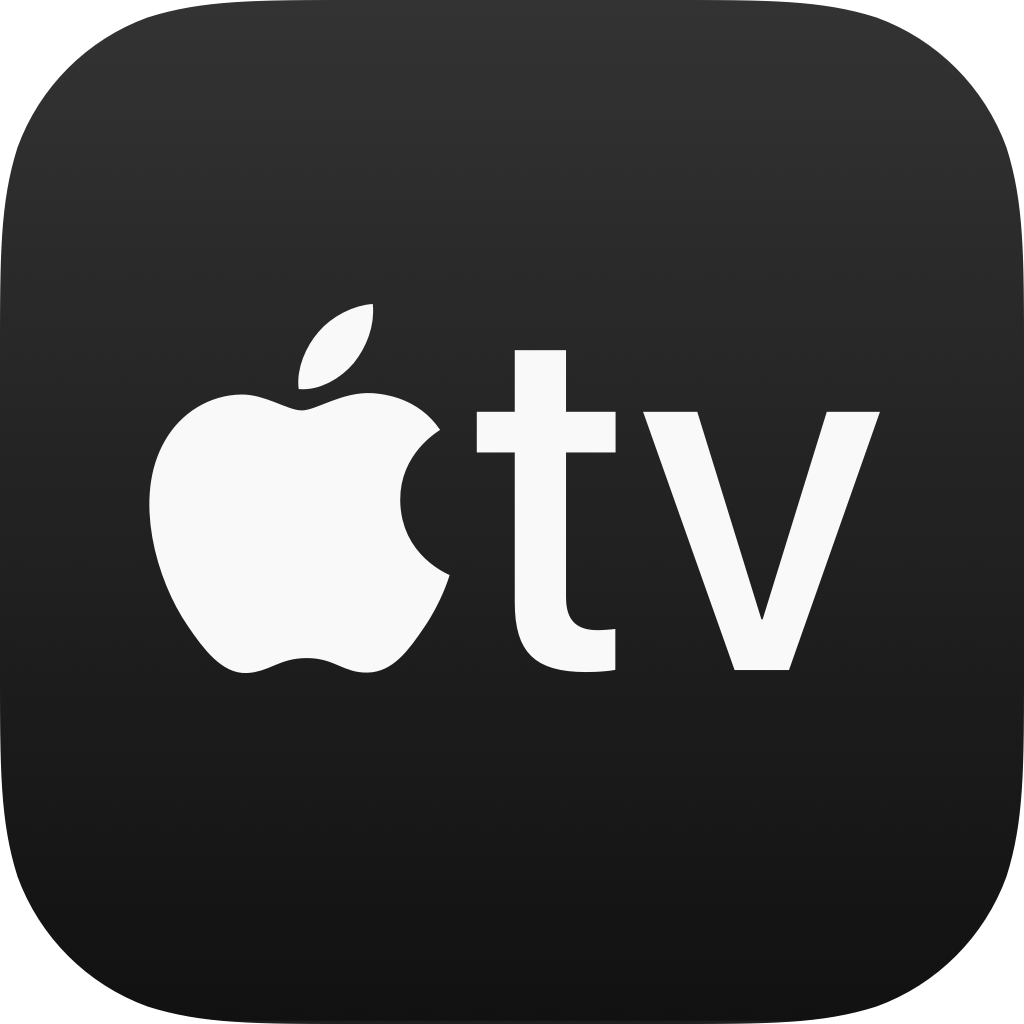 Download Labyrinth in Digital HD/4K from the iTunes store.
Listen to the Labyrinth soundtrack on Apple Music.
Labyrinth images are © TriStar Pictures. All Rights Reserved.
Labyrinth Sequel Announced With Scott Derrickson to Direct
5/26/2020 3:13 PM EST
Scott Derrickson (Doctor Strange) has been tapped by TriStar Pictures to direct a sequel to Jim Henson's Labyrinth. The original film was released in 1986 and starred David Bowie and Jennifer Connelly. The film's popularity hasn't dwindled over the past 34 years, gaining a cult following.  owie plays the Goblin King Jareth who comes into possession of Sarah's (Jennifer Connelly) baby brother after...
More>>
TriStar to Release Film Set in Labyrinth Universe
4/13/2017 4:16 PM EST
TriStar will be releasing a film that will bring us back to the work of Jim Henson's "Labyrinth", 1986 cult classic.  They have brought on Fede Alvarez to direct and Jay Basu to write the script. "Labyrinth is one of the seminal movies from my childhood that made me fall in love with filmmaking. I couldn't be more thrilled to expand on Jim Henson's mesmerizing universe, and take a new generation o...
More>>
80's Gem Labyrinth Still Shines on The Big Screen Thanks To Fath...
9/15/2016 10:47 AM EST
To mark the 30th anniversary of Labyrinth, The Henson Company and Fathom Events brought the film back to theaters for two days of special showings this week, giving older audience members a chance to relive their childhood, while also courting younger moviegoers with the a film that is neither a sequel nor a superhero film.For those unfamiliar with the film, Jim Henson's (The Dark Crystal) Labyrin...
More>>
Labyrinth 35th Anniversary Edition 4K Ultra HD Review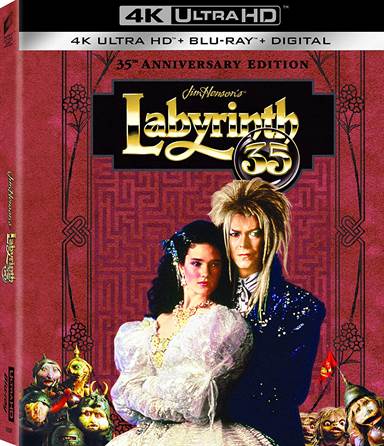 Thirty-five years ago, Jennifer Connelly (Snowpiercer) was only a teenager when she landed the lead role of Sarah in the Jim Henson (The Muppets) directed movie, Labyrinth. Co-starring David Bowie (The Man Who Fell to Earth) as Jareth, the goblin king, the film was initially considered a flop only having grossed just below thirteen million in the United States on a twenty-five-million-dollar budget. However, over time critics and audiences had a change of heart, and Labyrinth has now become considered a "cult classic". Originally released on 4K five years ago for the 30th anniversary, this week Labyrinth celebrates thirty-five years with an enhanced 4K, Blu-ray, and digital combo pack that includes a twenty-eight-page digibook.
Sarah lived with her father (Christopher Malcolm; Highlander), her stepmother (Shelley Thompson; Trailer Park Boys), and her half-brother, Toby (making his one and only film appearance, Toby Froud). She resents her stepmother and her baby brother. She is often Toby's babysitter which is a role she doesn't enjoy. Frustrated, Sarah makes a wish but instantly regrets it and tries to take it back. Sarah wishes the goblin king would take Toby away and he does, forcing Sarah to navigate the mysterious Labyrinth to find Jareth's castle and rescue Toby before it's too late.
It was very evident that, even as a teenager, Connelly was a talented actor. She has a "screen presence" drawing in the viewer's eye and keeping their attention throughout. Bowie was a megastar when this film was made and his sharp features, coupled with hair and makeup, made him the perfect person to portray Jareth. His quirky musical style fits in well with this fantasy film, especially tracks which he wrote specifically for Labyrinth. The many puppeteers and voice actors are terrific, but one would have expected no less from a Jim Henson production.
One might be concerned with the idea of taking a movie from 1986 and remastering it in Dolby Vision but fear not. The video quality is superb, even better than the 4K Native HDR10 version from only five years ago. Henson's team gives each "puppet" such intricate details that some of it could easily get lost but this new 4K transfer highlights said details.
The Dolby Atmos Audio is an excellent complement to the video. The highly synthesized 1980's soundtrack has depth while staying true to that tinniness that comes along with synthesizers. Dialogue is clear and crisp and ambient noise can be heard all around. However, more of the audio sits in the front speakers, which can happen with an older film.
Besides the disc and digital code, this new release comes with a twenty-eight-page booklet that includes rare pictures and artwork along with some original script pages. There are also two, new extras housed on the 4K disc. They are: Deleted & Alternate Scene Oubliette and Sarah's Screen Tests. The previously released extras, which are housed on the Blu-ray disc include "The Henson Legacy" Featurette, Labyrinth Anniversary Q&A, "Remembering The Goblin King" Featurette, The Storytellers (Picture-in-Picture), Commentary by Conceptual Designer Brian Froud, Original Making-of Documentary "Inside The Labyrinth", "Journey Through the Labyrinth: Kingdom of Characters" Documentary, "Journey Through the Labyrinth: The Quest for Goblin City" Documentary and Theatrical Trailers.
Jim Henson will forever be known for his puppet mastery and David Bowie will be remembered for so many things…incredible music, outrageous characters, and, of course, portraying the goblin king in Labyrinth. The movie is a magical, mystical, and somewhat disturbing look into the world of Jim Henson and his talent for fantasy storytelling. It also hints at romantic feelings between and Sarah and Jareth which is kind of creepy and made me a little uncomfortable.
Despite that, Labyrinth is part of both Henson's and Bowie's legacies and someday will be part of Connelly's as well. It grows on the viewer with each watching, hence it's cult-like following.
If you don't own a 4K copy of Labyrinth buy it now! If you do own a copy, buy this new version anyway for the upgrade video and audio quality, digibook, and new special features.
Grade: B
-- Allison Rose
For more reviews please visit our film/television review section.
Sing along to this classic song from the Labyrinth film.You remind me of the babe! What babe? The ba...
SPONSORED LINKS