Archer (2010)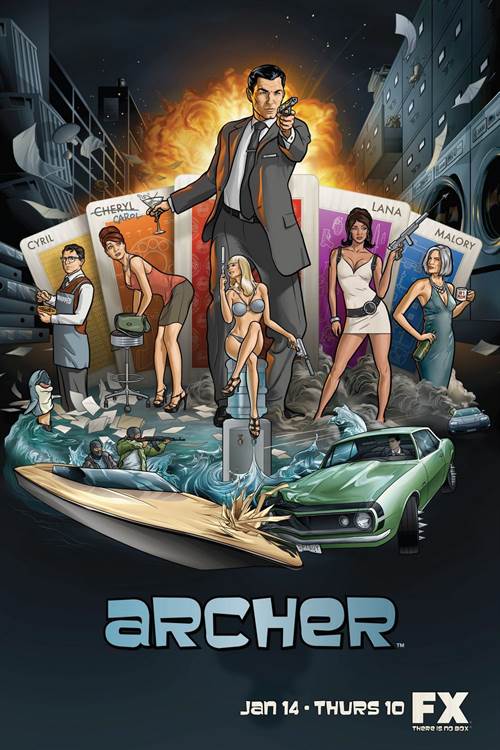 | | |
| --- | --- |
| Created By: | |
| Writers: | |
| Cast: | |
| Air Date: | Thursday, January 14, 2010 |
| Studio: | 20th Century Fox |
| Genre: | Television |
| Rating: | This program is specifically designed to be viewed by adults and therefore may be unsuitable for children under 17. |
Archer Synopsis
Archer is an animated, half-hour comedy that revolves around the spy agency known as the International Secret Intelligence Service (ISIS) and the lives of its employees. Although their work of espionage, reconnaissance missions, wiretapping and undercover surveillances is daunting and enigmatic, every covert operation and global crisis are actually unmitigated occasions for the ISIS staff to undermine, sabotage and betray each other for personal gains, pleasures and prosperity.
The series features the voices of H. Jon Benjamin as the highly skilled yet incredibly vain master spy "Sterling Archer"; Aisha Tyler as fellow agent provocateur "Lana Kane"; Jessica Walter as Archer's domineering mother and the rapacious CEO of ISIS, "Malory Archer"; Chris Parnell as the easily intimidated comptroller of ISIS, "Cyril Figgis"; Judy Greer as Malory's loquacious secretary, "Cheryl"; Amber Nash as the discordant director of human resources for ISIS, "Pam Poovey"; and George Coe as Archer's elderly and always exploited butler, "Woodhouse."
After just a 10-episode debut season, Archer has gained critical exaltation, a fervid fan base and clear reverence within the television industry. In 2010, H. Jon Benjamin received an Emmy® Award nomination for Outstanding Voice-Over Performance for his work as the show's title character, theNew York Daily News declared that "Creator Adam Reed showers us with a cascade of twisted comedy that invites everyone to come in and gasp" and the Boston Herald noted that "This spy spoof hits a bull's-eye with risqué snark and one of the best vocal casts assembled for any animated series."

Purchase DVD/Blu-ray/4K UHD physical copy of Archer today at Amazon.com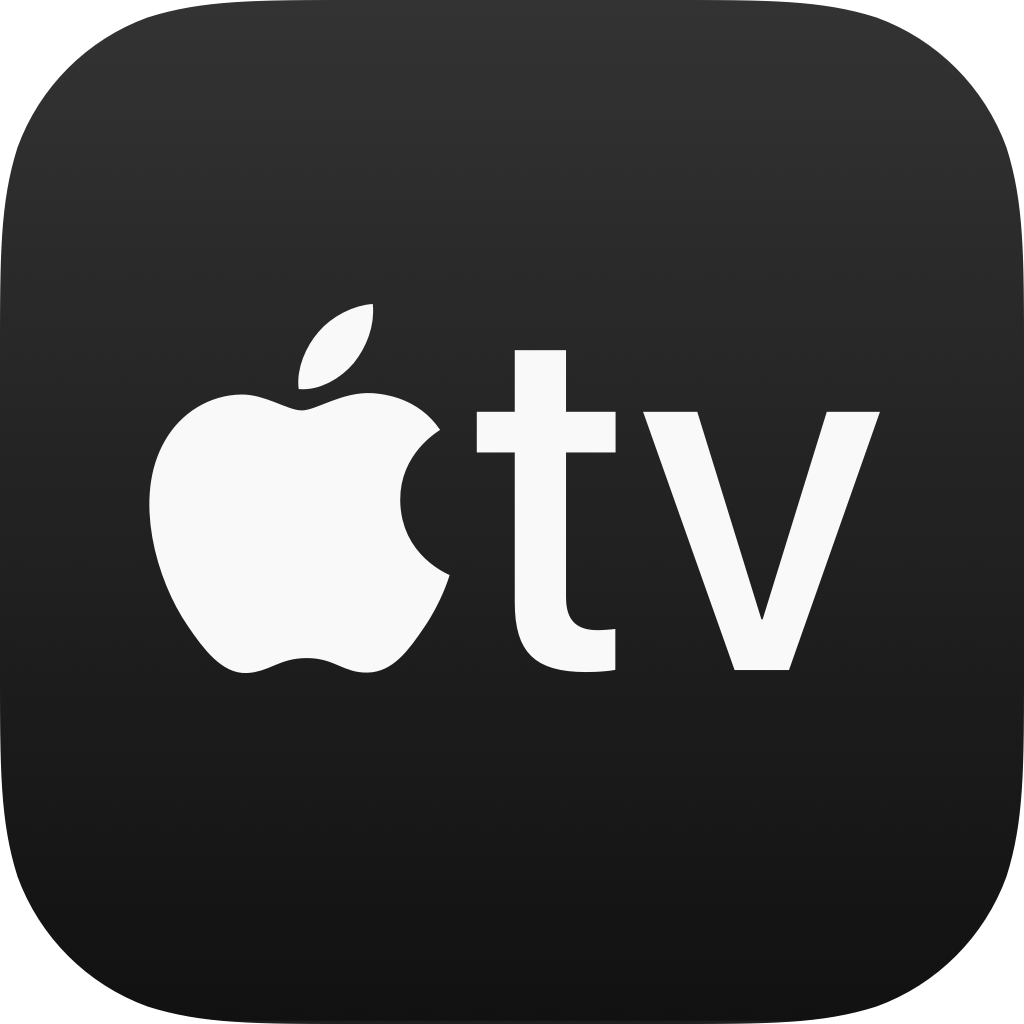 Stream Archer in Digital HD/4K from the AppleTV store.
Archer images are © 20th Century Fox. All Rights Reserved.
Archer Renwed for Three More Seasons
6/22/2016 2:20 PM EST
FX has renewed Archer for another three seasons, each season consisting of eight episodes. This will bring the series season total to 10.Nick Grad, president of original programming for FX Networks and FX Productions said, "We can't say enough about what Adam, Matt and the entire Archer team at Floyd County have done to keep this series so insanely funny and vital through seven seasons.The move to...
More>>
Archer Renewed for Fifth Season on FX
2/27/2013 5:04 PM EST
"Archer" the animated FX series, has been renewed for a fifth season. The news was announced today by Nick Grad, Executive Vice President of Original Programming and Development for FX."Archer is one the very best comedy series on television," said Grad.  "Adam Reed, Matt Thompson and the incredible cast - H. Jon Benjamin, Aisha Tyler, Jessica Walter, Chris Parnell, Judy Greer, Amber Nash, George ...
More>>
Win A Copy of Archer Season 2 DVD
12/22/2011 1:10 PM EST
During this overwhelming shopping season you may find yourself wondering, "What would Archer do?" Luckily, just in time for the holidays, we have this spy-centric, Archer-approved gift guide! Here, we will brief you on some cool spy essentials that would be great gifts for any Archer fan or amateur spy (or for, you know, that creepy guy across the street).    Loaded with three exclusive top-secret...
More>>
Win A Copy of Archer Season One On DVD!
12/29/2010 10:46 AM EST
Archer Season One has be released in a two-disc DVD set yesterday, December 28 to kick start the new years celebrations. We have a new contest running and we're giving away copies of these sets to our readers.    To win your own copy of the 1st of this animated series on DVD, simply send your name and email address to  contest@flickdirect.com (contest ends January 4th, 2011 at Midnight EST):   Pur...
More>>
The Complete Seventh Season DVD Review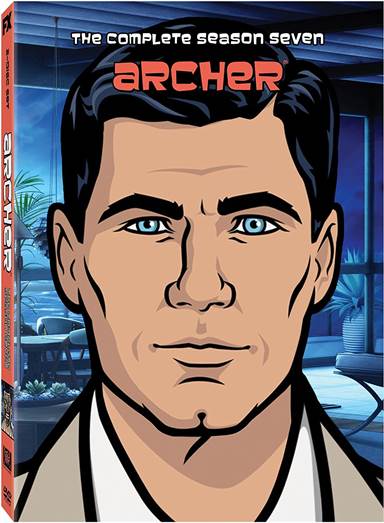 With the eighth season of Archer kicking off a couple of weeks ago on FX, 20th Century Fox has released the seventh season of the show on DVD.
If you haven't caught up on Archer Season 7 as of yet, there are a few new things this season. Season 7 starts with Archer and gang moving to L.A and opening a Private Investigators office. Of course, the inspiration is highly visible…many references to Magnum P.I. and Charlie's Angels are all over the place. In fact, Archer even gets Magnum's car and every transition from scene to scene consists of the Charlie's Angel's silhouette seaways.
This season definitely has a slightly different feel to it. A big plus is the addition of composer J.G. Thirlwell who sets the tone for the season. This is the first season where there was a score beyond the opening and closing music. It's a great addition giving the series a great film noir feel.
One of my favorite parts of this season was the opening of the first season. Spoofing Sunset boulevard, Archer's body is found face down floating in a pool leaving one to believe the end of this season has a definitive ending. Shift back 6 months previous and in walks Veronica Deane, a famous older actress, who had a disc with some "sensitive material" stolen from her possession. She offers "The Figgins Agency" $100,000 to get the material back. Of course, Archer jumps at the chance. They head to Alan Shapiro's house (the Lawyer they were told had the disc) to get the disc back. Now if you know Archer, somehow something is going to get messed up and after retrieving the disc and handing it off to Veronica Deane…..the real Veronica Deane walks in the office wanting to hire "The Figgins Agency" to recover a disc with "sensitive material" that was stolen from her lawyer's residence. Whoops!
Of course, what I find the most fun is the guest voice actors who randomly appear on the show. The biggest addition is Patton Oswalt, who plays the lawyer Alan Shapiro appearing in 6 of the 10 episodes of season 7. Also, making vocal cameos is J.K. Simmons, Keegan-Michael Key, Jon Daly, Jon Glaser, John O'Hurley and of course a season wouldn't be complete without a visit from Christian Slater playing just "Slater".
For me, season 7 was my favorite season so far. I love the direction they took the series in and while it sets up what could be an incredibly creative season 8….Season 7 was just a ton fun! I guess I'm a sucker for a flashback to the Private Investigator shows of the 70's with the vulgarity of Archer's Gang!
Archer Season 7 DVD Special Features include: Archer Reviews Bond and Archer Live! Reading (Table Read from San Diego Comic Con)
I give Archer Season Seven 3.75 stars out of 4 (Grade B+), it's fun, entertaining and a must have for Archer fans!
Read More Archer Reviews
Chris Rebholz (B) (Archer: Season 1 DVD Review)
Chris Rebholz (A) (Archer: The Complete Season Four Blu-ray Review)
John Delia (B) (Archer: The Complete Season Two Blu-ray Review)
John Delia (B) (Archer: The Complete Third Season DVD Review)
Nathan M Rose (C) (Archer: The Complete Season Five Blu-ray Review)
Nathan M Rose (A) (Archer: The Complete Season Six DVD Review)
For more reviews please visit our film/television review section.
SPONSORED LINKS