Wreck-It Ralph (2012)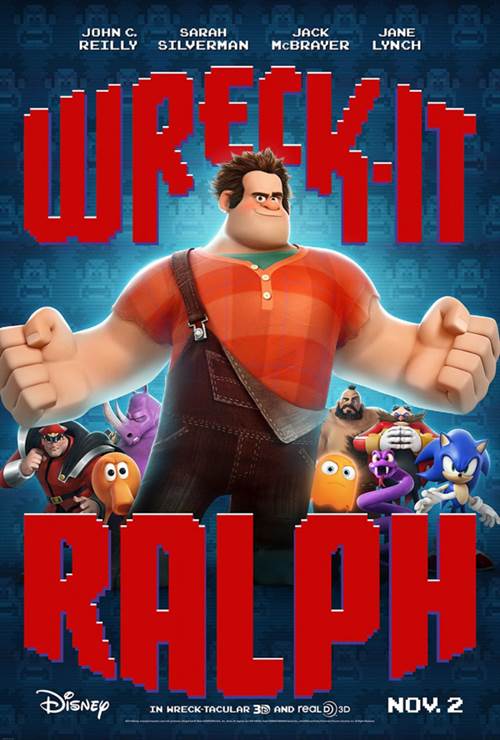 | | |
| --- | --- |
| Director: | |
| Writers: | |
| Cast: | |
| Released: | Friday, November 2, 2012 |
| Length: | 123 minutes |
| Studio: | Walt Disney Pictures |
| Genre: | Family |
| Rating: | Some material may not be suitable for children. |
Wreck-It Ralph Synopsis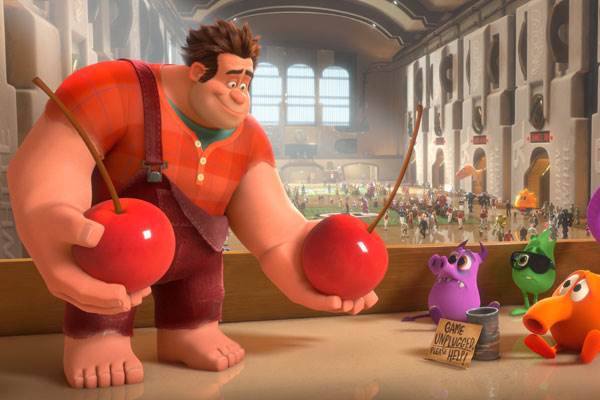 Walt Disney Animation Studios and Emmy®-winning director Rich Moore (TV's "The Simpsons," "Futurama") take moviegoers on a hilarious, arcade-game-hopping journey in "Wreck-It Ralph." Ralph (voice of John C. Reilly, "Talladega Nights: The Ballad of Ricky Bobby," "Step Brothers") is tired of being overshadowed by Fix-It Felix (voice of Jack McBrayer, "30 Rock"), the "good guy" star of their game who always gets to save the day. But after decades doing the same thing and seeing all the glory go to Felix, Ralph decides he's tired of playing the role of a bad guy. He takes matters into his own massive hands and sets off on a game-hopping journey across the arcade through every generation of video games to prove he's got what it takes to be a hero.

On his quest, he meets the tough-as-nails Sergeant Calhoun (voice of Jane Lynch, TV's "Glee") from the first-person action game Hero's Duty. But it's the feisty misfit Vanellope von Schweetz (voice of Sarah Silverman, "The Sarah Silverman Program") from the candy-coated cart racing game, Sugar Rush, whose world is threatened when Ralph accidentally unleashes a deadly enemy that threatens the entire arcade. Will Ralph realize his dream and save the day before it's too late? "Wreck-It Ralph" crashes onto the big screen on November 2, 2012, in Disney Digital 3D™ in select theaters.

Purchase DVD/Blu-ray/4K UHD physical copy of Wreck-It Ralph today at Amazon.com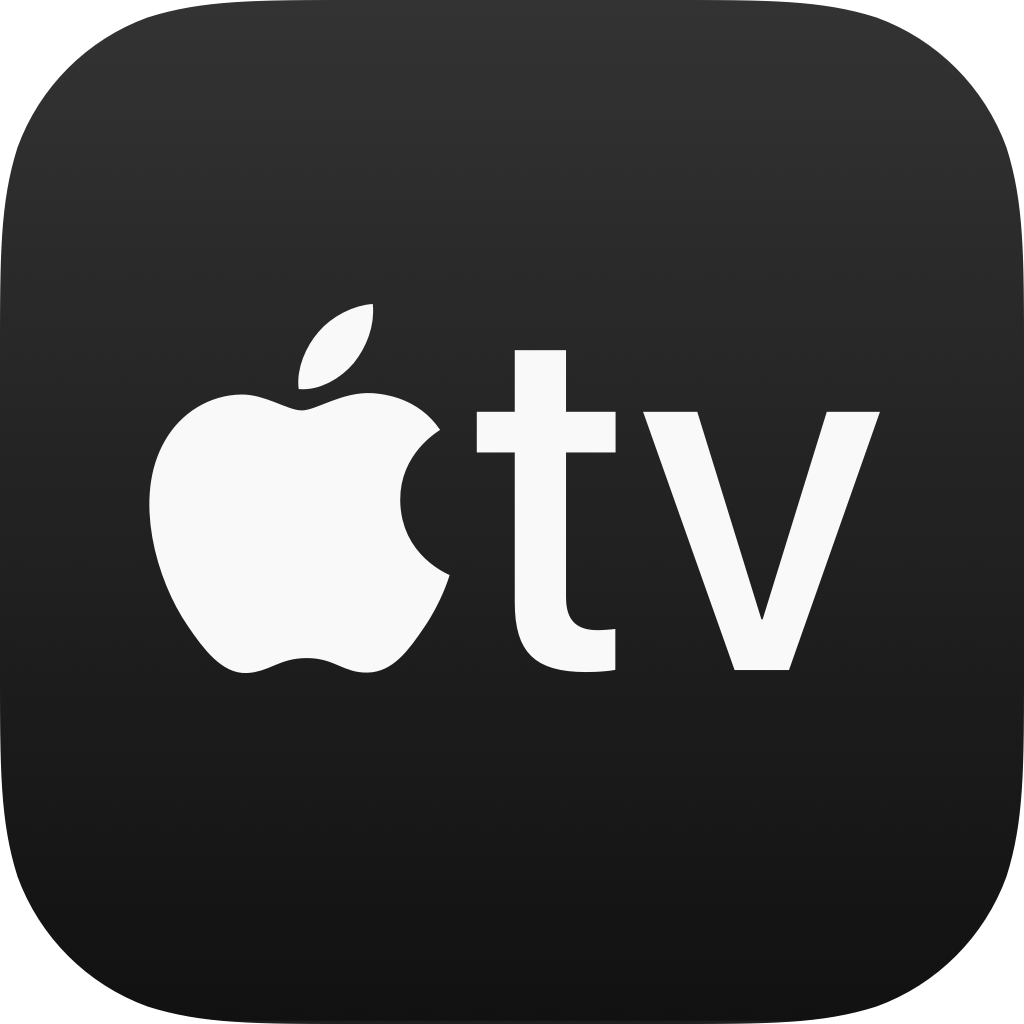 Stream Wreck-It Ralph in Digital HD/4K from the AppleTV store.
Listen to the Wreck-It Ralph soundtrack on Apple Music.
Wreck-It Ralph images are © Walt Disney Pictures. All Rights Reserved.
Wreck-It Ralph Sequel in the Works
12/7/2012 2:27 PM EST
 Disney's "Wreck-It Ralph", which has seen a lot of success at the box office, will be getting a sequel.  John C. Reilly told Moviehole that "Some of the big muckety-muckets at the studio, who I just saw the other night, were like 'We're talking sequel!'" Not only did Reilly comment about the film, but so did the director, Rich Moore.  "We'll really come up with something good for Mario to do [in ...
More>>
Wreck-It Ralph Blu-ray Review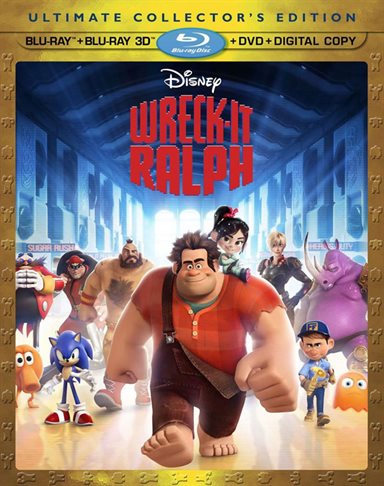 Disney scores big with Wreck-It Ralph! It's a clever and hilarious take on the world of gaming and one of the most original storylines Disney has put out in years. Imagine a virtual world where arcade video game characters come to life after the arcade closes every night. The visual effects in this movie are truly an experience. One-­- dimensional, super-­-pixelated characters that we see in old-­-time arcade games like Pac Man and Street Fighter are brought to life via 3D animation complete multi-­- dimensional personalities. Quite surprisingly, they deal with the same kind of personal and relationship issues and insecurities we do.

Aside from the stunning visual effects and outstanding sound effects that make you feel like you are actually inside of a video game, the story line is excellent. On the eve of his game's 30-­-year anniversary, Wreck-It Ralph decides he is tired of being the villain of his game and just once wants to experience the euphoria of winning a hero's medal. Against the advice of the other villains in his villain support group, he "goes turbo" in his quest, invading other games. First, he hits Hero's Duty, a cyber military game where he accidentally unleashes a swarm of cy-­-bugs that can cause mass destruction if not exterminated. From there he invades Sugar Rush (a fabulous take on Candyland) where he teams up Vanellope Von Sweets a.k.a Glich to battle evil King Candy. The problem is if Ralph doesn't get back to his game in time, he and all the characters from his game, Fix It Felix, will be wiped from cyber history.

Hardcore gamers will love all the gamer jokes as the creators take you inside some of our favorite video games growing up for a truly unique experience like when Ralph swipes a couple of cherries from Pac Man or gets stopped for questioning by Surge Protector when he arrives at Game Central Station. His terrified reaction to the attack of thousands of "cy-­-bugs" in Hero's Duty is hilarious. Best of all is his sticky, gooey romp through Sugar Rush. The scenes are so realistic you can almost taste the gumdrops and the Mentos scene will have your kids cracking up.

The cast was excellent. John C. Reilly nails the persona of Wreck-It Ralph. Most of us can relate to that feeling of being burnt out and wanting something more that he portrays so cleverly in Ralph. Sara Silverman is a spunky little Glitch. Her funny trash-­-talking exchanges with Ralph are a riot. Jack McBrayer plays the perfect goody-­-two-­-shoes character, Fix It Felix – you really get how Ralph is sick of him after 30 years. Jane Lynch steals the show as the tough-­-talking Sergeant Calhoun.

Whether you are an old-­-time gamer or were born with an iPad in your hands, Wreck-It Ralph is a must see for gamers of all ages.

In addition, the special features offered on the DVD include Paperman, which just won the 2013 Academy Award for Best Animated Short Film. It's a sweet film noir romance about an office guy falls for an office girl he spies working in the skyscraper across the street from his. It will leave you smiling.

Bit by Bit: Creating the World of Wreck-It Ralph is an interesting collection of interviews with the creators of the movie. It's fascinating to see how these long-­- time gamers transformed their love of video games like Pac Man and Donkey Kong into a blockbuster hit. They talk about the challenges of combining the animation and sound effects of old time video games with sophisticated virtual reality style games into one storyline that worked. For example, Game Central Station became the cool place where all video game styles converged. The creators also joked about having to un-­-learn all their high-­-tech graphic and animation skills to go back to single dimension, low pixel graphics of early video games to authenticity to the scenes that included Fix It Felix and Niceland.

The Alternate & Deleted Scenes are a cool insight as to how the final product was made. We get treated to hand-­-drawn storyboard sketches accompanied by the actors' voiceovers. It's a unique take on the creative and decision-­-making process of the creators to see these scenes that never made it to full animation. For digital media buffs it's a fun opportunity to compare notes with the creators.

The Video Game Commercials for the games featured in Wreck-It Ralph are really funny. Each is done in the digital format of the era in which the games were created – the low pixel, blurry animation of Fix It Felix versus the slick virtual reality styles of Sugar Rush and Hero's Duty. And, who can't laugh at the tag line, "A hero's duty is the biggest duty of all"?
-- Evette Meyer
Read More Wreck-It Ralph Reviews
For more reviews please visit our film/television review section.
Walt Disney Animation Studios and Emmy®-winning director Rich Moore (TV's "The Simpsons," "Futurama") take moviegoers on a hilarious, arcade-game-hopp...

Walt Disney Animation Studios and Emmy®-winning director Rich Moore (TV's "The Simpsons," "Futurama") take moviegoers on a hilarious, arcade-game-hopp...
When Can I See You Again by Owl City. Purchase The Wreck-It Ralph soundtrack today on iTunes. http://flck.it/wreck-it...
SPONSORED LINKS