South Park (1997)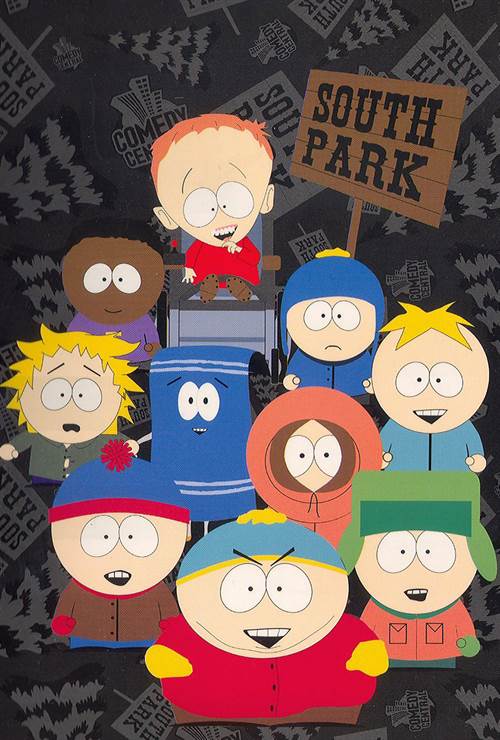 Share this:
| | |
| --- | --- |
| Created By: | |
| Cast: | |
| Air Date: | Wednesday, August 13, 1997 |
| Studio: | Comedy Central |
| Genre: | Television |
| Rating: | This program is specifically designed to be viewed by adults and therefore may be unsuitable for children under 17. |
Synopsis
South Park is an American animated sitcom created by Trey Parker and Matt Stone for the Comedy Central television network. Intended for mature audiences, the show has become famous for its crude language and dark, surreal humor that lampoons a wide range of topics. The ongoing narrative revolves around four boys—Stan Marsh, Kyle Broflovski, Eric Cartman and Kenny McCormick—and their bizarre adventures in and around the titular Colorado town.

Purchase DVD/Blu-ray/4K UHD physical copy of South Park today at Amazon.com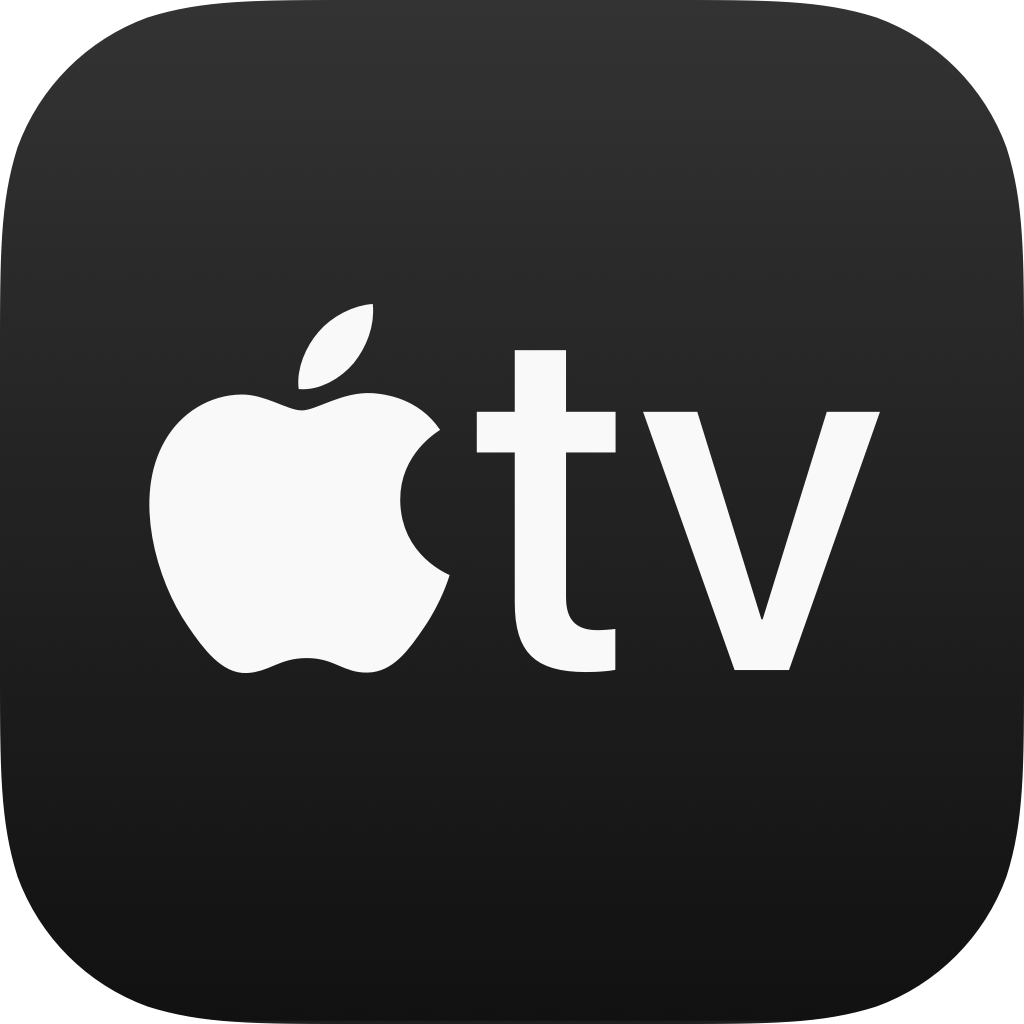 Download South Park in Digital HD/4K from the iTunes store.
South Park images are © Comedy Central. All Rights Reserved.


South Park Renewed for Three More Seasons
9/12/2019 2:17 PM EDT
Comedy Central has announced that they have renewed its long-running series "South Park" for another three seasons. The series first aired in 1997 and enjoyed a historic 22-season run. The 23rd season will premier in two weeks and will include their 300th episode.Kent Alterman, President of Comedy Central, Paramount Network and TV Land said, "South Park is the greatest comedy in the history of tel...
More>>
South Park: The Complete Fifteenth Season Blu-ray Review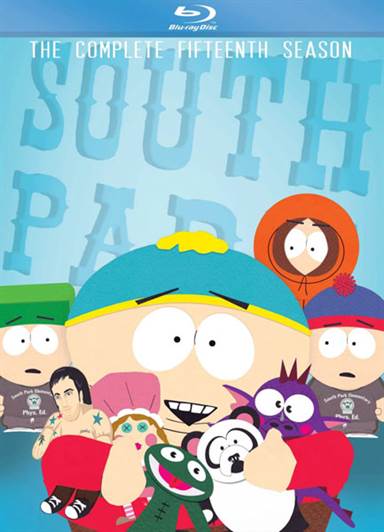 The boys are back at it again in Blu-ray with the release of South Park: The Complete Fifteenth Season and it's UNRATED. Of course, if you are a fan, you probably already new that. The hilarious fourteen episodes are devoid of ads and any other interference so you don't have a lag in the madness we aficionados have enjoyed for the last 15 years. Sure it's tasteless! Sure it's suggestive! And Yah, it's addictive! Um, did I leave anything out?

It's amazing that an adult oriented animated show with so much violence, demeaning, degradation, sexual inferences, adult language, references to our private body parts, etc. could last as long as it has on the air. But, I have the answer to why it still has one of the top adult ratings on television. If 'they' say all those nasty things, we don't have to.

The two-disc blu-ray has all the weekly shows for the past year totally unadulterated from censorship. No skips, bleeps, no 'use of kind words' when the writers really mean the nasty ones. Complete unrated freedom to get grossed out, made fun of, ridiculed, weirded out, politically incorrect, wrongly informed, mocked, etc; you know all those fun things you love to watch.

Lets get right into the listing of the fifteenth season episodes just in case you have not seen the show or have missed a few.

"HUMANCENTiPAD"
When Kyle inadvertently agrees to a computer giant's Terms sand Conditions, he finds himself attached mouth to anus. It's a little gross even for a cartoon, but having seen "The Human Centipede" it takes a lot of grossing out to top that movie. (B+)

"Funnybot"
Jimmy produces the first annual Comedy Awards, and the Germans are named "the least funny people in the world." Highly insulted, the Germans create Funnybot, a talking robot that quickly replaces all other entertainers as the world's top comedian. The humor in this episode moves the laugh meter to high as famous faces like Jay Leno try to complete. (B+)

"Royal Pudding"
Canada's beautiful young Princess is kidnapped on her Royal Canadian wedding day, and all Canadian men including Ike are called in to save her. Actually I liked the side stories a little better including Mr. Mackey's dental hygiene kindergarten play, the real winner here. (B)

"T.M.I."
The "numbers" offends Cartman when he mistakes the students' publicly posted height differentials for a penis size chart. He takes it upon himself to "correctly" measure the boy's penises, and the results land him in anger management. This episode ranks high on the list and created a few extra guffaws, as the boy's expressions are priceless. (A)

"Crack Baby Athletic Association"
Cartman has a new protégé. He's found someone who is smart, ambitious, and willing to look the other way in order to get to the top. He brings Kyle in on the ground floor of his latest business venture, the Crack Baby Athletic Association. While trying to book Slash for their big halftime show, the boys make a shocking discovery about the infamous guitarist. Funny and irreverent, it tops the list of episodes. (A+)

"City Sushi"
City Sushi opens next door to City Wok, fueling a race war between its Japanese owner and City Wok's Tuong Lu Kim. Meanwhile, Butters is diagnosed with Multiple Personality Disorder and is introduced to the twisted world of physiotherapy. The Butters part of this episode is hilarious especially since his therapist's even crazier. (A-)

"You're Getting Old"
Stan celebrates his 10th birthday, only to find that everything now looks and sounds like crap. At home Randy's latest obsession with Tween Wave music causes Sharon and their marriage to reach the breaking point. As Stan's cynical condition worsens, the longstanding friendship between the boys also turns to crap. Although I liked the episode because of the idea of growing up does have its faults, it does mirror other past episodes on coming of age. Just an ok for this one (C+)

"Ass Burgers"
Stan can't seem to get things back to normal. His life is still just crap. But just when all seems lost, Stan meets the Secret Society of Cynics promising to cure him of his condition. Meanwhile, trying to reap the benefits of the school's vaccination scare, Cartman gives himself Asperger's Syndrome by shoving burgers down his shorts. Stan's negative attitude might be the result of a mild form of autism. This episode does seem to push the envelope on autism, but all in fun and actually handled pretty well. (B)

"The Last of the Meheecans"
What begins as a regular game of Texans vs. Mexicans becomes serious when Cartman joins the U.S. Border Patrol. Taking on the role of the young Mexican boy Mantequilla, Butters gets lost trying to cross the border. As he struggles to get back to his home, he finds himself in Mexico as the new leader of a struggling people. Still intent on winning the longstanding game, both Butters and Cartman face off at the border. This pokes a lot of fun at both sides of the Rio Grande with a lot of messages regarding the dread over illegal immigration. (B-)

"Bass to Mouth"
There's a new web site, Eavesdropper, which is spreading juicy gossip about the students at South Park Elementary. The boys soon discover that the malicious rodent WikiLeaks is behind it. The faculty, desperate to stop the rumors and hacking of e-mails, takes matters into their own hands. Very funny, this particular episode really goes all out to create a humorous look at our web site society. (A)

"Broadway Bro Down"
After he takes his wife to see a big hit Broadway musical, Randy learns there is a hidden subtext in all musicals that works to his benefit! He quickly becomes Broadway's biggest fan and begins production on a subtext-filled musical of his own. A must watch episode; I liked this one a lot as it kids about South Park's Matt Stone and Trey Parker's own Broadway Show called The Book of Mormon. (A)

"1%"
South Park's 4th grade class receives the lowest scores in the country on the Presidential Fitness Test, a failure caused solely by Cartman's shortcomings in the physical education department. Also Carman's dearest friends, his stuffed animals, are being mutilated one by one, and he desperately searches for the killer. This one ranks at the top with Crack Baby for so much unreality, reality. (A+)

"History Channel Thanksgiving"
For help with their homework assignment, the boys turn to a History Channel documentary called "Ancient Aliens at Thanksgiving." After they give their report, Stan and Kyle are soon recognized as the new experts on the traditional holiday. You will never see thanksgiving the same way again. (A)

"The Poor Kid"
Kenny's parents are arrested as part of an episode of White Trash in Trouble, forcing the McCormick kids into an agnostic foster home situation. This episode ends the first season on a high note with the exploration of parenting. The cherry topper here concerns Cartman who looses Kenny as his example of the poorest kid in school. (A+)

The bonus features are very good and include:
6 Days to Air: The Making of South Park
6 Days to Air: Behind the Scenes of "City Sushi"
Mini-Commentaries by the creators of South Park, Trey Parker and Matt Stone, on all episodes
Deleted Scenes
Each "South Park: The Complete Fifteenth Season" Blu-ray and DVD come with an added bonus. They're giving away free downloads of the new "South Park: Tenorman's Revenge" Xbox Live game on a first come first served basis. Each Blu-ray and DVD will include a unique code inside for fans to enter. (Limited Offer)

FINAL ANALYSIS: A very successful season for us South Park nuts. (A) (6 of 6)

-- John Delia
Read More South Park Reviews
Nathan M Rose (A) (South Park: The Complete Twenty-Second Season Blu-ray Review)
For more reviews please visit our film/television review section.
SPONSORED LINKS