E.T.: The Extra-Terrestrial (1982)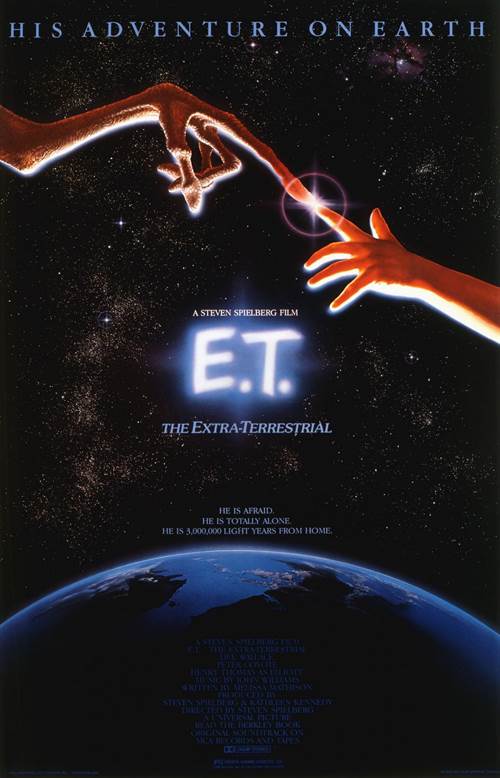 Share this:
| | |
| --- | --- |
| Director: | |
| Writers: | |
| Cast: | |
| Released: | Friday, June 11, 1982 |
| Length: | 115 minutes |
| Studio: | Universal Pictures |
| Genre: | Sci-Fi/Fantasy, Family |
| Rating: | Some material may not be suitable for children. |
Synopsis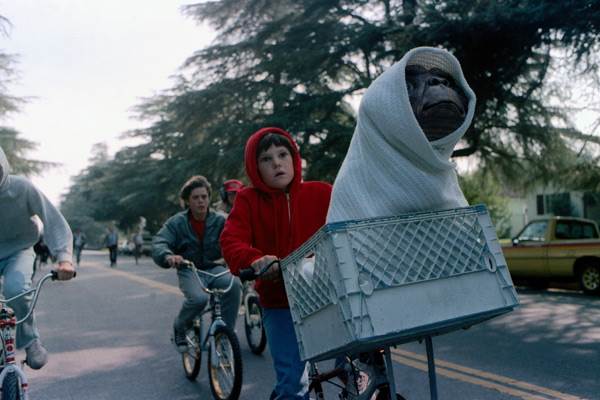 Director Steven Spielberg's heartwarming masterpiece is one of the brightest stars in motion picture history. Filled with unparalleled magic and imagination, E.T. follows the moving story of a lost little alien who befriends 10-year-old, Elliot. Experience all the mystery and fun of their unforgettable adventure in the beloved movie that captivated audiences around the world.

Purchase DVD/Blu-ray/4K UHD physical copy of E.T.: The Extra-Terrestrial today at Amazon.com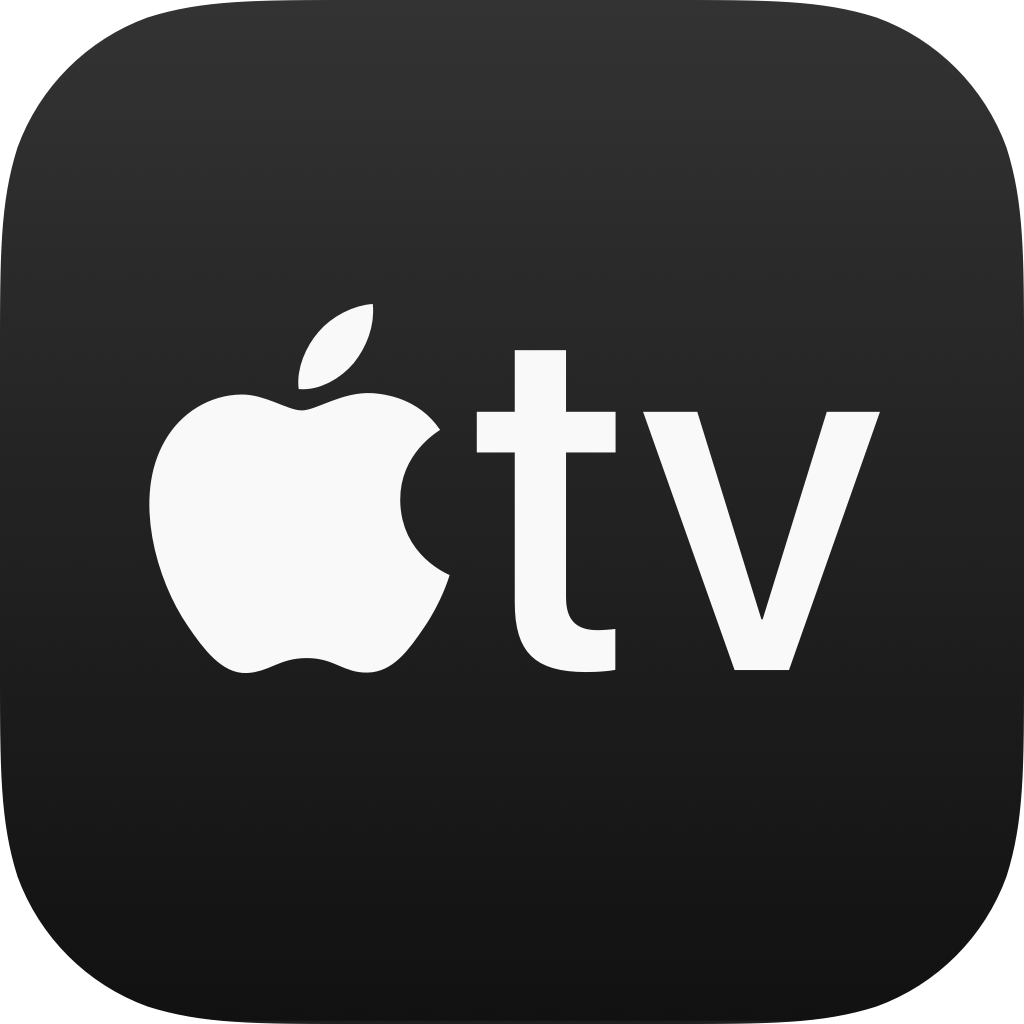 Download E.T.: The Extra-Terrestrial in Digital HD/4K from the iTunes store.
Listen to the E.T.: The Extra-Terrestrial soundtrack on Apple Music.
E.T.: The Extra-Terrestrial images are © Universal Pictures. All Rights Reserved.


Win a Copy of E.T. The Extra-Terrestrial in 4k UHD From FlickDir...
9/14/2017 1:43 PM EDT
In 1982 E.T. The Extra-Terrestrial won over audiences worldwide and we all fell in love with a with a short, brown, wrinkled alien with the magical, glowing fingertip.  The movie made stars of the young actors Henry Thomas (Legends of the Fall) and Drew Barrymore (Fifty First Dates) and helped the candy Reese's Pieces much more popular.  With the new technological advancements and at the 35th anni...
More>>
Madame Tussauds To Immortalize Steven Spielberg's E.T.
10/12/2012 2:53 PM EDT
To celebrate the Blu-ray release and the 30th anniversary of Steven Spielberg's beloved family film E.T. The Extra-Terrestrial, six Madame Tussauds locations including Hollywood, London, Berlin Amsterdam Sydney and Tokyo  are set to bring to life one of films' most iconic characters. The Extra-Terrestrial star will be immortalized in Madame Tussauds' signature wax form and unveiled on October 22nd...
More>>
E.T.: The Extra-Terrestrial Blu-ray Review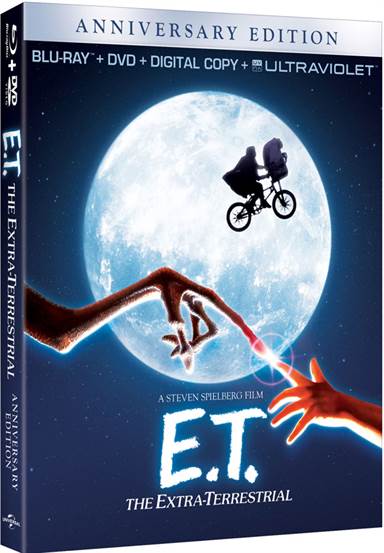 This week Universal Studios will release Stephen Spielberg's classic "E.T. The Extra Terrestrial" on Blu-ray for the first time. The classic 1982 film "E.T." has finally gotten the digital overhaul with a bunch of added extras that would make any Stephen Spielberg fan's head spin. Now many complained back in 2002, when Spielberg took liberties with his own film and tweaked it, but this edition doesn't include that version. Which is something I'm quite surprised about, since many of the extras in this set mention the 20th edition and even go into the changes they made and how they made them. I was actually hoping to be able to compare the two versions, but I imagine after all the ruckus that was made after changing guns to walkie-talkies, they figured they would leave it out, which is sad since it is part of E.T's history. In such an expansive collection such as this one, it should have been included.

That being said….

E.T. (if you haven't seen it over the past 30 years) is the story of Elliott, the middle child of a family who is dealing with all the complications of a divorce, who befriends a Reese's pieces collecting alien and tries to help him find his way home.

It's a rather simplistic story, and yet as the story unwinds, it's quite an emotional film. While Spielberg admits that he made the closest thing to a "Disney film", even Disney wasn't making money off family films during this time period, and he had hoped that Universal could at least make back the ten million dollars they spent on making "E.T." He never could have predicted the success and worldwide adoration of his frumpy, long necked, big-eyed alien. Ironically, for all the worry, they made over 11 million on opening weekend alone, and today "E.T." stands at #9 on the All Time Domestic Box Office chart!

Henry Thomas is amazing in his performance as Elliott, Robert MacNaughton plays his older brother Michael and Drew Barrymore plays his little sister Gertie. Along with the kids is Dee Wallace playing their mom and Peter Coyote who plays "Keys" who most of the film you only see waist down. Spielberg's fantastic concept of filming all adults (other than the mom) from the waist down or in shadow, cemented a feeling like it was a kids world, and it's not until late in the film where the adults want to take "E.T." away, that you get to see adults in the light of day.

What's really cool about this Blu-ray release is the tons of extras included in it. My favorites included: "The E.T. Journals" which were a video diary of the film from start to completion. It was so cool seeing how Spielberg directs and how a film is actually made. "The Music of E.T. A Discussion with John Williams" which when it comes to movie themes, Williams is the King! John Williams (best known for "Star Wars, Harry Potter, Raiders of the Lost Ark and Jurassic Park) shows how he composed the score for the film, worked with Spielberg, and recorded the score that won him the Oscar for Best Original Score. Also included in this release is a ton of Publicity shots, original E.T. concept drawings, original trailers and even the 20th Anniversary Reunion.

What really made my smile was when Spielberg was asked about a sequel, he told the studio that after trying to come up with a concept for a sequel, he came to the realization that he made the perfect film and there shouldn't be a sequel, and the studio agreed with him! Nowadays a sequel is almost a given with any film that does decent at the box office, so its wonderful to hear that sometimes a studio can get it right and not push for a mediocre sequel that tarnishes the characters we all know and love.

Spielberg once said "E.T." was "my first personal movie" and we all felt it. At the end, most viewers will still get teary eyed, knowing what it feels like to be in Elliot's situation, having to say goodbye to someone they love. But that's the magic of movies. When a story can touch your heart, it will live on forever within you, and just as "E.T" points to Elliot's head, with his glowing finger, saying "I'll... be... right... here", that's where he will stay, within all of us as well.

I give the new "E.T." The Extra Terrestrial: Anniversary Edition Blu-Ray five Reese's pieces out of five. It's a classic that still stands the test of time!

Read More E.T.: The Extra-Terrestrial Reviews
For more reviews please visit our film/television review section.
After 37 years, E.T. comes back to visit his friend, Elliott, for the holidays. During his stay, E.T...
SPONSORED LINKS