The Last Stand (2013)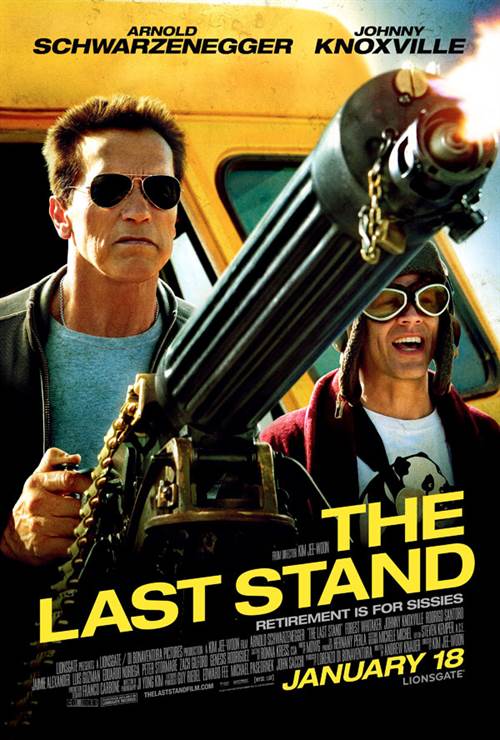 Share this:
| | |
| --- | --- |
| Director: | |
| Writers: | |
| Cast: | |
| Released: | Friday, January 18, 2013 |
| Length: | 107 minutes |
| Studio: | Lionsgate |
| Genre: | Action/Adventure |
| Rating: | Under 17 requires accompanying parent or adult guardian. |
Synopsis
After leaving his LAPD narcotics post following a bungled operation that left him wracked with remorse and regret, Sheriff Ray Owens (Schwarzenegger) moved out of Los Angeles and settled into a life fighting what little crime takes place in sleepy border town Sommerton Junction. But that peaceful existence is shattered when Gabriel Cortez (Eduardo Noriega), the most notorious, wanted drug kingpin in the western hemisphere, makes a deadly yet spectacular escape from an FBI prisoner convoy. With the help of a fierce band of lawless mercenaries led by the icy Burrell (Peter Stormare), Cortez begins racing towards the US-Mexico border at 250 mph in a specially-outfitted Corvette ZR1 with a hostage in tow.

Cortez' path: straight through Sommerton Junction, where the whole of the U.S. law enforcement, including Agent John Bannister (Forest Whitaker) will have their final opportunity to intercept him before the violent fugitive slips across the border forever. At first reluctant to become involved, and then counted out because of the perceived ineptitude of his small town force, Owens ultimately rallies his team and takes the matter into his own hands, setting the stage for a classic showdown.

Purchase DVD/Blu-ray/4K UHD physical copy of The Last Stand today at Amazon.com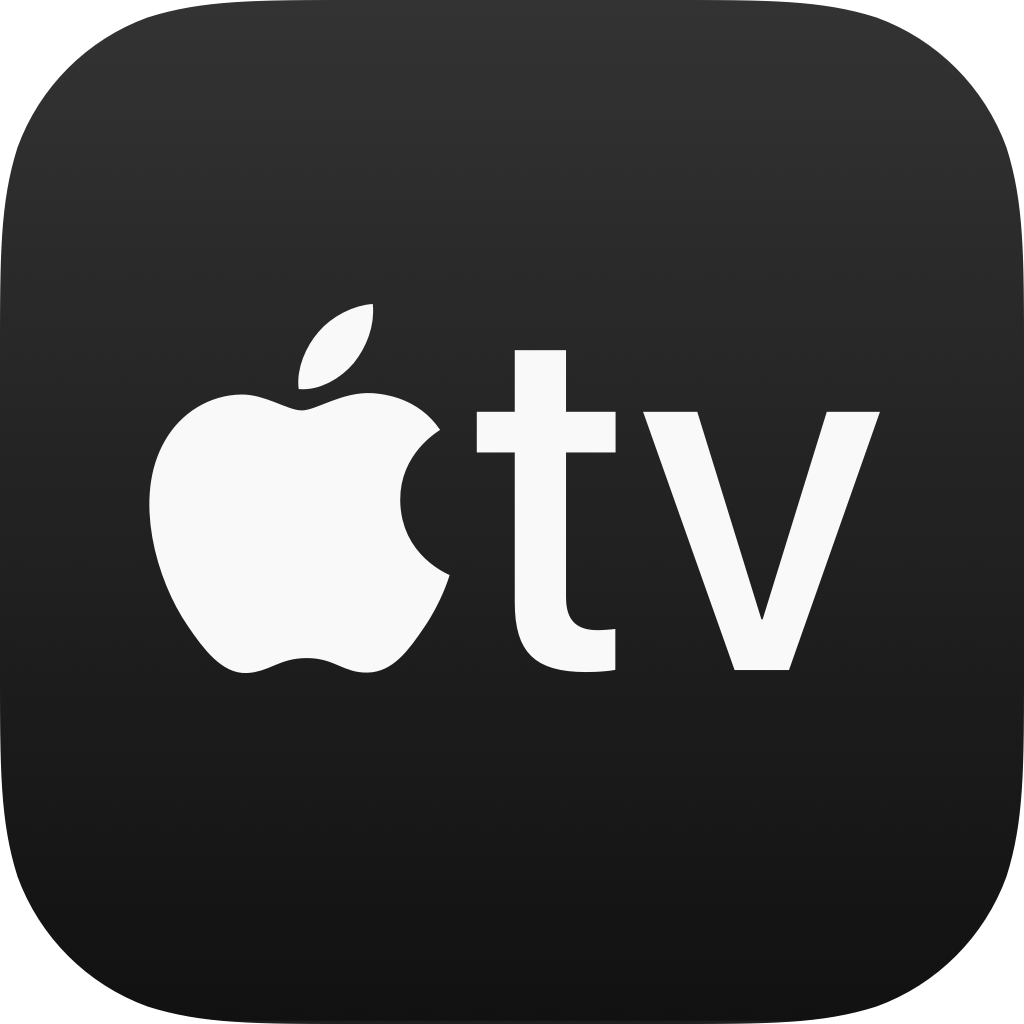 Download The Last Stand in Digital HD/4K from the iTunes store.
The Last Stand images are © Lionsgate. All Rights Reserved.
The Last Stand Theatrical Review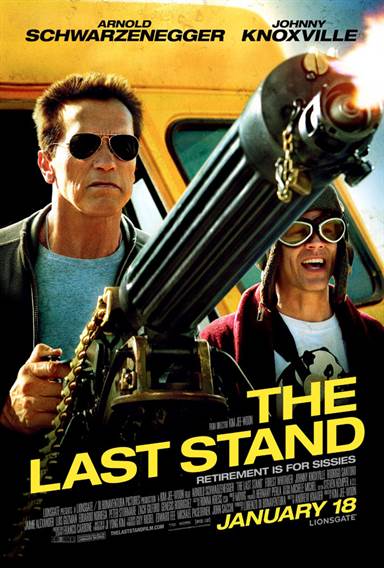 ARNOLD IS BACK! A little loss for wear, yet he's still a winner in my book with his new film The Last Stand. Action lovers and fans of Schwarzenegger are in for a real treat with this rock em' sock em' explosive film that brings back memories of the Arnold of yesteryear 's Terminator series. The well written script, kick-butt direction by KIM Jee-woon and an amazing film crew make The Last Stand a contender for this weekend's top box-office champ.

High profile drug cartel mastermind Gabriel Cortez (Eduardo Noriega) needs to be moved by FBI Agent Bannister (Forest Whitaker) from the courthouse to a secure jail in Las Vegas. In a daring escape the brazen Mexican drug lord heads for his homeland in a special racing Corvette that can reach speeds of over 250 miles per hour. In a high speed chase the FBI has positioned S.W.A.T teams in his path, but there's a hostage in the car with Cortez, so stopping him will be very tricky.

The only other thing in his way is a small border town called Sommerton Junction where ex LA police officer Ray Owens (Arnold Schwarzenegger) has been serving as sheriff ever since he was dismissed from the force due to a crime bust mishap. With his three deputies and a couple of questionable recruits, Owens sets up to face the determined Cortez at any cost.

Arnold may look a little aged, but he still has the spunk to take on the part of an action hero and pull it off. It's been ten years since we saw him starring in the action film Terminator 3 and you would have thought from this film that he never left the silver screen for his job as California's Governor. In The Last Stand Arnold's got nothing more to prove as it looked like little effort on his part to show his stuff. The most realistic action scene comes with his confrontation with Cortez on a bridge taking on a fist fight that looks so real I expect he had real burses on his face.

His co-stars are all experienced actors in their own right with comedic favorites Luis Guzman (acting in over a hundred film & TV titles) as Mike Figuerola a reluctant Deputy and Johnny Knoxville (Jackass, Big Trouble, The Dukes of Hazzard) as Lewis Dinkum the town clown who stores an arsenal of WWII guns in what he calls his military museum. The two break up the serious tone with some excellent comedy relief.

Taking on the roles as the other local lawmen and a volunteer are Jamie Alexander (Thor, Loosies) as Deputy Sarah Torrance who shows her agility atop three story buildings while covering the sheriff with some intricate gun fire. Zach Gilford (the quarterback from Friday Night Lights, Off the Map, The Mob Doctor) takes on the role of Deputy Jerry Bailey who's the first to a fight and doesn't back down. In the role of a town bad boy, who volunteers to stand up against impossible odds, Rodrigo Santoro (Love, Actually) does an excellent job playing Frank Martinez helping to turn the tide against Cortez's henchmen.

The film plays out perfectly with the exciting convoy getaway, a terrifying road chase, a creative escape plan into Mexico and a mismatched group of believers who make a stand in the face of a hail of bullets, grenade launchers and crack team brutal gang members. Nicely filmed by director of photography Ji Yong Kim with all angles covered, sets fashioned for a gunfight, excellent use of crane shots, cameras mounted on vehicles to get sharp close-ups, realistic explosive crashes and more, Director Kim Jee-woon puts together a shock rocker.

Speaking of Kim Jee-woon, the stun master knows how to create a lot of excitement while adding just the right amount of comic relief. If you like this film, you may want to check out Kim's The Good, The Bad, The Weird one of my all time favorite action films by an Asian director. The action packed wild-western masterpiece involving a bounty hunter, a ruthless assassin and a blundering thief sets up a non-stop gunslinger film that never lets up till its jaw dropping ending.

The Last Stand has been rated R for strong bloody violence throughout, and language. The mock violence gets quite heavy at times and there's a lot of mayhem so I urge not bringing immature children to the film.

FINAL ANALYSIS: A very exciting action film for adult viewing. (B)

-- John Delia
For more reviews please visit our film/television review section.
After leaving his LAPD narcotics post following a bungled operation that left him wracked with remor...
SPONSORED LINKS