Brother Bear (2003)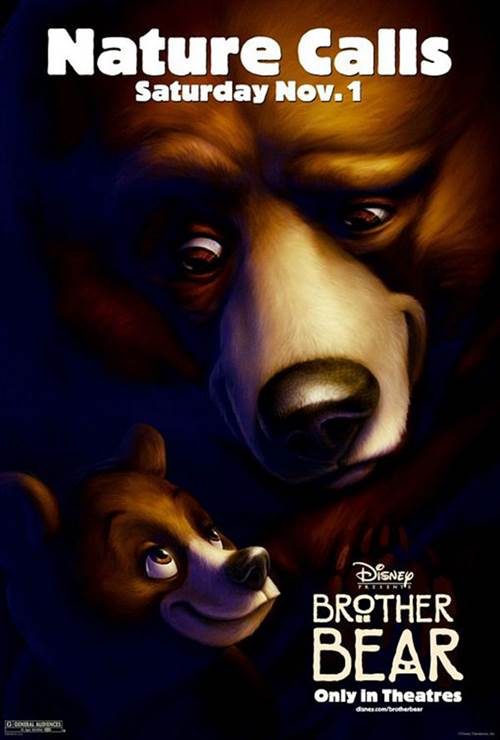 Share this:
| | |
| --- | --- |
| Director: | |
| Writers: | Tab Murphy, Lorne Cameron, David Hoselton |
| Cast: | |
| Released: | Friday, October 24, 2003 |
| Length: | 81 minutes |
| Studio: | Walt Disney Pictures |
| Genre: | Family |
| Rating: | General audiences. All ages admitted. |
Synopsis
Disney proudly presents Brother Bear, an epic animated adventure full of comedy and heart. With five great new songs from Academy Award winner Phil Collins (1999 Best Original Song, "You'll Be In My Heart," from Tarzan®), it's "pure Disney magic from beginning to end!" raves Clay Smith of Access Hollywood. When an impulsive boy named Kenai is magically transformed into a bear, he must literally walk in another's footsteps until he learns some valuable life lessons. His courageous and often zany journey introduces him to a forest full of wildlife, including the lovable bear cub Koda, hilarious moose Rutt and Tuke, woolly mammoths, rambunctious rams, and more! Brother Bear is "a charming, enchanting story for kids of all ages!" ( Larry King, CNN).
Purchase DVD/Blu-ray/4K physical copy of Brother Bear today at
Download Brother Bear in Digital HD/4K from the iTunes store.
Listen to the Brother Bear soundtrack on Apple Music.
Brother Bear images are © Walt Disney Pictures. All Rights Reserved.


Brother Bear Blu-ray Review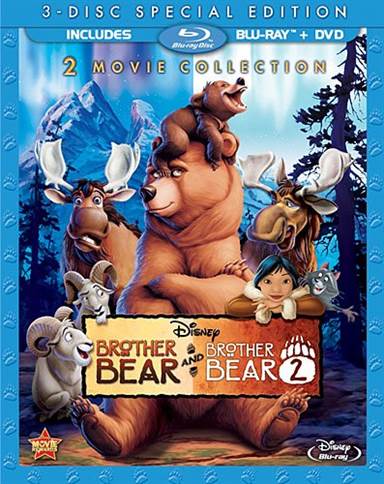 When "Brother Bear" first hit theaters, it seemed that Disney was slipping quite a bit with their animated films but looking at it again with a little more age and wisdom adds a little something different this time around. "Brother Bear" is not a perfect film and in fact it's one of the last classically animated films from Disney. The film delivers a familiar message and offers quite a bit of heart. The animation still holds up, especially on Blu-ray (and if you're a fan of classic line drawn animation). The voice cast includes an interesting choice of Joaquin Phoenix and Rick Mornais, in one of his last film roles.

When Kenai (Phoenix) loses his younger brother to a bear attack, he vows revenge against the creatures and spends most of his young adult life hunting them. Through a magical twist he is turned into the same animal he used to hunt. The spirit if his older brother appears and informs him that if he wishes to return to being a human, he must go to where the lights touch the Earth (the nothern lights). Kenai sets off and it isn't long before he encounters another bear, a cub named Coda who is on his way to the Salom Run, which happens to be in the same place where Kenai is headed. The two team up for daring adventure, filled with interesting characters, fun loving friends and dangerous enemies, all the while Kenai learns the truth of his and other hunters actions for himself and in the end makes a decision that will change his life forever.

Brother Bear was released on Blu-ray along with its direct-to-video sequel (Brother Bear 2). Brother Bear 2 screams sequel and not a good one at that. Its a wonder Disney would go through the effort of doing a sequel when the first film wasn't as big a success as some of their others.

This time around, instead of focusing on another life altering, eye opening journey, Disney goes for the romance by introducing a love interest for Kenai (Patrick Dempsey). Long ago, before he was a bear, Kenai had a best friend, Nita (Mandy Moore). One day Nita and her family decide to leave and before they do, Kenai gives Nita an amulet, swearing they will always be friends. Fast forward to the present and Nita is about to get married. The ancestors are displeased with this though as she is promised to Kenai. The only way she can break the bond and be with Kenai is for the two of them to travel to the very place where they made their promise and burn the amulet. So the 3 of them set off and as time passes Koda, still the faithful friend of Kenai, begins to worry that he may lose his friend forever.
Even though these films aren't Disney classics per se, they are still decent films and look amazing on Blu-ray. "Brother Bear" looks stunning with its 1080p transfer presented with its aspect ratio of 2.35:1. The colors are beautiful, sharp and really pop off the screen. Believe it or not "Brother Bear 2″ is also very impressive as well. Even though it is direct-to-video quality Disney cleaned this film up for this Blu-ray quite well. "Brother Bear" delivers a great DTS-HD Master Audio 5.1 track, which works well with the action, the dialogue, the score and of course Phil Collins' songs. Again "Brother Bear 2″ also delivers with it's DTS-HD Master Audio 5.1 track. For what it is worth, the track works with what what the film has going for it.

Next up are the special features, which are just repeats of previous DVD releases. They are decent but in terms of taking the extra effort, it is a letdown. "Brother Bear" starts off with an audio commentary track with the film's characters Rutt and Tuke (voiced by Rick Moranis and Dave Thomas), the film's Canadian Moose duo. "Paths of Discovery: The Making of Brother Bear" is a four-part documentary focusing on the cast, story, production and score. There are three deleted scenes with an introduction from directors Aaron Blaise and Robert Walker, as well an Never-Before-Heard Song called "Fishing Song". "Art Review" takes us with Art director Robh Ruppel and supervising animator Byron Howard as they discuss art from the film.

"Bear Legends" is a very short series of Native American tales. There is the song "Transformation" with its original Phil Collins lyrics, as well as a Sing-Along Song for "On My Way" and a Music Video for "Look Through My Eyes" by Phil Collins. "Koda's Outtakes" are in character and are quite funny, taking a page from "Toy Story". "Making Noise: The Art of Foley" is a non-technical look at sound design for kids. As for "Brother Bear 2″ extras, the only extra is "Behind the Music" with Producers Jim Ballantine and Susan Kirch, director Ben Gluck and others talking about the films tunes.

For more reviews please visit our film/television review section.
SPONSORED LINKS