Black Sails (2014)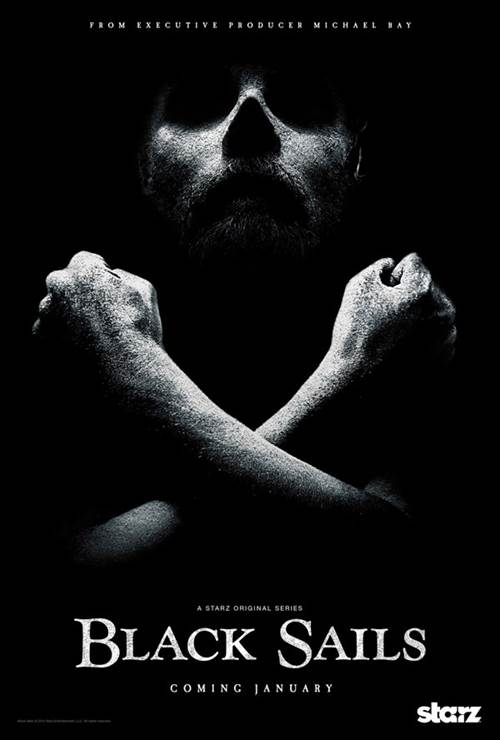 | | |
| --- | --- |
| Created By: | |
| Writers: | |
| Cast: | |
| Air Date: | Wednesday, January 1, 2014 |
| Studio: | Starz Media |
| Genre: | Television |
| Rating: | This program is specifically designed to be viewed by adults and therefore may be unsuitable for children under 17. |
Black Sails Synopsis
The highly anticipated pirate adventure, Black Sails, centers on the tales of Captain Flint and his men and takes place twenty years prior to Robert Louis Stevenson's classic "Treasure Island." Flint, the most brilliant and most feared pirate captain of his day, takes on a fast-talking young addition to his crew who goes by the name John Silver. Threatened with extinction on all sides, they fight for the survival of New Providence Island, the most notorious criminal haven of its day – a debauched paradise teeming with pirates, prostitutes, thieves and fortune seekers, a place defined by both its enlightened ideals and its stunning brutality.

Purchase DVD/Blu-ray/4K UHD physical copy of Black Sails today at Amazon.com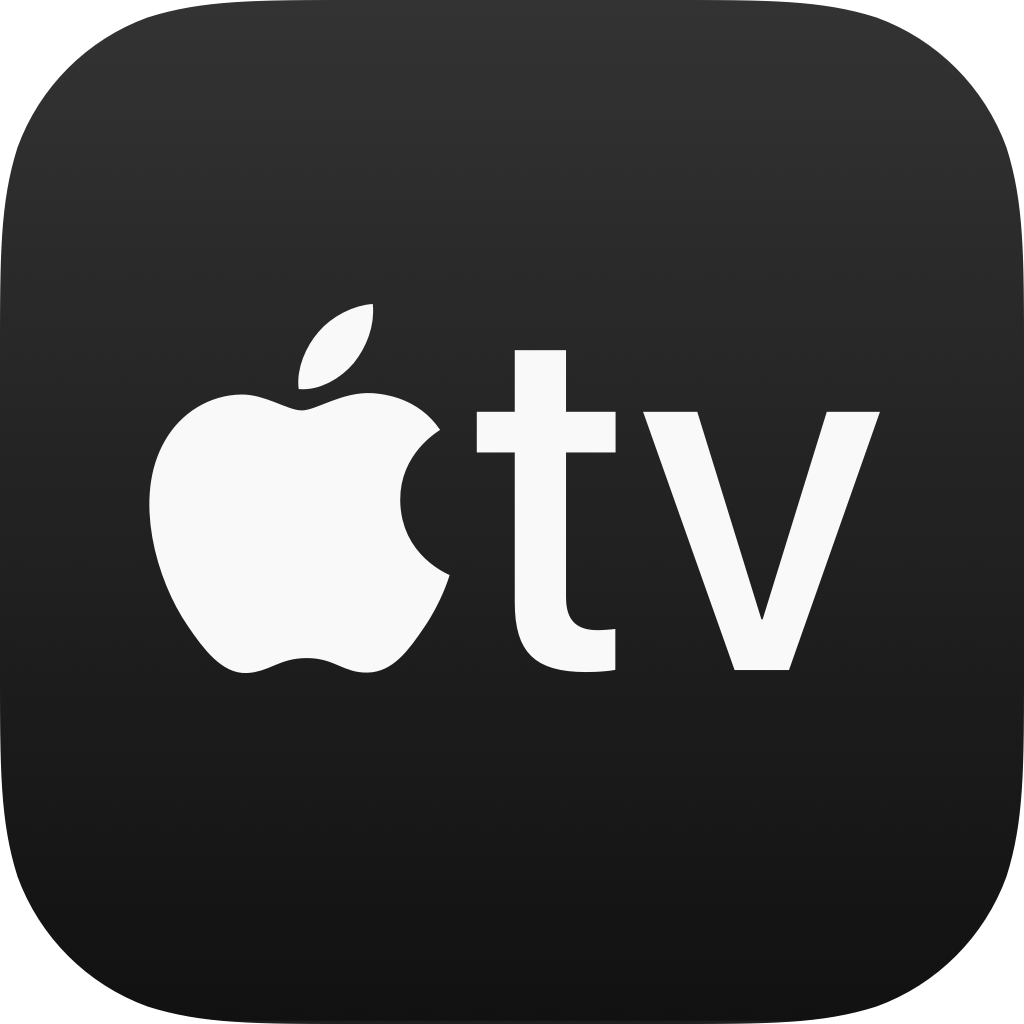 Stream Black Sails in Digital HD/4K from the AppleTV store.
Black Sails images are © Starz Media. All Rights Reserved.
Ray Stevenson Sails on to STARZ Black Sails
1/22/2016 4:30 PM EST
Ray Stevenson's (Divergent) personal philosophy is "work works" and work is something he is no stranger to.  With roles in Insurgent and Transporter: Refueled, plus Saints and Strangers in 2015, he is on an upward career trajectory that shows no signs of stopping.  As we begin the new year, Stevenson takes on another iconic character as Edward Teach, better known as Blackbeard the pirate, in Seaso...
More>>
Starz Embarks On An Early Renewal For Second Season Order of Bla...
7/26/2013 4:14 PM EST
Beverly Hills, Calif., July 26, 2013 - Starz Chief Executive Officer Chris Albrecht announced that the network has picked up a second season of the original series, "Black Sails" from executive producer Michael Bay in advance of its first season premiere.  The announcement comes on the heels of the exclusive fan screening at San Diego Comic-Con several months in advance of its on-air premiere in J...
More>>
Black Sails: The Complete Fourth Season Blu-ray Review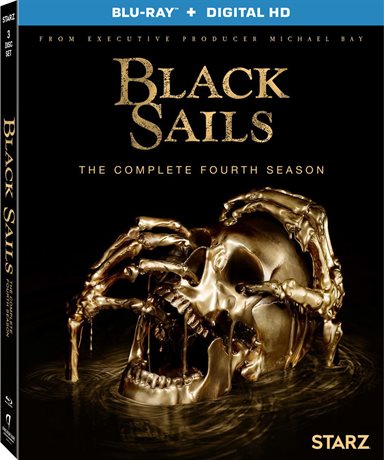 Geoffrey Chaucer is attributed with coining the phrase "All good things must come to an end" and with
Black Sails
, that is sadly true. Starz aired its fourth and final season- of this epic story this past season and The Complete Fourth Season is available on Blu-ray for purchase.
Much aligned with Starz' penchant for airing wonderfully enjoyable mature content, Black Sails brought sex, violence, pirates, and a rich history to our homes for fours years. While not a show for the entire family, adults in the house who have never seen Black Sails are missing out on an epic story. Black Sails navigates the final season like none other- it seems to be the best season yet and definitely one of the strongest seasons of all of the Starz shows, to date. Instead of just focusing on old characters and prior storylines, Black Sails introduces us to new faces, such as Israel Hands (David Wilmot; The Tudors), who is an ally to the infamous Blackbeard. While finding Long John Silver (Luke Arnold; The Tunnel) a prospective "treasure", his newfound loyalty to Silver colors much of Season Four, pushing Silver to limits much needed. One of the most beloved lines in the season is when Hands accuses Silver of not making up his mind- "You don't know? Why should I … follow you if you don't know? Why would anyone?" The interaction between the two strikes at the heart- Hands makes it known that he will not be a babysitter or a friend- but he will be loyal.
While the season finale sets us up for a Treasure Island storyline that can reasonably follow, the actors in Black Sails never lost steam the entire season. Actors are usually as good as the storyline- I have seen amazing actors fall flat on their face because the story was underdeveloped- but Season Four of Black Sails is on the opposite spectrum. In fact, Season Four was the best season ever in regards to the actors dynamic and the fact that the plot was better developed and engaging than prior seasons (I know- hard to believe Black Sails could get even better than the year before). The cast- actors, writers, directors, production crew- everyone involved- seemed to give everything they had to make this season the most powerful yet- leaving its fans rewarded for watching Black Sails throughout these past few years.
Black Sails is presented in 1080p High Definition with an aspect ratio of 1.78:1. There is no difference from the precise HD presentation that has been present for the three previous seasons - caked on blood and grime, homespun or elegant clothing, chiseled features of the actors is highly accurate and sharp. The depth with which the details are presented is magnificent. Blacks are inky and skin tones are natural. Honestly, the picture quality is supportive of the storyline - just like you will get caught up in the plot, you will get caught up in the realistic and detailed definition of the video presentation.
Audio is presented in 7.1 Dolby TrueHD. Sound quality is dynamic with concise dialogue and emotion heard throughout. Sound effects are clear and impressive without being overdone, such as cannons and gunfire. Waves heard are subtle and well placed, not taking over the scene when on the ship. The instrumental music in opening scenes and throughout is impressive. The background sound supports the storyline and immerses the viewer in their details.
The Blu-ray features many bonus features on Disc 3- all presented in 1080p HD, as well as a digital Ultraviolet copy of the series.
Inside the World of Black Sails: Almost 20 minutes of recaps by each episode including some of the making-of parts.
Creating the World: Listen to a brief overview of the production of Season 4.
Roundtable: Women in Piracy: Almost two minutes about the shows female stars.
Roundtable: The Legends of Treasure Island: Woman actors aren't the only bonus feature- listen to a few moments from our beloved swashbucklers.
Roundtable: Fearless Fans: The actors share stories about the fans.
Fans around the world will surely miss a new season of Black Sails. What is wonderful is that no one will have to miss this past season. Black Sails: The Complete Fourth Season Blu-ray / Digital combo is a treasure to definitely claim.
Grade: B
For more reviews please visit our film/television review section.
SPONSORED LINKS