Dumb And Dumber To (2014)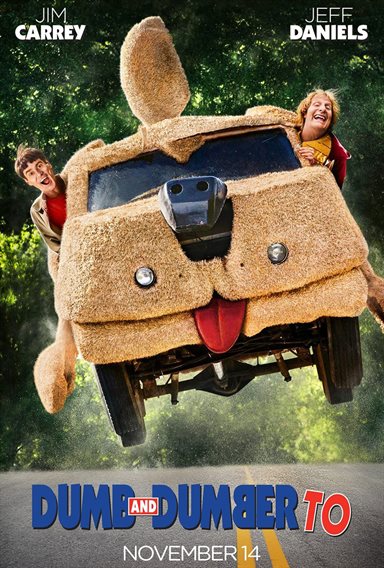 | | |
| --- | --- |
| Director: | |
| Cast: | |
| Released: | Friday, November 14, 2014 |
| Length: | 109 minutes |
| Studio: | Universal Pictures |
| Genre: | Comedy |
| Rating: | Some material may be inappropriate for children under 13. |
Synopsis
Jim Carrey and Jeff Daniels reprise their signature roles as Lloyd and Harry in the sequel to the smash hit that took the physical comedy and kicked it in the nuts: Dumb and Dumber To. The original film's directors, Peter and Bobby Farrelly, take Lloyd and Harry on a road trip to find a child Harry never knew he had and the responsibility neither should ever, ever be given.
Purchase your copy of Dumb And Dumber To today at
Download Dumb And Dumber To in Digital HD from the iTunes store.
Dumb And Dumber To images are © Universal Pictures. All Rights Reserved.


Win A Copy of Universal Pictures' Dumb and Dumber To Blu-ray Com...
2/16/2015 10:00 PM EST
Who wants to add another fun movie to their Blu-Ray Library? Win a copy of Universal Pictures' Dumb and Dumber To, starring   Jim Carey and Jeff Daniels.    Simply enter by commenting below your best road trip destination. All names will be entered into a drawing to win the DUMB AND DUMBER TO Blu-ray out in stores on February 17, 2015 Contest ends February 23, 2015. For more information please vis...
More>>
Win a Complimentary Pass to See an Advance Screening of Universa...
11/1/2014 10:43 AM EST
On November 14, 2014 Universal Pictures will release the highly anticipated sequel, DUMB AND DUMBER TO, starring  Jim Carey and Jeff Daniels. South Floridians, if you are a fan of the original and are looking forward to the sequel,   you can win passes to a complimentary screening of the movie before it is released in Theaters. Simply enter by tweeting (using the button below) and following FlickD...
More>>
Dumb And Dumber To Blu-ray Review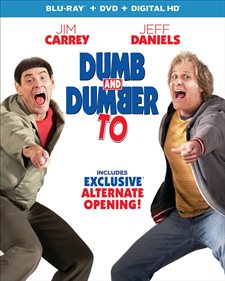 Lets get this out the way first Dumb and Dumber To is …well….dumb, I mean REALLY dumb. However, if you are familiar with the original Farrelly Brothers film, Dumb and Dumber (1994), you would except this.

The story is pretty simplistic. After twenty years of Lloyd Christmas (Jim Carrey; Ace Ventura, The Mask) pretending to be catatonic, he joins his best friend Harry Dunne (Jeff Daniels; The Newsroom, Gettysburg) as they embark on a cross-country journey to find Harry's long lost daughter. What occurs on this trip is a series of not so funny scenes that mostly makes you want to groan.

In true Farrelly and Dumb and Dumber style, lowbrow and crude hijinks ensue which really only caters to the lowest common denominator. Sadly, most of it wasn't even funny enough to make the enjoyable to watch and at almost 2 hours running time you start to ask yourself why you even bothered.
Carrey was very good, falling back on the humor he is known for. Daniel's, however, was a bit of a disappointment. I didn't find his character believable at all and he ended up distracting me the entire movie. This is particularly disjointing because he is excellent in so many of his other rolls. Perhaps he should stick to serious dramas.

The Blu-ray does offer 1080p video, making the picture detailed with beautiful colors that are lively and free of noise. The DTS-HD Master Audio 5.1 lossless track allows the film to be heard over the entire spectrum with excellent clarity.

For the first time in a long time this Blu-ray has a full set of features instead of the fluff now common on most releases. Some notable extras include an alternate opening, a look at the famous actors who have cameo roles in the film, a great gag reel, and an overview of the cars in the movie including the Mutt Cutts van seen in the theatrical trailer. However, the deleted/extended scenes could easily have been skipped. Ironically, the extras ended up being funnier than the actual film.

While Dumb and Dumber has a very large, built in audience that loves this lowbrow kind of humor, I just can't see the point. If you are a fan of other Farrelly Brothers works then you will probably enjoy Dumb and Dumber To. I wish I could get the two hours back I sat watching it. D on actual film, but B+ on Blu-ray content; Overall C-
For more reviews please visit our film/television review section.
Jim Carrey and Jeff Daniels reprise their signature roles as Lloyd and Harry in the sequel to the sm...
SPONSORED LINKS
Comments

Courtesy of
Movie Hype App
coreyanthony26
No Wonder These Guys are dumb cause they have A Movie Where they can be dumb in
3/6/2016 3:26 PM EST
mylesmylo
Lmao loving this movi
2/13/2015 8:52 PM EST
ciara
They are so stupid and need to learn how to be smarter
1/30/2015 5:51 PM EST
mimiscute
Ditched out at work!! To watch this movie! Looks like work fell for it!! They are the dumbest!!
12/11/2014 5:35 PM EST
movieman24
Very great movies of all time that has to involved Jim Carrey
12/9/2014 11:49 PM EST
movieman24
Dude you got to see this it was super hysterical movie
12/7/2014 11:56 PM EST
igoyohd
about time!
11/21/2014 4:22 PM EST
jujubean
It look so good
11/12/2014 10:41 PM EST
disturbthemedia
Getting ready for Dumb
11/12/2014 7:26 PM EST
aaronbeninati
Almost time !
11/12/2014 7:16 PM EST
jayson44
Movie time
11/12/2014 7:14 PM EST
hiphopopotamus
if they are giving away big gulps, im totally in!
11/12/2014 6:56 PM EST
kshock0611
I love the original and I hope this one will be just as awesome
11/12/2014 6:55 PM EST
movieguynathan
@FlickDirect screening. Walked out of the first one so we shall see.
11/12/2014 6:51 PM EST
alombard3564
Big line but definitely worth it to see Dumb and Dumber TWO
11/12/2014 6:50 PM EST