Guardians of the Galaxy Vol. 2 (2017)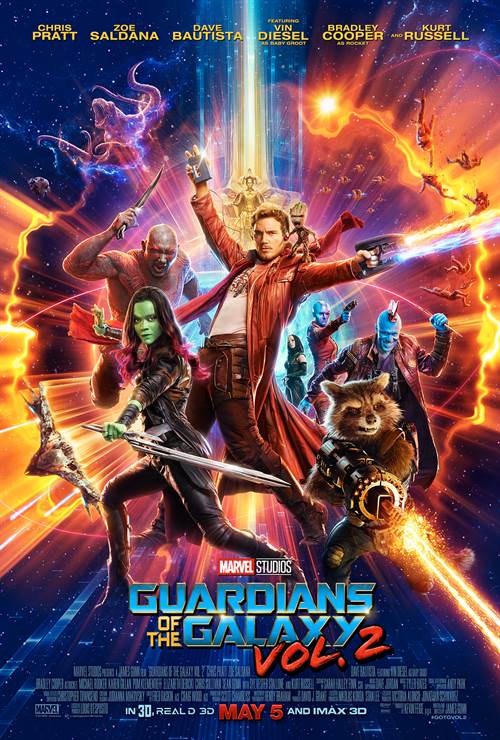 Share this:
| | |
| --- | --- |
| Director: | |
| Writers: | |
| Cast: | |
| Released: | Friday, May 5, 2017 |
| Length: | 137 minutes |
| Studio: | Walt Disney Pictures |
| Genre: | Sci-Fi/Fantasy, Action/Adventure |
| Rating: | Some material may be inappropriate for children under 13. |
This film contains a scene during or after the credits.
Synopsis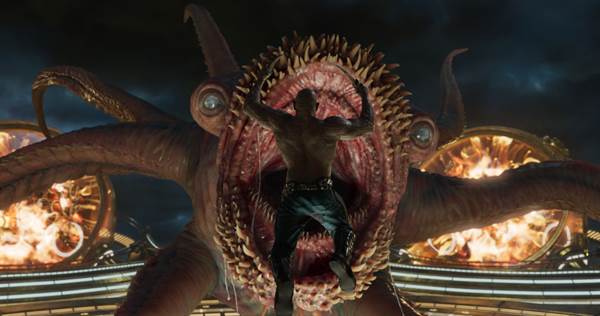 From Marvel, the studio that brought you the global blockbuster franchises of Iron Man, Thor, Captain America and The Avengers, comes a new team-the Guardians of the Galaxy. An action-packed, epic space adventure, Marvel's "Guardians of the Galaxy" expands the Marvel Cinematic Universe into the cosmos, where brash adventurer Peter Quill finds himself the object of an unrelenting bounty hunt after stealing a mysterious orb coveted by Ronan, a powerful villain with ambitions that threaten the entire universe. To evade the ever-persistent Ronan, Quill is forced into an uneasy truce with a quartet of disparate misfits-Rocket, a gun-toting raccoon, Groot, a tree-like humanoid, the deadly and enigmatic Gamora and the revenge-driven Drax the Destroyer. But when Quill discovers the true power of the orb and the menace it poses to the cosmos, he must do his best to rally his ragtag rivals for a last, desperate stand-with the galaxy's fate in the balance.

Purchase DVD/Blu-ray/4K UHD physical copy of Guardians of the Galaxy Vol. 2 today at Amazon.com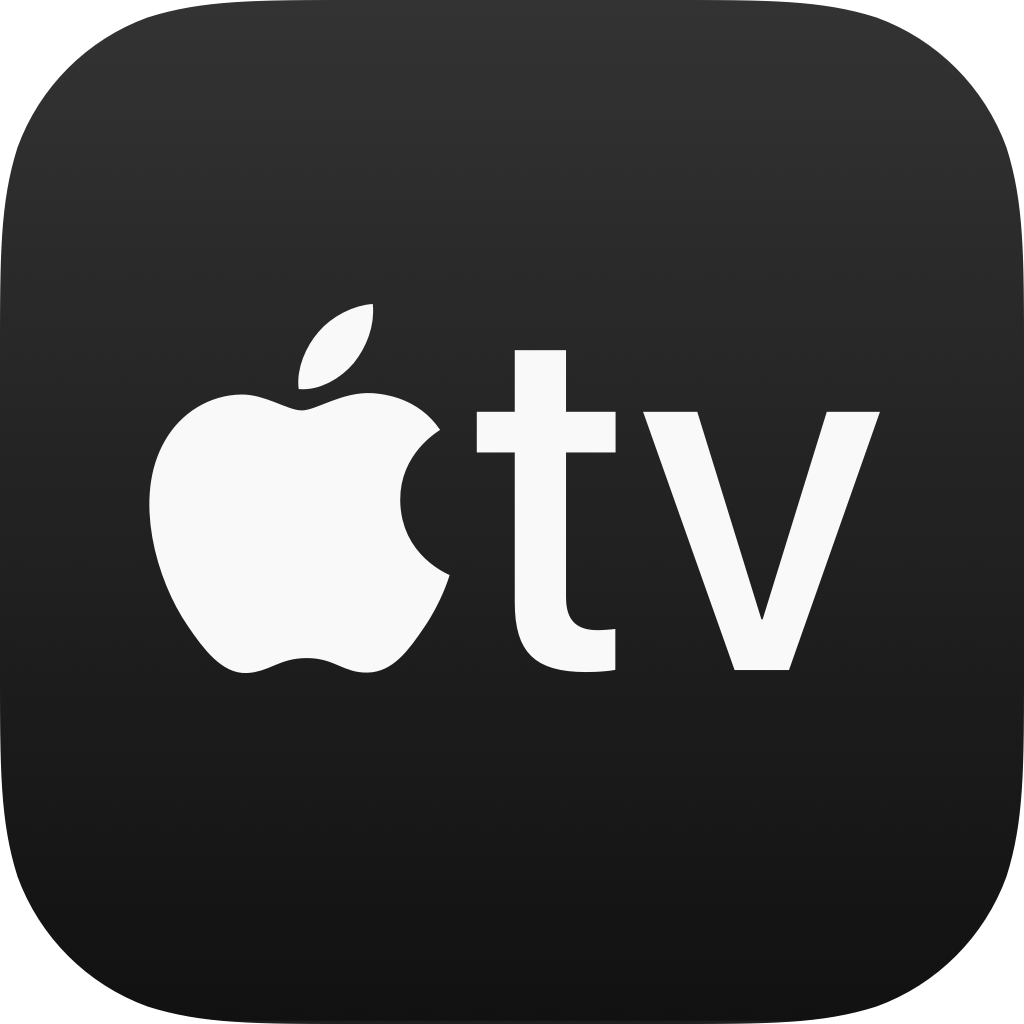 Download Guardians of the Galaxy Vol. 2 in Digital HD/4K from the iTunes store.
Guardians of the Galaxy Vol. 2 images are © Walt Disney Pictures. All Rights Reserved.
Win Complimentary Passes for two to a 3D Advance Screening of Ma...
4/25/2017 2:58 PM EST
Almost three years ago the world was introduced to a band of unlikely heroes in the form of a fatherless human, a somewhat psychotic raccoon, a couple of aliens and an adorable grown tree who only speaks three words.  With a funny and action-packed script and an awesome soundtrack, Marvel Studios' Guardians of the Galaxy came roaring into theaters and became an instant hit.  Finally, the long-awai...
More>>
James Gunn to Return for Guardians of the Galaxy Vol. 3
4/17/2017 3:56 PM EST
James Gunn took to Facebook today to announce that he will be returning to write and direct Guardians of the Galaxy Vol. 3.Gunn said, "So, after many months of ruminations and discussions, I know the answer. I could save this answer for the first, random interviewer to ask me during the press junket but instead I thought I'd share it with the most important people in the Guardiansverse - you, the ...
More>>
Guardians of the Galaxy Vol. 2 Theatrical Review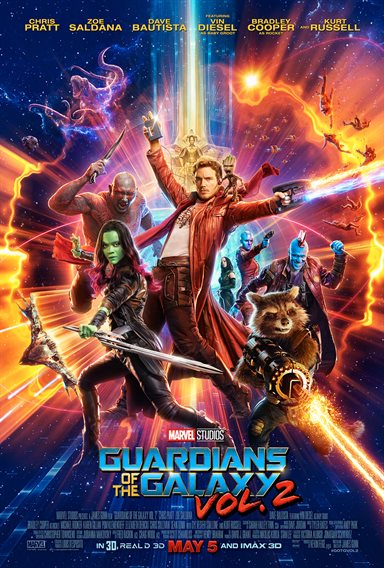 In 2014, Marvel Studios released one of their lesser known movies, Guardians of the Galaxy. Expecting the film to be modestly successful, I'm sure they were shocked when it became a huge summer blockbuster. With cute characters, funny moments, a kick butt soundtrack and some great special effects, it quickly became an audience favorite and garnered critical acclaim. It was no surprise when Marvel announced a sequel and after a three-year wait, we final have Guardians of the Galaxy Vol.2 hitting theaters this week.
When we return to the group, Peter (Chris Pratt, Jurassic World), Gamora (Zoe Saldana; Star Trek), Drax (David Bautista; Spectre), Rocket (Bradley Cooper; The Hangover) and Groot (Vin Diesel; The Fate of the Furious) or in this case an adorable baby Groot, are protecting some high-powered batteries from evil forces. Of course, once they defeat the bad guy, Rocket decides to steal some of the batteries and, suddenly, the Guardians go from being the hunters to the hunted. As the Sovereigns chase them through the galaxy, they are saved by a lone man in a ship shaped like a big hardboiled egg.
The egg ship follows them through a hole and meets them as their ship crashes on a small planet. Emerging from the ship is Ego (Kurt Russell; The Hateful Eight), who, it turns out, is Peter's long lost father and we discover both he and Peter are "celestial beings" A.K.A. gods. Peter, Drax and Gamora go to Ego's planet and at first Peter is skeptical but eventually, warms up to his "dad". However, everything isn't quite as rosy as it seems, and Peter and Ego find themselves on opposite sides when an epic battle ensues.
The central theme running throughout Guardians Vol. 2 is family. Peter finds his dad, the Guardians become a family and Gamora's sister, Nebual (Karen Gillan; Doctor Who) is back and still out to kill Gamora… can't you just feel the love? Anyway, the film reminds us that all families are dysfunctional in one way or another and the ones in this film are no exception.
Luckily the main cast – Pratt, Saldana, Bautista, Cooper and Diesel - have a great chemistry and work well together, which I believe was part of the appeal of the first movie.
Pratt is still the perfect choice for Peter, as he has enough of that "leading man" quality to be believable while exuding a certain tenderness mixing with humor. He could probably make any heterosexual female melt regardless of species... human, alien or otherwise. He and Saldana are very good together and their "relationship" will make female audience members wanting more. She is terrific as a strong female character who fits well with this group of misfit men. Cooper as Rocket is as annoying as he was the first time around and Bautista lends some comic relief. Russell adds a nice dimension to the mix and I think he was well cast as Peter's dad. However, the real "star" of the group is baby Groot. He is funny and sweet and Diesel gives him just the right tonal inflection.
The special effects are well done and don't seem fake or disjointed. The 3D feature enhances those effects and is worth the extra cost of a ticket. The soundtrack is a little disappointing with only a few blockbuster songs, which don't add much to the film. The jokes are plentiful and are pretty hilarious. Unfortunately, the plot isn't as strong this time around and the ending was too over the top for me.
Overall, Guardians Vol. 2 still had elements of the original and even though it started off slow, it picked up steam to a supercharged, somewhat hokey ending. As a sci-fi comedy, it works and these characters get embedded into our psyche making audiences crave for more, hence, expect the third installment at some point.
Grade: B
Read More Guardians of the Galaxy Vol. 2 Reviews
For more reviews please visit our film/television review section.
From Marvel, the studio that brought you the global blockbuster franchises of Iron Man, Thor, Captai...

From Marvel, the studio that brought you the global blockbuster franchises of Iron Man, Thor, Captai...

From Marvel, the studio that brought you the global blockbuster franchises of Iron Man, Thor, Captai...
From Marvel, the studio that brought you the global blockbuster franchises of Iron Man, Thor, Captai...

Join FlickDirect's Austin Putnam as he reviews this week's biggest release, "Guardians...
Yondu: You like a professional asshole or what?
Rocket: Pretty much a pro.
SPONSORED LINKS