Bolt (2008)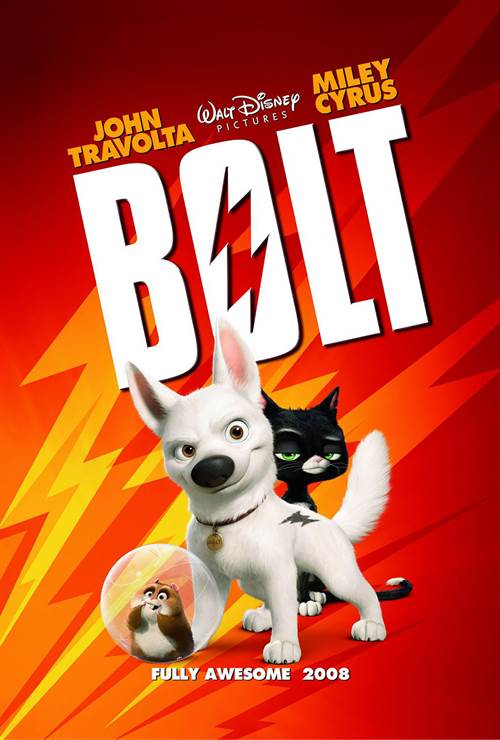 | | |
| --- | --- |
| Director: | |
| Cast: | |
| Released: | Friday, November 21, 2008 |
| Length: | 96 minutes |
| Studio: | Walt Disney Pictures |
| Genre: | Family |
| Rating: | Some material may not be suitable for children. |
Bolt Synopsis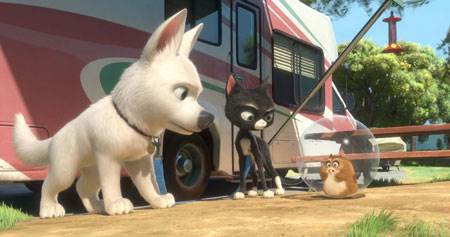 For super-dog Bolt (voice of John Travolta), every day is filled with adventure, danger and intrigue-at least until the cameras stop rolling. When the star of a hit TV show is accidentally shipped from his Hollywood soundstage to New York City, he begins his biggest adventure yet-a cross-country journey through the real world. Armed only with the delusions that all his amazing feats and powers are real, and with the help of two unlikely traveling companions: a jaded, abandoned housecat named Mittens (voice of Susie Essman) and a TV-obsessed hamster in a plastic ball named Rhino, Bolt discovers he doesn't need superpowers to be a hero.

Purchase DVD/Blu-ray/4K UHD physical copy of Bolt today at Amazon.com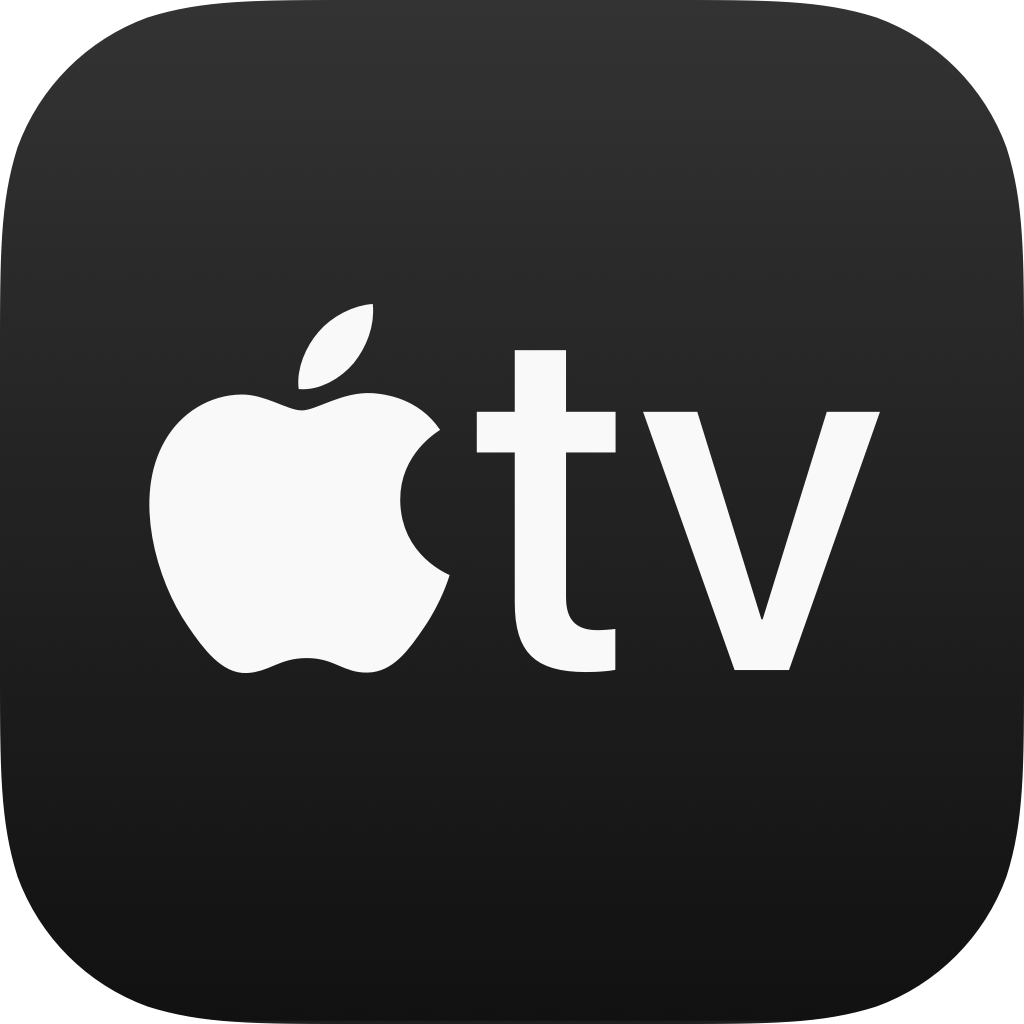 Stream Bolt in Digital HD/4K from the AppleTV store.
Bolt images are © Walt Disney Pictures. All Rights Reserved.
Miley Cyrus and John Travolta Team Up. What Could It Be?
5/13/2008 12:13 PM EST
During a recent interview at the Step Up Women's Network's Inspiration Awards luncheon, Kelly Preston told Marc Malkin of E! that there may very well be a collaboration between her hubby John Travolta and Disney's teen queen, Miley Cyrus (Hannah Montana).Both actors will be lending their voices to the upcoming Disney animated film, "Bolt". Preston says, "Johnny may sing with Miley.""Bolt" is sched...
More>>
Bolt 3D Blu-ray Review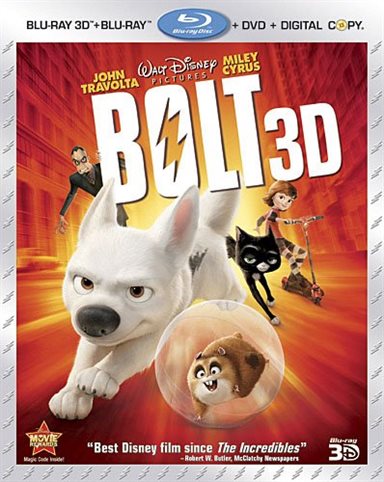 Bolt is one of those movies that come along where everything aligns at the right time. A usually underrated film, this movie has a soul that will pull at your heartstrings at the end. Bolt is the story of a movie dog that is the star of a popular TV show named after him. Bolt has a uniqueness to him in that all he has known is his TV persona – he doesn't know that he is an actor, kind of like how Buzz Lightyear was in the first Toy Story movie. Bolt on TV has a super bark that can cause earthquakes, lasers that come from his eyes and the ability to stop moving cars by standing in their way….and he really thinks he can do this in reality. Shortly after the movie begins Bolt gets separated from his human caretaker on both TV and in real life, Penny and is sent across the country by accident. Penny is heartbroken but is forced to continue the show without the original Bolt. Bolt, on the other hand, begins a quest to reunite himself with "his human". Along the way, Bolt gets the help of a stray cat named Mittens, and a hamster named Rhino. While the gang is better as a whole, Rhino helps steal the show with his mannerisms and for what he adds to the group. Along the way you will get to see Bolt mature while he realizes that he isn't important as the dog from the show but rather as Penny's dog.

The only thing that is really disappointing in the movie is Penny's vocalizations redubbed by Miley Cyrus. In what appeared to be a political move by Disney, at the last minute it was decided to replace the original Penny, voiced by Chloe Grace Moretz (Kick-Ass, Diary of a Wimpy Kid, Hugo) with Miley Cyrus. At times I couldn't feel the necessary emotion from her interpretation of the character but this was not enough to bring the rest of the movie down. While you only get to hear a few brief moments of Chloe's work, it is enough to give a hint as to how the rest of the movie could have been. Mark Walton lends his voice as Rhino, the hamster that helps this movie by being unintentionally funny in a way that adds to the film with both his delivery as well as the dialogue he provides. Additionally John Travolta's work as Bolt was exceptional. He is able to deliver Bolt's lines as we watch Bolt mature from the beginning of the movie to the end. The soundtrack improves the mood and adds to the emotional climax that should leave you in tears of joy.

The 3D version is one of the best 3D movies I have ever seen. This movie was obviously written and created for 3D, with the increased depth of field the main use of it, and is used properly, adding to the story without resorting to the old fashioned 3D tricks. At the same time, the movie does not lose any brightness in the 3D version, and the colors are outstanding. The surround sound audio completes the whole 3D effect leading to another one of those movies you must have if you have a 3D TV. It really makes you feel like you are experiencing the story and not just watching it on TV.

The 2D Blu-ray includes several bonus features. "Super Rhino" is a short featuring Rhino who has been tasked with saving Penny and Bolt from Dr. Calico (the villain from the TV show), ending with him singing a Hannah Montana song. It also includes deleted scenes (which never made it past storyboarding), a music video and making of it featuring John Travolta and Miley Cyrus, a "behind the microphone" featurette, a game, and several making of featurettes as well as art galleries. The combo pack also includes a DVD copy of the movie as well as a digital copy of the movie, making this an extremely good value. Now because of the quality of this 3D release, even if you have the original 2D Blu-Ray release, and you don't have a 3D TV yet, you really should consider getting a copy of this release as you won't regret it when you do pick up a 3D TV. And if you do have a 3D TV, this movie should be on your shelf.

Read More Bolt Reviews
For more reviews please visit our film/television review section.
SPONSORED LINKS