Straight Outta Compton (2015)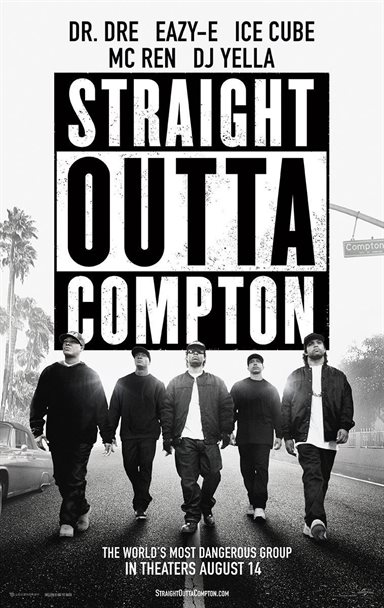 | | |
| --- | --- |
| Director: | |
| Writers: | Jonathan Herman, Andrea Berloff, S. Leigh Savidge, Sheldon Turner, Alan Wenkus |
| Cast: | |
| Released: | Friday, August 14, 2015 |
| Length: | 152 minutes |
| Studio: | Universal Pictures |
| Genre: | Drama/Suspense |
| Rating: | Under 17 requires accompanying parent or adult guardian. |
Synopsis
In 1987, five young men, using brutally honest rhymes and hardcore beats, put their frustration and anger about life in the most dangerous place in America into the most powerful weapon they had: their music. Taking us back to where it all began, Straight Outta Compton tells the true story of how these cultural rebels—armed only with their lyrics, swagger, bravado and raw talent—stood up to the authorities that meant to keep them down and formed the world's most dangerous group, N.W.A. And as they spoke the truth that no one had before and exposed life in the hood, their voice ignited a social revolution that is still reverberating today.
Purchase your copy of Straight Outta Compton today at
Download Straight Outta Compton from iTunes.
SPONSORED STORIES
Comments

Courtesy of
Movie Hype App
joebushnell52
Let's see wats about to go down
09/09/2016 8:03 PM EDT
esme13
Love this movie
06/26/2016 2:42 PM EDT
bjjosh
i have to watch this
06/21/2016 3:00 AM EDT
mirandagomez01
Hopefully it good
06/05/2016 1:22 PM EDT
zaiswag
It's cool
05/28/2016 3:35 PM EDT
kicksta20
Best film ever
05/20/2016 11:50 AM EDT
neondre
The best movie
05/07/2016 5:36 PM EDT
ojsparks25
I love it
04/30/2016 9:50 PM EDT
d12martinez
Can't wait to watch
04/22/2016 2:52 PM EDT
riyahbeenrich
Ready for this movie
04/19/2016 2:30 AM EDT
shelby_love_16
I love this movie
04/13/2016 11:23 PM EDT
frazier1996
Love this movie
04/11/2016 11:47 PM EDT
nunasalas1
Nice movie
03/16/2016 12:09 AM EDT
trueart4
Great movie
02/27/2016 3:03 PM EDT
oscar503
Good movie
12/25/2015 5:31 AM EDT
Straight Outta Compton images are © Universal Pictures. All Rights Reserved.
Theater Owners Beefing Up Security for Straight Outta Compton
08/13/2015 11:42 AM EDT
Universal Studios is working with theaters that are requesting some additional security for the upcoming release of the film, Straight Outta Compton. Showing that they aren't taking the concerns of the theater owners lightly, Universal said in a statement, "Universal is proud of our association with Straight Outta Compton, which vividly portrays the rise of five talented young men from underprivil...
More>>
Win a Complimentary Pass to See an Advance Screening of Universa...
07/31/2015 11:46 AM EDT
STRAIGHT OUTTA COMPTON, Universal Pictures' story about N.W.A, opens nationwide on August 14, 2015 but South Floridians can win passes to a complimentary screening before it is released in Theaters. Enter by downloading the Movie Hype App and "following" STRAIGHT OUTTA COMPTON. Be sure to tell us what your favorite rap song is and why with the hashtag #contest. We will choose the best, most origin...
More>>
Straight Outta Compton Theatrical Review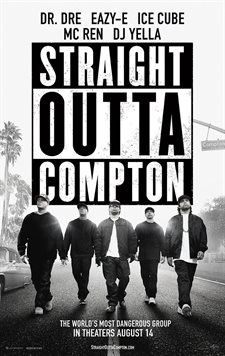 The streets of Compton were a hard place to grow up in the 1980s. Guns, gangs, drugs and violence were prevalent, and a young black man was lucky just to stay alive, let alone not go to jail. However, the Compton of the 80's also produced some of the best innovators of rap music in the industry. Straight Outta Compton is the story of rap group N.W.A. and rappers Eric "Eazy-E" Wright (Jason Mitchell;Contraband), Andre "Dr. Dre" Young (Corey Hawkins; Non-Stop) and O'Shea "Ice Cube" Jackson (O'Shea Jackson Jr.).

Living in Compton wasn't easy I'm sure it still isn't. The police profiling happened on a daily basis and the brutality went unpunished. Gangs ruled the street. All Dr. Dre wanted to do was make music to pay his bills and arguably, he had the talent. Ice Cube had the words to speak to a whole generation and Eazy-E had the funds to finance their first record.

Eventually, N.W.A. got a record deal and went on tour with the help of Jerry Heller (Paul Giamatti; San Andreas). With more money and fame, came the inevitable clichéd problems. Known for their police bashing music, N.W.A. flirted with the authorities as the group slowly imploded. When Dre and Cube eventually left over compensation disputes, Eazy-E found his "golden ticket" was gone, as both men went on to successful solo careers.

The cast, while fairly inexperienced, are excellent and the casting director did a fantastic job finding actors to embody the essence and physical characteristics of the real life individuals. O'Shea Jackson, Jr. portrays his real life father , Ice Cube, beautifully and Hawkins plays Dre with a vulnerability and intelligence making him all to human in a place where humanity seems all but gone.

I was not the intended audience for this film, and there are certain aspects of it I didn't enjoy, but, overall, I thought it was great. The portrayals are fantastic, the music, while not my usual taste, was actually pretty good. The humanity behind the story is gritty, real and heartbreaking. The amount of cursing was annoying, albeit a reality for those individuals.

The two hour and thirty minute running time is long and there were definitely scenes that could have been made shorter or cut out all together. However, it definitely is worth seeing, even if you can't relate to, or typically dislike, rap music.

Grade: A-
For more reviews please visit our film/television review section.