Legend (1986)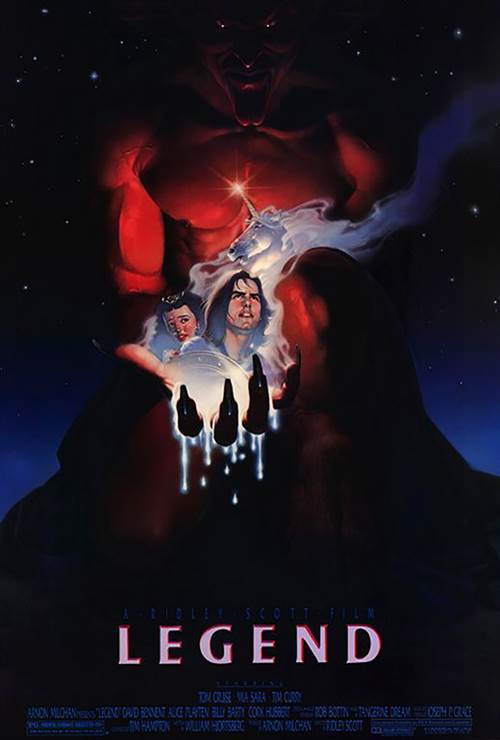 | | |
| --- | --- |
| Director: | |
| Writers: | |
| Cast: | |
| Released: | Friday, April 18, 1986 |
| Length: | 89 minutes |
| Studio: | Universal Pictures |
| Genre: | Sci-Fi/Fantasy |
| Rating: | Some material may not be suitable for children. |
Legend Synopsis
Legend, from director Ridley Scott (Blade Runner, Gladiator), is a visually stunning fantasy-adventure in which pure good and evil battle to the death amidst spectacular surroundings. Set in a timeless mythical forest inhabited by fairies, goblins, unicorns and mortals, this fantastic story stars Tom Cruise as a mystical forest dweller, chosen by fate, to undertake a heroic quest. He must save the beautiful Princess Lily (Mia Sara) and defeat the demonic Lord of Darkness (Tim Curry), or the world will be plunged into a never-ending ice age.

Purchase DVD/Blu-ray/4K UHD physical copy of Legend today at Amazon.com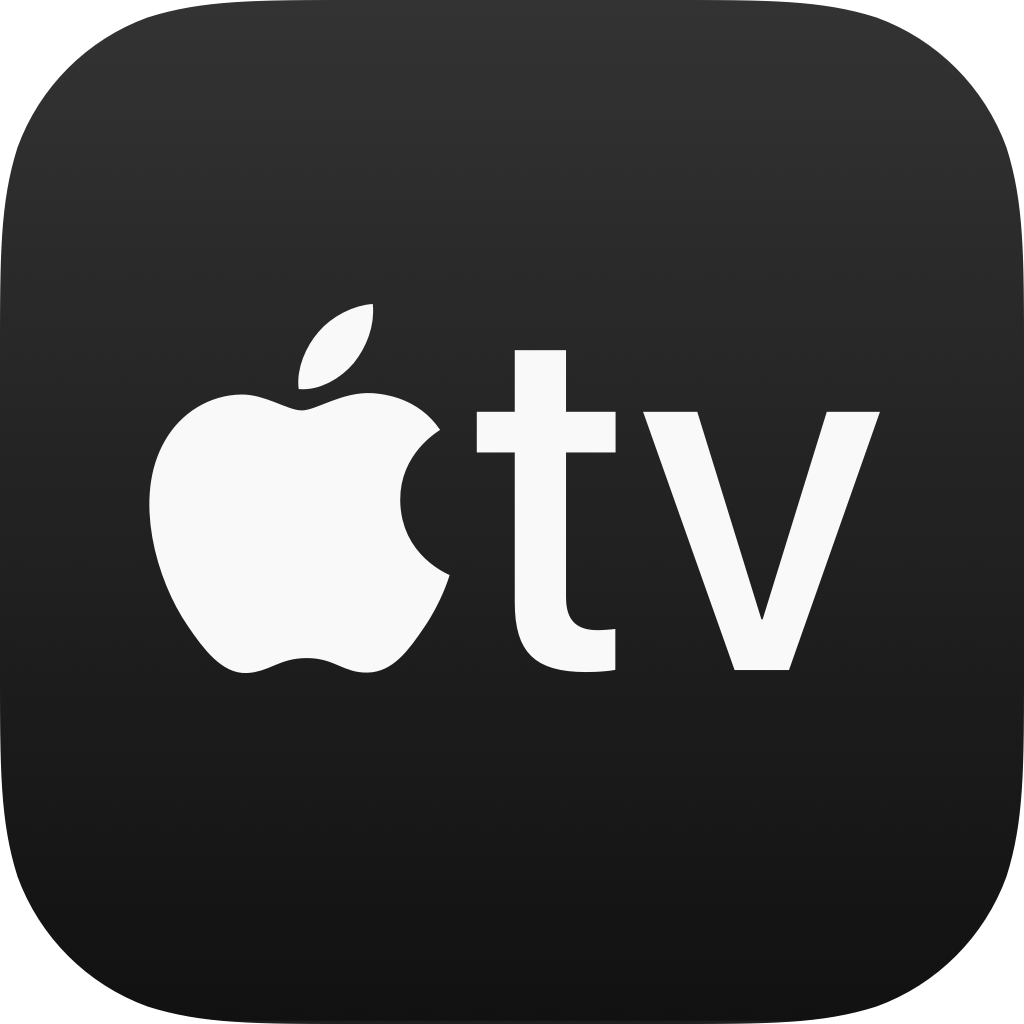 Stream Legend in Digital HD/4K from the AppleTV store.
Legend images are © Universal Pictures. All Rights Reserved.
Legend: 2-Disc Limited Edition Blu-ray Review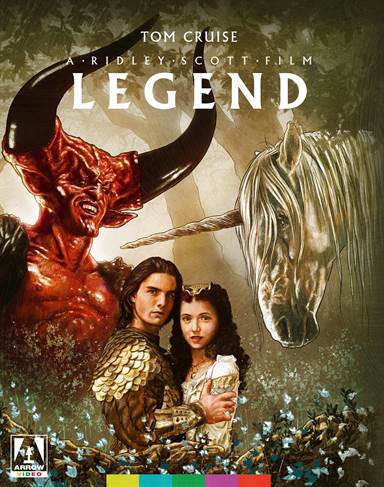 The mid-1980s was a very creative time in film. While there were the typical rom-com, dramas, and action movies, fantasy films were making waves in the industry. In 1984 The NeverEnding Story used a brave hunter and a giant dog to help a boy deal with loss. In 1986, we watched Sara (Jennifer Connelly; A Beautiful Mind) try to save her baby brother from Jareth, the Goblin King (David Bowie; The Prestige) in The Labyrinth. Sandwiched in between these two great movies was the 1985, Ridley Scott (Alien) directed, mystical fantasy, Legend. Starring a young Tom Cruise (The Mission: Impossible franchise), Legend will be released in a 2-disc, limited edition Blu-ray pack on October 12, 2021, and in true Arrow Video fashion the combo pack includes tons of extras.
Princess Lili (Mia Sara; Ferris Bueller's Day Off) is blindfolded by her love, Jack (Cruise), and brought to the Unicorn lair. Lili, entranced by the majestic animals tries to get a closer look and slowly moves in their direction. As the Unicorn looks at her with trepidation, it eventually lets her close enough to touch it. At that moment, The Lord of Darkness's (Tim Curry; The Rocky Horror Picture Show) goblin, Blix (Alice Playten; Heavy Metal), shoots the stallion with a poison dart and follows it, cutting off its alicorn and plunging the world into eternal winter.
Fresh off his star-making performance in Risky Business, Cruise jumps into the tights of Jack with ease. While it is difficult remembering him so young and fresh, it is apparent that he had charisma and screen presence that would eventually catapult him into the superstar he has become. Sara, in her first feature film, does a very good job as the princess. She has an innocence about her that translates well to her character. Curry has been known for playing villains and "over the top" characters and his turn as Darkness may be one of the best examples of this. While he is only onscreen for maybe thirty minutes total, his scenes are memorable.
While there are two versions of the film included in this combo pack, they are both Blu-rays with 1080p video quality. Both the theatrical and Director's cuts of the movie offer enhanced visuals while still maintaining some of the original DVD's graininess. Colors pop off the screen with lush forest greens and the deep red of Curry's makeup as the Lord of Darkness.
The DTS-HD master audio 5.1 is clear, crisp, and full. The soundtrack is embedded in the background for the most part but is sharp and robust. The dialogue is clean and mixes nicely with the ambient noise and the music. None of the sounds overpower the others instead blending in harmony throughout the movie.
True to form, Arrow adds so much to the presentation of this limited-edition combo pack that it makes the purchase worthwhile. Besides the two versions of the film, the package comes with an illustrated perfectly bound book featuring new writing, a large fold-out double-sided poster featuring both original and newly commissioned art, glossy full-color portraits of the cast by Annie Leibovitz, six double-sided postcard-sized lobby card reproductions, and limited-edition packaging with reversible sleeve. Each disc has its own set of extras which are listed below.
Directed by Ridley Scott (Blade Runner), Legend could have been one itself but sadly, falls short. The script is weak, which is a shame because the cast is full of very talented actors. The costumes and makeup are award-winning (except for Cruise's "Tina Turner Esque" armor/dress/thingy). The film has glaring faults that cannot be overlooked so while Arrow does a superb job packaging this release, the movie itself could use a makeover.
Grade: C+
EXTRAS:
Disc One
U.S. Theatrical Cut
Commentary by Paul M. Sammon
Isolated Music Tracks
Remembering a Legend
The Music of Legend
The Creatures of Legend
Incarnations of a Legend
The Directors: Ridley Scott
Television Version Opening
Music Video: Is Your Love Strong Enough?

Disc Two
Director's Cut
Commentary by Ridley Scott
Creating a Myth: Memories of Legend
Original Featurette
Lost Scenes
Storyboards
Alternate Footage
Screenplay Draft
Trailers and TV Spots
Image Galleries
-- Allison Rose
For more reviews please visit our film/television review section.
SPONSORED LINKS