Blindspot (2015)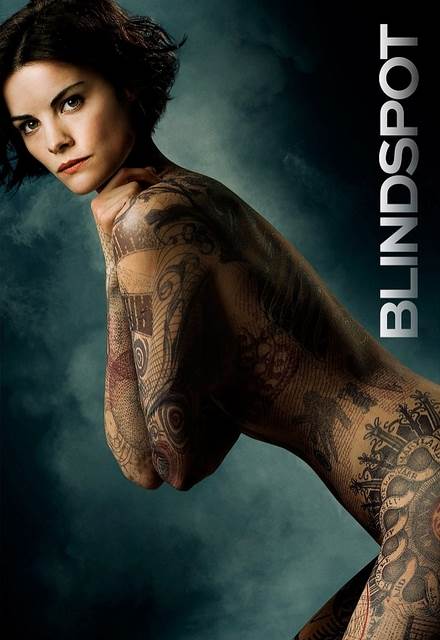 Share this:
| | |
| --- | --- |
| Created By: | |
| Writers: | |
| Cast: | |
| Air Date: | Monday, September 21, 2015 |
| Studio: | Warner Bros. |
| Genre: | Television |
| Rating: | This program contains some material that many parents would find unsuitable for children under 14 years of age. |
Synopsis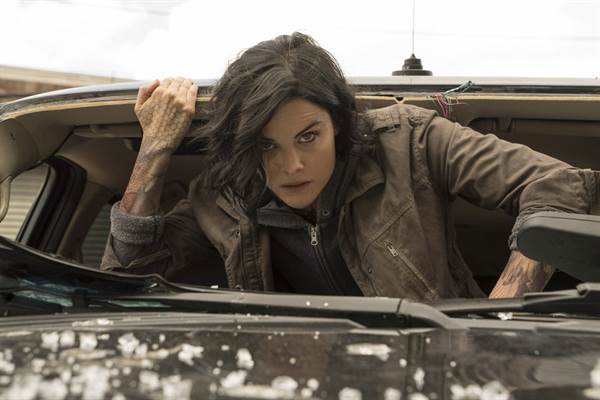 A vast international plot explodes when a beautiful Jane Doe, completely covered in mysterious, intricate tattoos, is discovered naked in Times Square with no memory of who she is or how she got there. But there's one tattoo that is impossible to miss: the name of FBI agent Kurt Weller, emblazoned across her back. "Jane," Agent Weller and the rest of the FBI quickly realize that each mark on her body is a crime to solve, leading them closer to the truth about her identity and the mysteries to be revealed.

Purchase DVD/Blu-ray/4K UHD physical copy of Blindspot today at Amazon.com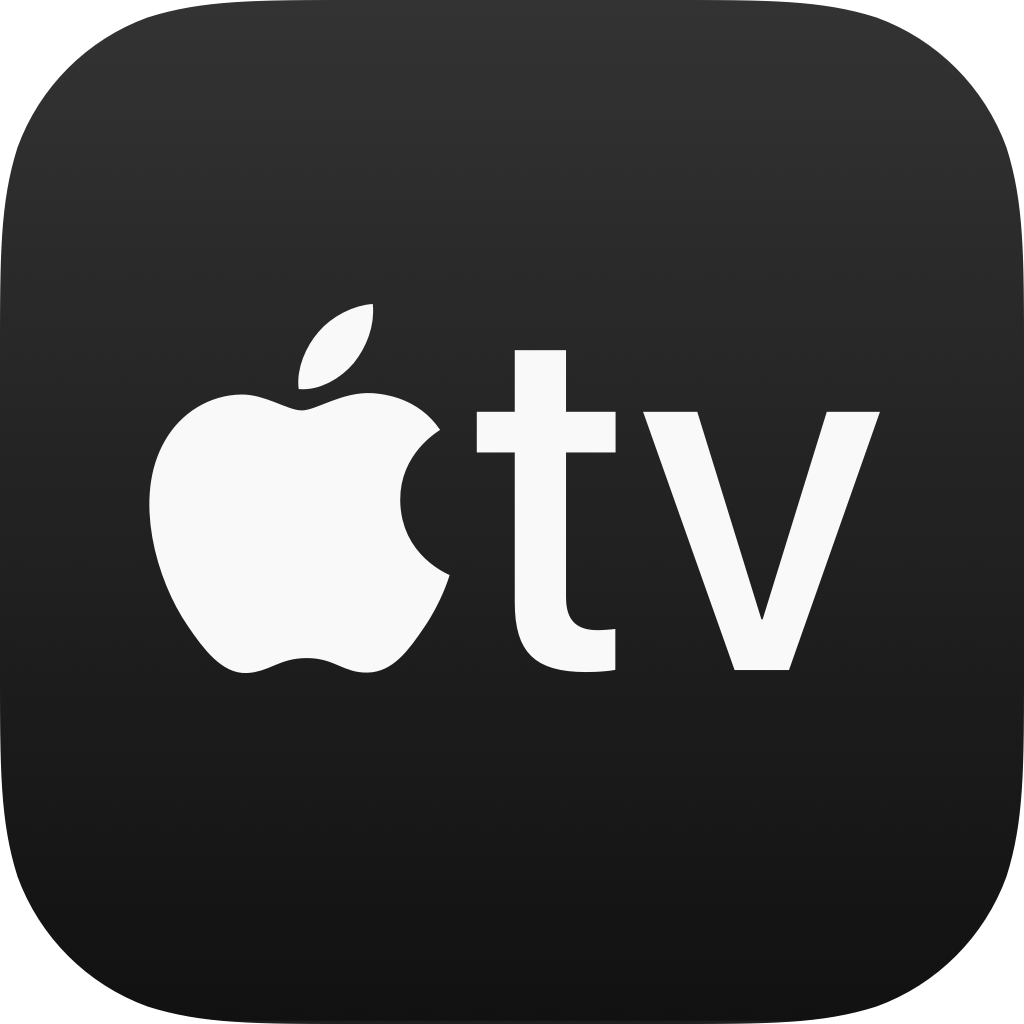 Download Blindspot in Digital HD/4K from the iTunes store.
Listen to the Blindspot soundtrack on Apple Music.
Blindspot images are © Warner Bros.. All Rights Reserved.
NBC's Blindspot Goes Global
10/26/2017 11:30 AM EST
NBC's drama, Blindspot, will soon be premiering its third season and in celebration of the event, the show has released a new trailer. In its latest season, the show travels around the world, chasing down answers for the new set of bioluminescent tattoos on Jane's body.  Some of the locations will include Spain, Australia, and Morocco, with the season opener taking place in Venice, Italy.  Blindsp...
More>>
Lou Diamond Phillips Is Excited for Multi-Show Arc on NBC's Blin...
11/9/2015 9:38 AM EST
Even before it aired one episode, NBC's Blindspot was generating buzz as one of THE new shows to watch this season.  It created momentum early on, and now, seven episodes in, it shows no sign of slowing down.  Centering on a heavily tattooed "Jane Doe" (Jaimie Alexander; Thor), the FBI attempts to decipher her ink in order to stop crimes.  However, there is more under the surface, as a project cal...
More>>
Blindspot Gets Script Order for Nine Additional Episodes
9/28/2015 4:38 PM EST
NBC's new series, Blindspot, has been given the order for 9 additional back-up scripts.  The show, which has only aired one episode so far, debuted after The Voice to an impressive 10.6 million viewers.  The order of back-up scripts doesn't guarantee that the show will earn the episode order, but given the popularity so far, it could be likely.Blindspot airs on Mondays at 10 p.m. on NBC....
More>>
Blindspot: The Complete Second Season Blu-ray Review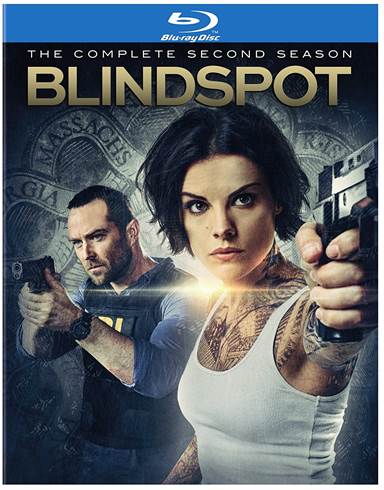 Suspenseful dramas that captivate the audience week upon week and keep them engaged are a rare find, and if you watch Warner Bros.
Blindspot
you will know that there are not many shows made like this one. Created by Martin Gero and produced by Greg Berlanti, who has worked on
Everwood
as well as the DC's Arrowverse, no wonder
Blindspot
's mix of good guy/bad guy routine is captivating, to say the least.
2015 was the entry season for Blindspot, in which a Jane Doe (Jaimie Alexander; Thor) is found in Times Square, in a duffel bag- naked- but for all the tattoos covering her body. Taken in by the FBI, she somehow secures a position without the Bureau and works her way into the heart of another agent, Weller (Sullivan Stapleton; 300: Rise of an Empire). 2016 has brought some interesting answers to questions left at the end of the first season but there still remains many mysteries and unanswered questions at the conclusion of Season Two- which, hopefully, based upon the last two edge of your seat episodes, will be answered in the upcoming Season 3.
Different than the first season, where most of the stories were about solving the tattoo puzzles on Jane's body, Season Two brings us into more of an emotional mystery of the character's backstories and relationships. Jane's relationship with her brother, Roman (Luke Mitchell; The Tomorrow People) is explored more in depth and Jane's vulnerability- misplaced or not- is apparent in every episode and every interaction. It is almost a replay of Weller's initial response to Jane from Season 1 except this is about innate familial trust. Jane pits Roman against Sandstorm, the American terrorist organization Jane seeks to escape, at every turn trying to make him a good guy-and the interactions between brother and sister versus Shepard (Michelle Hurd; Random Hearts) are intense at a minimum- one is always wondering what will happen next. Besides the FBI, Blindspot introduces us to the NSA and an agent who ends up working with the FBI team as their common enemy keeps them engaged- Nas (Archie Punjabi; The Good Wife) whose onscreen acting chemistry with Actor Stapleton provides a good balance and relationship to watch.
One of the best parts of Blindspot is the continual development of the personalities of the characters and the storyline. Gero and Berlanti weave a continuous and fluid storyline between the character relationships, both professional and personal. While the main plot of the drama seems to be trying to find out who Jane really is (do we ever really know the truth?), the interactions between the FBI agents, Shepard, Sandstorm operatives, and the other characters introduced episode by episode, provide an immersive experience of television watching. I love that all of the actors seem to have a natural ability to make everything seem real. Even with some new characters added and some old ones lost, the actors interacted with each other in a way that you could feel the intensity and the emotions between them. I never felt as if the actors gave anything less than 100% in the drama and often forgot that what I was watching was "just" a t.v. show.
Throughout Season 2, we see role switching and mimicking of the first season to a degree. The Jane versus the FBI plot changes for Season 2 and it is now Jane and Roman versus the FBI and then Roman versus Jane and the FBI. What's interesting is that I never quite know if Roman even realizes that he is part of this relationship triangle, which makes it all more purposeful to watch. Without giving anything away, the entire season builds up right for the last two episodes. If I hadn't known Blindspot was already renewed for a third season, I would have been trying to figure out how to pull myself up off the floor. The writers did an amazing job bringing Blindspot full circle but still leaving a mystery for Season Three, which airs on NBC Friday, October 27, 2017 at 8:00 p.m.
The entire season is presented on 4 Blu-ray discs. The show is presented in 1080p High Definition widescreen 16x9 with an aspect ratio of 1.78:1. Throughout the season, the colors are crisp and clear. Special effects, especially when someone gets shot are simple but meaningful. The impact of the actual shot and the resulting impact is clear as day. A shining example of this would be in Episode 13 when Jared gets shot in the chest. The cinematography is well developed and especially with high-speed chases and cameras moving all around, you get a feeling for being right in the middle of the chases and take downs.
Audio is presented in DTS-HD Master Audio English 5.1. Shots ring clear, tires screeching are heard without being too loud, and whispers are soft enough to be a whisper but loud enough to be heard without having to turn up the volume. Background music is deep and resonant and ambient noises never seem to overpower the scene or dialogue.
One of the Special Features found on the Blu-rays contains 14 deleted scenes in the episodes. They are so flawlessly inserted into the episode that I can only imagine them being cut was for airing time. Discs 1,2, and 4 all have Special Features (not necessarily in HD) that you can watch. Specifically:
Disc 1: Special features include 5 featurettes: Breaking the Season (See what the writers have to say about creating a new season); Premiere Revelations (Gero and the writing team talk about the first episode's revealing shockers); Family Secrets (Find out about Jane and Weller's connections); Zero Division (Find out about Nas' background).
Disc 2: Another featurette is Sandstorm. Walk through the ops and their methods with Gero and the cast.
Disc 4: Two more featurettes focus on the 2016 Comic-Con experience, one specifically with Ashley Johnson and the other with other cast members. Disc 4 also has the Bound and Gag Reel, which always brings laughter to what is such a serious and focused drama.
The Special Features are impressive because 5/7 of the featurettes includes opinions and thoughts from the writers and creators. When the bonus features go so far as to provide the insight that these special features do by the people who create them, it provides such an understanding by the audience. It's showing the audience that they are a part of the show and not simply people watching a t.v. show at a certain time once per week.
Television has been through a lot since it started airing television programs over these last 75 or so years and progress and improvements are always trying to be made. Blindspot has clearly shown what creative writing, determination, and the casting of the right actors can do for a show- bring it an audience that is mesmerized and captivated by the story and sub-plots that clearly exist to support the show. Having The Complete Second Season Blu-ray Discs of Blindspot is an addition to your collection you must possess.
Grade: A-
Read More Blindspot Reviews
For more reviews please visit our film/television review section.
Season 3 of Blindspot brings the gang back together and the cast spoke to FlickDirect at New York Co...

Watch Blindspot's Jaimie Alexander discuss her "psycho" role this season and find out...

A vast international plot explodes when a beautiful Jane Doe, completely covered in mysterious, intr...
SPONSORED LINKS