Blindspot (2015)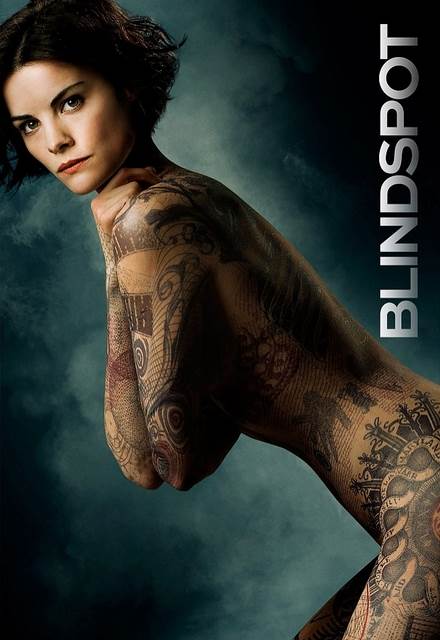 Share this:
| | |
| --- | --- |
| Created By: | |
| Cast: | |
| Air Date: | Monday, September 21, 2015 |
| Studio: | Warner Bros. |
| Genre: | Television |
| Rating: | This program contains some material that many parents would find unsuitable for children under 14 years of age. |
Synopsis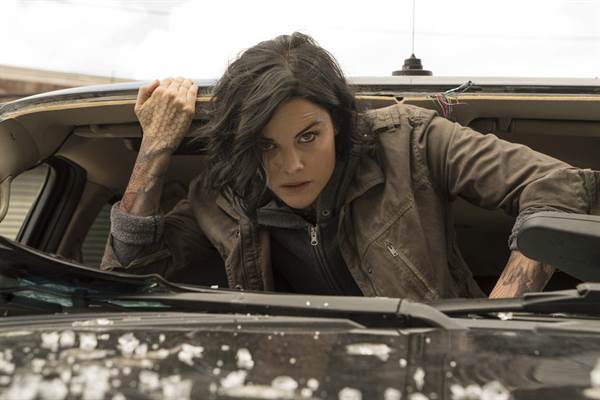 A vast international plot explodes when a beautiful Jane Doe, completely covered in mysterious, intricate tattoos, is discovered naked in Times Square with no memory of who she is or how she got there. But there's one tattoo that is impossible to miss: the name of FBI agent Kurt Weller, emblazoned across her back. "Jane," Agent Weller and the rest of the FBI quickly realize that each mark on her body is a crime to solve, leading them closer to the truth about her identity and the mysteries to be revealed.
Purchase DVD/Blu-ray/4K physical copy of Blindspot today at
Download Blindspot in Digital HD/4K from the iTunes store.
Blindspot images are © Warner Bros.. All Rights Reserved.


NBC's Blindspot Goes Global
10/26/2017 11:30 AM EST
NBC's drama, Blindspot, will soon be premiering its third season and in celebration of the event, the show has released a new trailer. In its latest season, the show travels around the world, chasing down answers for the new set of bioluminescent tattoos on Jane's body.  Some of the locations will include Spain, Australia, and Morocco, with the season opener taking place in Venice, Italy.  Blindsp...
More>>
Lou Diamond Phillips Is Excited for Multi-Show Arc on NBC's Blin...
11/9/2015 9:38 AM EST
Even before it aired one episode, NBC's Blindspot was generating buzz as one of THE new shows to watch this season.  It created momentum early on, and now, seven episodes in, it shows no sign of slowing down.  Centering on a heavily tattooed "Jane Doe" (Jaimie Alexander; Thor), the FBI attempts to decipher her ink in order to stop crimes.  However, there is more under the surface, as a project cal...
More>>
Blindspot Gets Script Order for Nine Additional Episodes
9/28/2015 4:38 PM EST
NBC's new series, Blindspot, has been given the order for 9 additional back-up scripts.  The show, which has only aired one episode so far, debuted after The Voice to an impressive 10.6 million viewers.  The order of back-up scripts doesn't guarantee that the show will earn the episode order, but given the popularity so far, it could be likely.Blindspot airs on Mondays at 10 p.m. on NBC....
More>>
Blindspot Series Review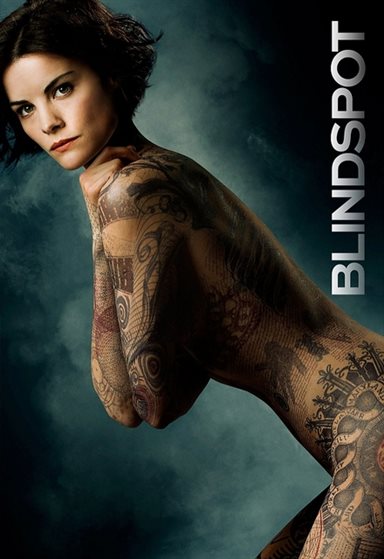 Imagine waking up in a huge duffel bag, naked and tattooed in the middle of Times Square, NYC, with no memory of who you are or how you got there. That is exactly what happens to Jane Doe (Jaimie Alexander; Thor) in the opening scenes of NBC's new drama, Blindspot.

In the season premier, Jane Doe has been placed in FBI custody because her largest tattoo is the name of FBI agent Kurt Weller (Sullivan Stapleton; 300: Rise Of An Empire), a man she has never met before. As the tattoos are revealed, we find out Jane Doe can speak Chinese and eventually we learn she knows martial arts and is a trained marksman.

It seems the tattoos are clues to solving crimes, and in the first episode, Weller and Jane Doe do just that when they foil a terrorist plot to blow up the Statue of Liberty. Doe also has flashes of memories, which help her to try and remember who she is. Interestingly, at the end of the episode the audience is given a peak into who Jane may actually be, but not why she made the conscious choice to become tattooed and lose her memory.

While the concept of Blindspot is somewhat familiar (think the Bourne series), the addition of the mysterious tattoos makes it a little unique. I was intrigued enough to be entertained for the hour and am curious enough to want to see what happens in episode two. However, this first episode actually left me with more questions than answers though, and some parts are, for now, are confusing.

Alexander does a good job portraying the confused Jane Doe while simultaneously emitting an air of calm and courage often displayed by a special ops forces member. Stapleton, however, wasn't a good choice in my book, as I found him unemotional and stiff and I have yet to see the chemistry between the two actors. I hope their relationship evolves (not necessarily romantically) over the next few episodes or I may stop tuning in.

In the end, I can't help but wonder what happens when the FBI runs out of tattoos to exam on Jane Doe's body and, while I'm interested for now, I can see the concept eventually getting old. All I can say for sure, is that I will be watching next week to try and piece together some more of the story.

Blindspot premieres this evening, Monday September 21, 2015, at 10pm EST.
Read More Blindspot Reviews
For more reviews please visit our film/television review section.
Season 3 of Blindspot brings the gang back together and the cast spoke to FlickDirect at New York Co...

Watch Blindspot's Jaimie Alexander discuss her "psycho" role this season and find out...

A vast international plot explodes when a beautiful Jane Doe, completely covered in mysterious, intr...
SPONSORED LINKS