Jungle Cruise (2021)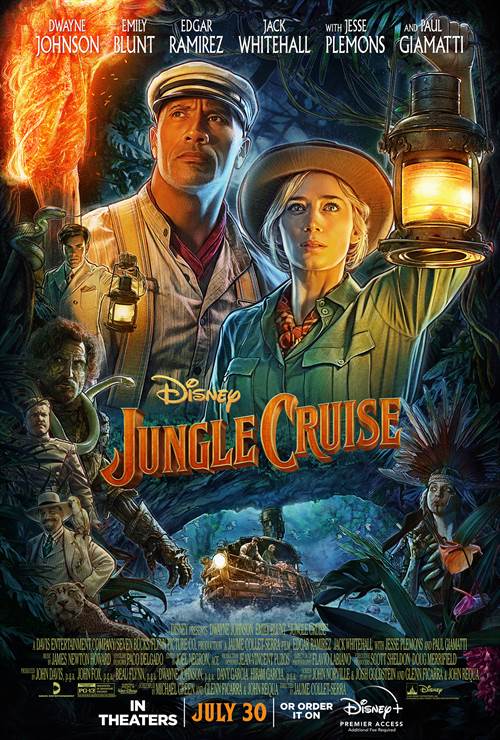 | | |
| --- | --- |
| Director: | |
| Writers: | |
| Cast: | |
| Released: | Friday, July 30, 2021 |
| Length: | 127 minutes |
| Studio: | Walt Disney Pictures |
| Genre: | Action/Adventure |
| Rating: | Some material may be inappropriate for children under 13. |
Synopsis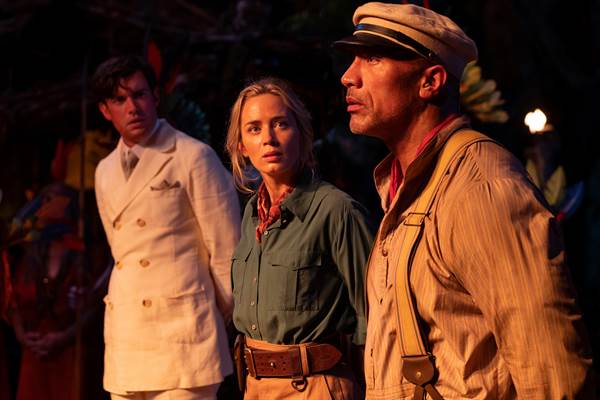 Inspired by the famous Disneyland theme park ride, Disney's "Jungle Cruise" is an adventure-filled, rollicking thrill-ride down the Amazon with wisecracking skipper Frank Wolff and intrepid researcher Dr. Lily Houghton. Lily travels from London, England to the Amazon jungle and enlists Frank's questionable services to guide her downriver on La Quila—his ramshackle-but-charming boat. Lily is determined to uncover an ancient tree with unparalleled healing abilities—possessing the power to change the future of medicine. Thrust on this epic quest together, the unlikely duo encounters innumerable dangers and supernatural forces, all lurking in the deceptive beauty of the lush rainforest. But as the secrets of the lost tree unfold, the stakes reach even higher for Lily and Frank and their fate—and mankind's—hangs in the balance.

Purchase DVD/Blu-ray/4K UHD physical copy of Jungle Cruise today at Amazon.com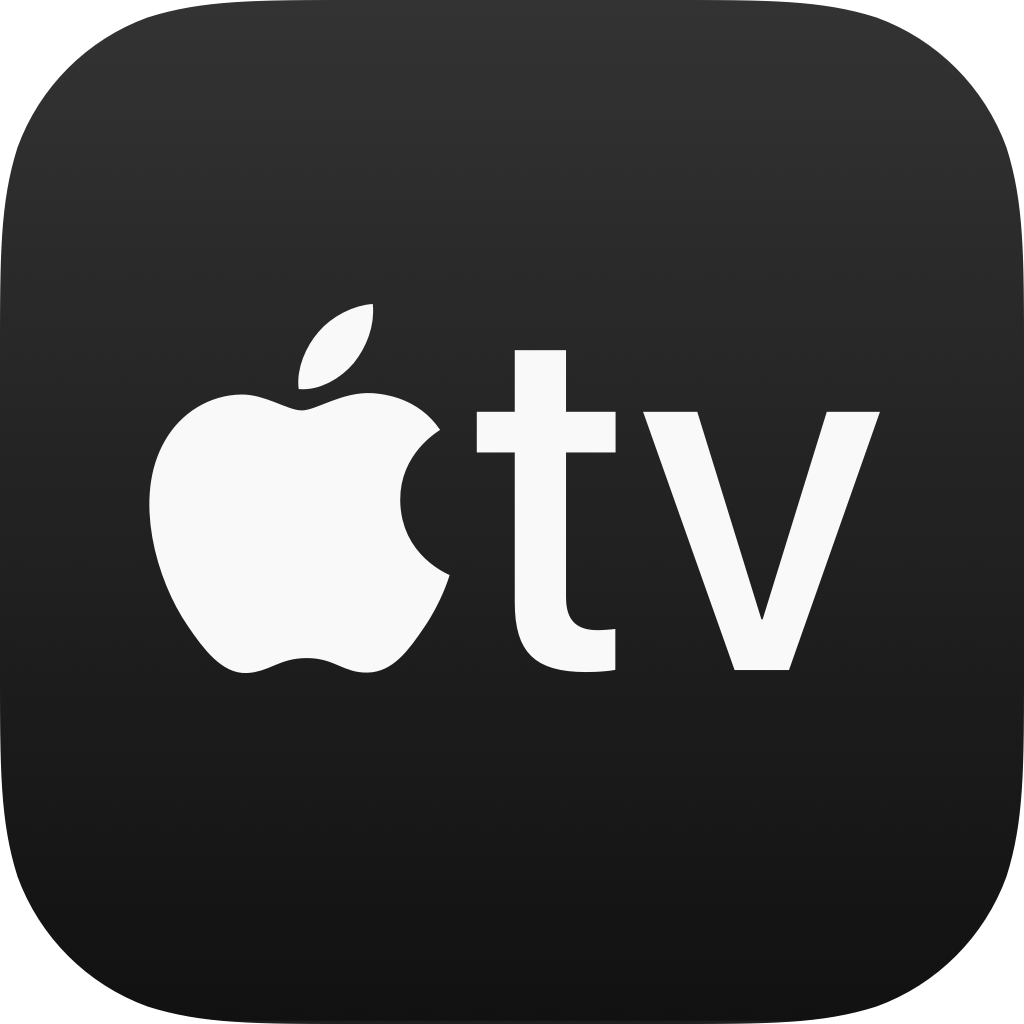 Download Jungle Cruise in Digital HD/4K from the iTunes store.
Listen to the Jungle Cruise soundtrack on Apple Music.
Jungle Cruise images are © Walt Disney Pictures. All Rights Reserved.
Disney's Jungle Cruise Debuts Number One at Box Office
8/2/2021 1:00 PM EST
Disney has announced that "Jungle Cruise" has debuted at #1 this past weekend. The film earned more than $90 million globally, which includes $34.2M in domestic box office, $27.6M in international box office, and over $30M in Disney+ Premier Access consumer spend globally."Jungle Cruise is the perfect summer adventure film, bringing a beloved theme park attraction to both the big screen and living...
More>>
Disney's Jungle Cruise Set for Simultaneous Theatrical and Disne...
5/13/2021 1:02 PM EST
Dwayne Johnson took to social media today to announce that Disney's "Jungle Cruise" will release day and date in theaters and on Disney+ with Premier Access on Friday, July 30. Inspired by the famous Disneyland theme park ride, Disney's "Jungle Cruise" is an adventure-filled, rollicking thrill-ride down the Amazon with wisecracking skipper Frank Wolff and intrepid researcher Dr. Lily Houghton. Lil...
More>>
Jungle Cruise Theatrical Review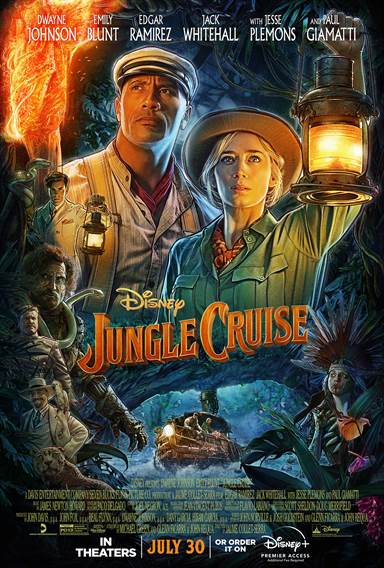 In 2003 Disney released a feature film based on an attraction from their theme parks…yes, AN ATTRACTION! Pirates of the Caribbean has always been popular with guests but when Disney announced a movie passed on the ride, people were skeptical. Five movies and billions of dollars later, the skeptics have been silenced and Disney has another movie franchise that has become iconic.

After Pirates' initial success, Disney looked to create another blockbuster movie loosely based on another one of its attractions…Jungle Cruise. Seventeen years later, after numerous starts, stops, script and talent changes, and a worldwide pandemic, the project has finally come to fruition as Jungle Cruise opens in theaters this week.

There was an ancient legend that talked of a "tree of life" in the Amazon whose flowers possessed healing powers and for centuries explorers yearned to find it. In the early 1900s, Dr. Lily Houghton (Emily Blunt; A Quiet Place II) decided to try her luck but not before stealing an artifact meant to be used in locating the tree. She and her brother, McGregor (Jack Whitehall; Mother's Day) head to South America from their home in London and accidentally hire a lying, joke-cracking riverboat captain named Frank Wolff (Dwayne Johnson; Fast and Furious presents: Hobbs and Shaw) to guide them through the hostile jungle.

Armed with the "key" to the tree of life, Lily becomes a target of a German Prince (Jesse Plemons; Breaking Bad) who is determined to find the tree himself and use it to help Germany win the war. Lily is also unaware of the dangers – natives, animals, poisonous plants - that await her on her quest. She and her brother learn quickly that things aren't always what they seem and what they ultimately find is more than a magical tree.

I had begun to think that Johnson was a one-trick pony – all muscle, no substance- that was unable of expressing emotion in any genuine fashion. However, he is a surprise in this film and his performance is a breath of fresh air in a rather stale progression of brawn over brains movies. The script has some cheesy, "dad" jokes (much like the cast members on the ride) but Johnson delivers them well and offers some funny moments in the film. Blunt is an excellent complement to Johnson and the two have a natural rhythm that makes their exchanges enjoyable. Paul Giamatti (Gunpowder Milkshake) and Edgar Ramirez (Point Break) play their villains beautifully but Plemons breathes life into the Prince/General Joachim character so you sense his presence every time he is onscreen.

After many rewrites, the story has ended up being entertaining and the script is enjoyable with several laugh-out-loud moments and a few inappropriate remarks. Interestingly, the movie also beats around the bush regarding one of the characters being gay without actually stating it in words. Director Jaume Collet-Serra (The Shallows) is a somewhat unusual choice as he is known more for horror-type films rather than adventure/family fare. However, he does a good job of keeping the pace flowing for the most part and for utilizing interesting camera angles.

While Jungle Cruise isn't perfect, the movie and Johnson exceeded my expectations. There are moments when the green screen backgrounds look distractingly fake and some of the CGI leaves a lot to be desired but overall it is an enjoyable movie that had me genuinely laughing more than once. The Mummy and Pirates of the Caribbean influences and evident throughout and everyone involved in the project did an excellent job paying homage to the ride.

Jungle Cruise could have been hit or miss but thankfully, Disney did it right and the result is and fun, summer film that will probably do well in theaters and on Disney's streaming platform.

Grade: B+
P.S. The orchestral version of Metallica's Nothing Else Matters in the film is nothing short of a masterpiece!
-- Allison Rose
For more reviews please visit our film/television review section.
For today's home video review, FlickDirect's Austin Putnam talks JUNGLE CRUISE in 4K UHD Disc!Purcha...

Dwayne Johnson and Emily Blunt surprised fans on the #JungleCruise ride at Disneyland. The catch? Th...

Inspired by the famous Disneyland theme park ride, Disney's "Jungle Cruise" is an adventure-filled,...
SPONSORED LINKS