The Boss (2016)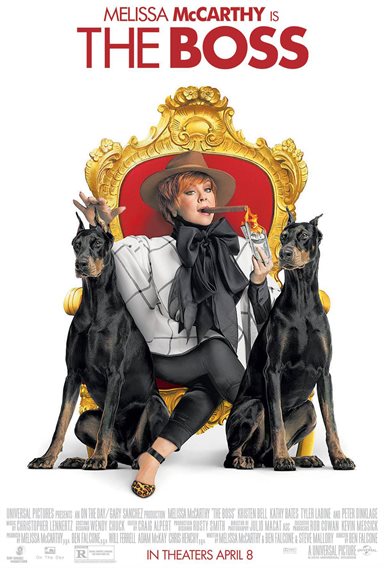 | | |
| --- | --- |
| Director: | |
| Writers: | Melissa McCarthy, Ben Falcone, Steve Mallory |
| Cast: | |
| Released: | Friday, April 8, 2016 |
| Length: | 99 minutes |
| Studio: | Universal Pictures |
| Genre: | Comedy |
| Rating: | Under 17 requires accompanying parent or adult guardian. |
Synopsis
Academy Award®-nominated star Melissa McCarthy (Bridesmaids, The Heat, Tammy) headlines The Boss as a titan of industry who is sent to prison after she's caught for insider trading. When she emerges ready to rebrand herself as America's latest sweetheart, not everyone she screwed over is so quick to forgive and forget.
Purchase your copy of The Boss today at
Download The Boss from iTunes.
SPONSORED STORIES
Comments

Courtesy of
Movie Hype App
abigail1400
What a great movie
04/09/2016 3:06 PM EST
ali121
Tammy part 2?
04/05/2016 7:18 PM EST
duckster60
My worst boss ever was in a shoe factory where I was forced to cement soles of shoes where the glue was toxic or else get fired
03/30/2016 11:29 AM EST
spmallee
The worst boss I ever had brought employees into his office just to make them cry.
03/29/2016 7:51 PM EST
vfedele
worked for this nasty b!*$tch who would purposely mispronounce my name, Miss Fidel!!! drove me nuts , hated that wench! #worstbossever
03/29/2016 7:49 PM EST
clokee
Worse boss ever fired me then rehired me 2 hours later because he was in a bad mood then allowed his senile father to steal people's lunches
03/29/2016 3:24 PM EST
The Boss images are © Universal Pictures. All Rights Reserved.
Win Complimentary Passes to an Advance Screening of Universal Pi...
03/29/2016 2:33 PM EST
Michelle Darnell is the woman you love to hate in Universal Pictures THE BOSS.  Out in theaters April 7, 2016, South Floridians can win passes to a complimentary screening before it is released.To enter download the Movie Hype App and "follow" THE BOSS. Be sure to tell us a story about your worst boss ever. We will choose entries at random to win one complimentary pass admitting two to see THE BOS...
More>>
The Boss Theatrical Review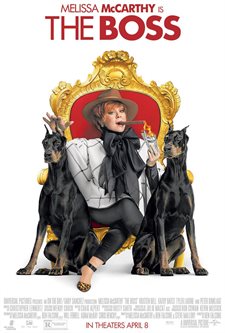 For me, Melissa McCarthy is hit or miss. Sometimes I like her stuff; other times I don't. Mike and Molly was funny enough. Bridesmaids was hysterical and her character was great. Spy was another example of a fun and entertaining McCarthy movie. However, The Heat and Tammy were both awful and torturous to sit through. Sadly, her latest release, The Boss, falls into the latter category.

Michelle Darnell (McCarthy) had a rough childhood. She grew up in an orphanage and was bounced around from one foster home to another. She never had a family, or anyone, to really show her love and affection. Having only herself to rely on, she climbed her way to fame and fortune and didn't care who got hurt in the process.

When she goes to prison for insider trading, she comes out 5 months later to find she has no home, no money and no one to even give her a ride. Desperate, she ends up at the home of her former assistant, Claire (Kristen Bell; Frozen). Suddenly inspired, Michelle finds her new business venture and ends up, once again, screwing over anyone who tries to get close.

This is not McCarthy's best work. She doesn't inspire hatred or pity for the poor orphan turned mogul. Bell and Peter Dinklage (Game of Thrones) are fine, working with the subpar dialogue they were given. Kathy Bates (American Horror Story) is entirely underused, which is a waste of her considerable talent.

The real tragedy of this movie is that, for a comedy, it isn't remotely funny. There are about three times I actually laughed and I found that many of the jokes just fell flat. At an hour and forty minutes, the film was entirely too long, and I just wanted it to end and put me out of my misery.

The script is also part of the problem. There was so much going on, and the story had too many micro chasms to keep up with. At one point, the movie reminded me of Troop Beverly Hills on a bad acid trip.

The Boss is a miss for McCarthy and unworthy of anyone's time or money. It was unfunny, uninspiring and simply boring. I've seen McCarthy do so much better and this was, although not unexpected, terrible in almost every way.

While McCarthy and Director Ben Falcone (Tammy) are married in real life, they should keep their partnership distinctly personal, as this is the second film they have collaborated on that wasn't remotely good.

Do yourself a favor - don't bother wasting your time or money on this one. You'd be better off renting Bridesmaids and spending a few hours laughing and appreciating one of McCarthy's better films.

Grade: D
For more reviews please visit our film/television review section.