Why Him? (2016)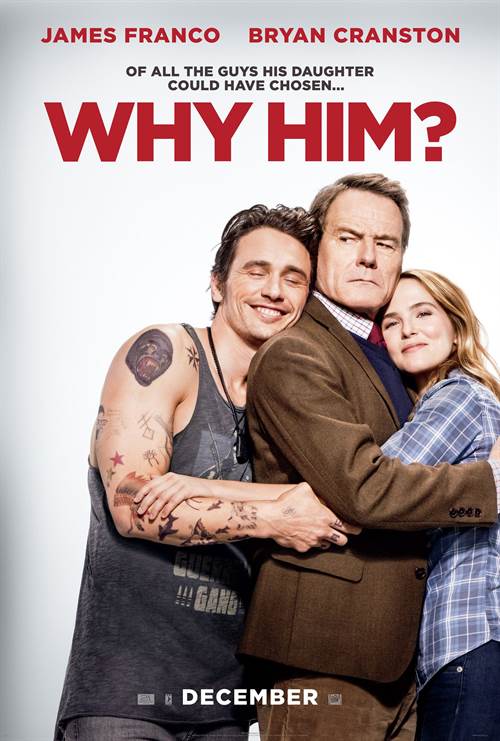 | | |
| --- | --- |
| Director: | |
| Writers: | |
| Cast: | |
| Released: | Sunday, December 25, 2016 |
| Length: | 111 minutes |
| Studio: | 20th Century Studios |
| Genre: | Action/Adventure |
| Rating: | Under 17 requires accompanying parent or adult guardian. |
This film contains a scene during or after the credits.
Why Him? Synopsis
Over the holidays, Ned (Bryan Cranston), an overprotective but loving dad and his family visit his daughter at Stanford, where he meets his biggest nightmare: her well-meaning but socially awkward Silicon Valley billionaire boyfriend, Laird (James Franco). A rivalry develops, and Ned's panic level goes through the roof when he finds himself lost in this glamorous high-tech world and learns that Laird is about to pop the question.

Purchase DVD/Blu-ray/4K UHD physical copy of Why Him? today at Amazon.com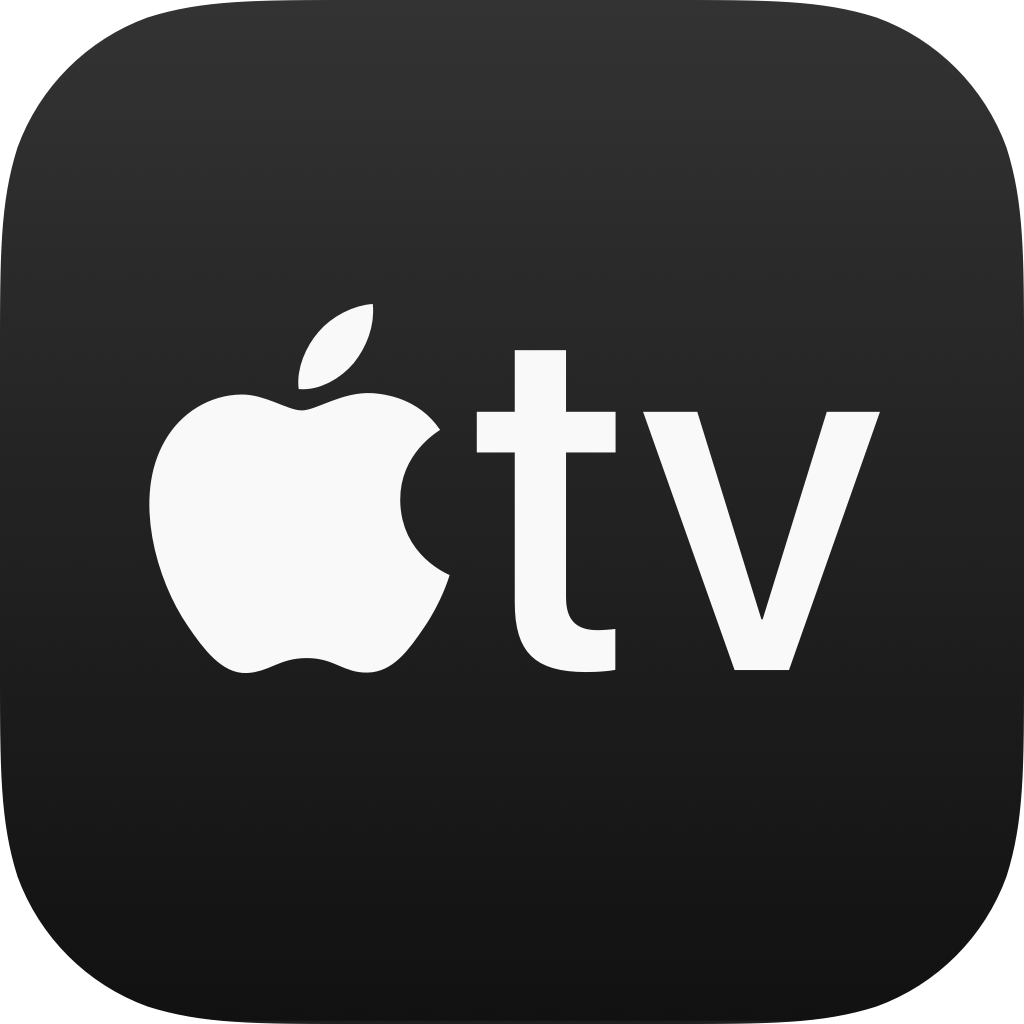 Stream Why Him? in Digital HD/4K from the AppleTV store.
Why Him? images are © 20th Century Fox. All Rights Reserved.
Why Him? 4K Review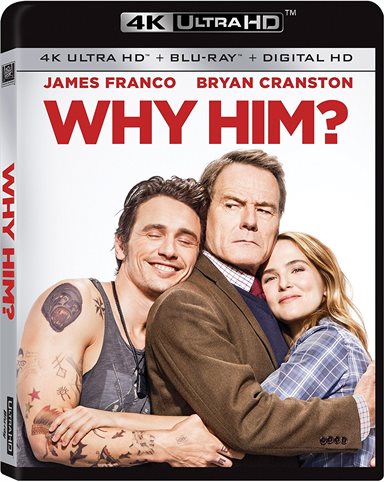 For a hilarious, if not a bit raunchy, comedy about a father having to cut the umbilical cord with his grown-up daughter, Why Him? fits the bill perfectly. Delightfully comedic, Why Him? is almost the perfect third date movie. The cast blends together well in an effort to bring a prior generation into the new tech generation.
Laird, played by the brilliant James Franco (Oz The Great and Powerful) is a tech billionaire dating Ned's (Bryan Cranston; Breaking Bad) daughter Stephanie (Zoey Deutch; Vampire Academy) but this is all new to Ned. Normally especially close to his 22-year-old college daughter, Ned is taken by surprise when Stephanie asks her family to leave Michigan for the Christmas holidays and come to California to celebrate the holidays with her and her beau. Conservative, struggling business owner Ned clashes with bohemian Laird in almost every aspect of life and language (Laird's being extremely colorful), except in their love for Stephanie. It's a story of coming of age for one and getting into touch with the inner child for another. It's a story of two men bonding over one woman and finding a common ground when, often times, it seems like the ground is crumbling beneath them.
James Franco brings a funny perspective to the boyfriend trying to make a good impression on who he hopes will be his future father in law. Franco's character tries so hard that he fails at almost every attempt to bond with Ned. He has a subliminal innocence that is so Franco you can't help but root for his character, Laird, to prevail in his quest to bond with this father, so opposite in character, yet so similar to the woman they both love.
Bryan Cranston is amazing as the fumbling dad trying not to lose his daughter to what he feels is a complete loser, despite the boyfriend being a multi-million dollar tech wiz. Cranston's expressions are exactly what you would expect to see in a flabbergasted father trying to maintain his hold on his college daughter without going overboard. He brings the best characteristics of both Steve Martin's character in Father of the Bride and Robert DeNiro's character in Meet the Focker's.
It's not unusual that Cranston reminded me of DeNiro's character as Director John Hamburg also directed Meet the Fockers. Hamburg is able to make his audience invested in the storyline, as he shows that he can bring out the familiarity in the actors he directs. Hamburg has directed several other Ben Stiller movies, as well, showing his competence with real life comedy as a central focus in his films.
Another compliment to this light-hearted, funny film is how the Director/Co-Writer John Hamburg, Co-Writer Ian Helfer managed to snag such popular additions to his cast. KISS, Cedric the Entertainer and Richard Blais didn't just make guest appearances. Each of their unique backgrounds were tied into the movie, providing a solid background that enhanced and added to the actual story, instead of wondering why these actors were actually cast.
The 4K UHD is, of course, a brilliant 2160p with an aspect ratio of 1.85:1. The colors pop and the background imagery is clear and concise. I especially liked that the tattoos covering Laird's upper torso could be readily identified in almost every scene in which they were presented.
Audio quality is outstanding. Presented in English DTS-HD Master Audio 7.1, the background music was supportive and not overbearing, even when loud as required. The dialogue was clear and conversations between the characters were heard effortlessly. The KISS music was wonderfully planted and the fade in and out was beautifully orchestrated.
Why Him? comes with three different ways to view the film - the 4k UHD Blu-ray, the 1080p HD Blu-ray, and Digital HD. Bonus features are always a reason to purchase the home entertainment version.
There is one bonus feature that is presented on both the 4K UHD and the 1080p HD Blu-ray and that is usually my favorite bonus feature - the Audio Commentary. It's so interesting to see what was in the minds of Director/Co-Writer John Hamburg, Co-Writer Ian Helfer, and Editor William Kerr (Editor).
To watch the following bonus features, you'll have to whip out the 1080 HD Blu-ray disc:
Why Him? Gag Reel: Almost ten minutes of non-stop comedy from our favorite actors. Pay special attention to Cranston's impressions!
47 Minutes on the Can: If you've ever wanted to see Cranston up close and personal in the paperless bathroom, this is a can't miss!
Why Gustav?: Keegan Michael-Key (Keanu) who plays Gustav, the manager of Laird's estate is a really funny guy so watch these few minutes highlighting this wonderful actor.
Barb Fleming: America's Mom– Megan Mullaly, probably best known for her character on Will & Grace, is featured in these few minutes.
Lou The Entertainer: Cedric the Entertainer is more than just a past judge on The Voice - he keeps the music moving in Why Him?. Watch this bonus feature showing the scenes from this famous voice.
Richard Blais: Twisted Chef: Did you know you there was actually a thing called edible paper? Meet Richard Blais as he wows us with his culinary expertise filming his scenes.
Deleted Scenes: Always sad to see the scenes that could've, would've should've. Play them all or play them individually
Gallery: See the pictures!
Theatrical Trailer
20th Century Fox Home Entertainment has produced a wonderfully entertaining and funny movie about a man coming to grips over his daughter's growing up. It's refreshing to be able to just sit back, relax, and laugh while watching a movie that touches home for many of us.
Grade: B+
Read More Why Him? Reviews
For more reviews please visit our film/television review section.
SPONSORED LINKS