Hellraiser (1987)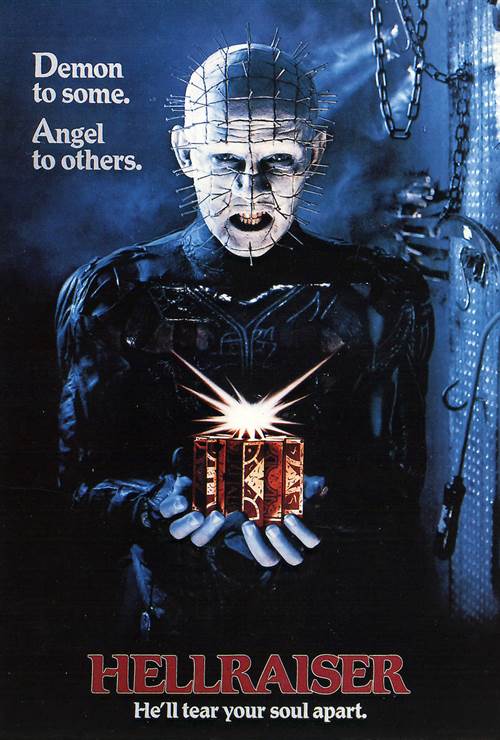 | | |
| --- | --- |
| Director: | |
| Writers: | |
| Cast: | |
| Released: | Friday, September 18, 1987 |
| Length: | 94 minutes |
| Studio: | New World Pictures |
| Genre: | Horror |
| Rating: | Under 17 requires accompanying parent or adult guardian. |
Hellraiser Synopsis
From horror master Clive Barker comes this chilling nightmare featuring the first appearance of the hideous, demonic Pinhead. When Kirsty Cotton's family moves into their ancestral home, they are terrorized by the resurrected corpse of her uncle, who requires the flesh of murdered innocent victims in order to become whole and alive again. A creepy, thrillingly perverse tale straddling heaven and hell, extreme pleasure and unbearable pain, HELLRAISER will haunt your dreams.

Purchase DVD/Blu-ray/4K UHD physical copy of Hellraiser today at Amazon.com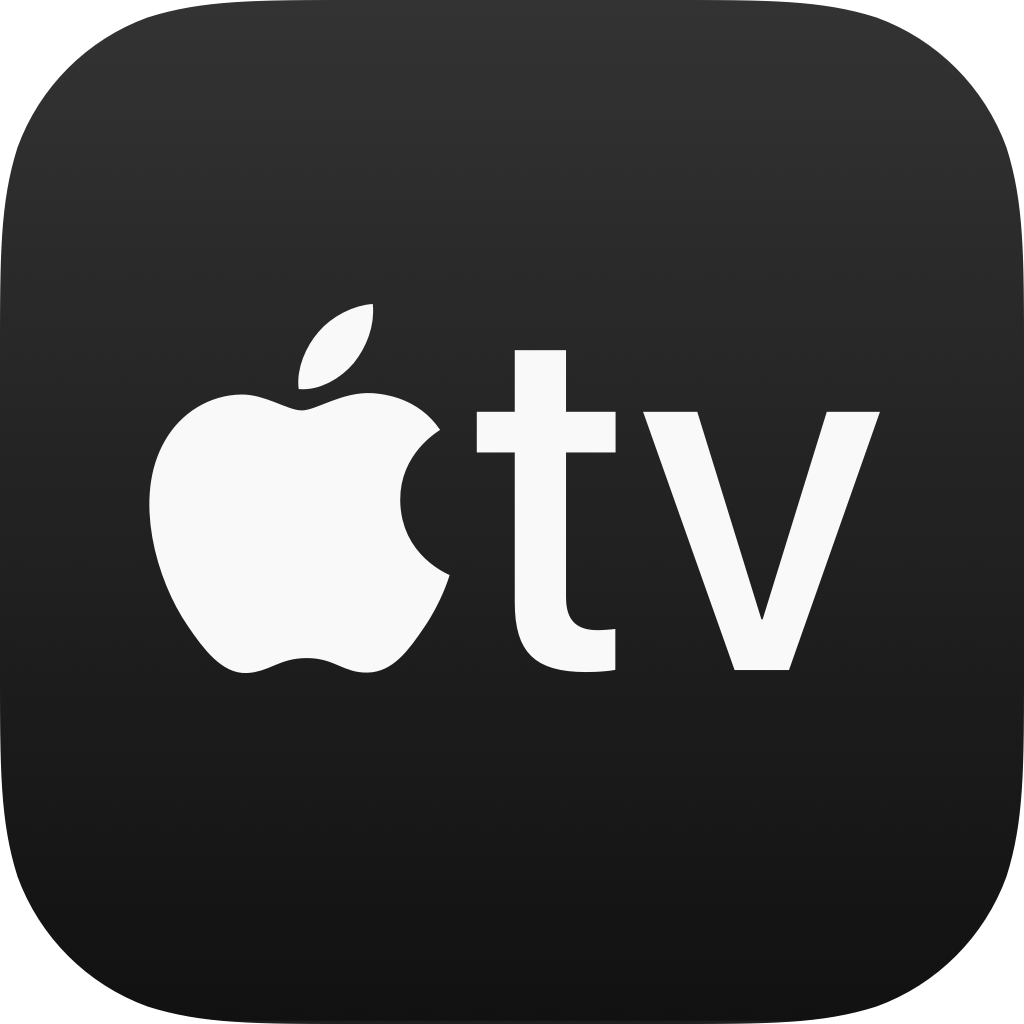 Stream Hellraiser in Digital HD/4K from the AppleTV store.
Hellraiser images are © New World Pictures. All Rights Reserved.
Sense8's Jamie Clayton Set as New Pinhead in Hellraiser Reboot
10/7/2021 4:54 PM EST
A reboot of "Hellraiser" will be heading to Hulu, and a new person will be cast in the iconic Pinhead role. "Sense8" actress Jamie Clayton will star in the film, which will be produced by Clive Barker. Doug Bradley played the original Pinhead.The cast also includes Brandon Flynn (13 Reasons Why, Ratched), Goran Visnjic (The Boys, ER), Drew Starkey (Outer Banks, Love, Simon), Adam Faison (Everythin...
More>>
Hellraiser Series Coming to HBO
4/28/2020 3:44 PM EST
The classic horror franchise "Hellraiser" is coming to HBO. The network has announced that they will be releasing a new series based on the franchise. "Halloween" director David Gordon Green will be directing the pilot and a few more beginning episodes."Hellraiser" features the iconic character Pinhead, who leads a group of villains called the Cenobites. The franchise has been around for 35 years ...
More>>
Hellraiser to Be Reborn by Spyglass Media Group
5/7/2019 4:54 PM EST
Hellraiser will be getting the reboot treatment by Spyglass Media Group with David S. Goyer producing and writing. Gary Barber, Chairman and Chief Executive Officer of Spyglass, said in his announcement, "Clive and I go back more than 30 years together. For generations, his brilliantly twisted and imaginative Hellraiser haunted the minds of moviegoers with its searing imagery of Pinhead. David is ...
More>>
Hellraiser Blu-ray Review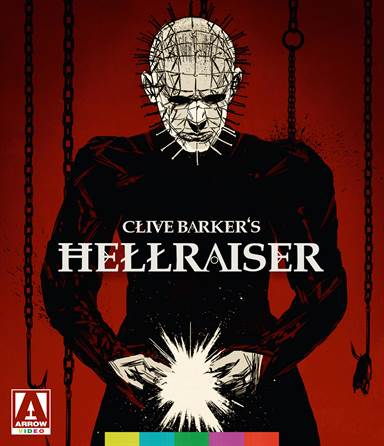 Arrow Home Video has such sights to show you. In case you have been sleeping your way through the last 8 years of Physical Media releases, Arrow has decided to re-release the Hellraiser films, and now is your chance to get in on it.
Originally released in theaters in 1987, Hellraiser didn't look or feel like your typical 80's horror film, and that's because it wasn't. And Clive Barker was not your typical horror auteur or horror writer, or artist, and that was what made me such a rabid fan, especially of his early works. He was so unlike anyone else in the genre. He defied, defined and ultimately deified his character of The Hell Priest, or as he is more lovingly known, Pinhead. He became an instant Horror Icon - indelible, like the masks of Jason, Michael, or the scars of Krueger. His hideously intriguing visage will forever remain one of the most instantly recognizable antagonists in film.
Just in case you need a refresher on these movies:
Based on his own novella "The Hellbound Heart", Barker's Hellraiser sees Larry (Andrew Robinson; Star Trek: Deep Space Nine) and his wife Julia (Clare Higgins; Hellbound: Hellraiser II) move into their new home, unaware that something evil lurks beneath the floorboards of the dilapidated house - something that wants human blood...
Introducing the world to the iconic Pinhead and his sadistic band of Cenobites, Hellraiser became an instant genre classic upon release and remains one of the most frighteningly original visions in horror.
If it has Arrow's name on it, you can be sure it is a quality release, and these are no exceptions. The 2K restorations of both films provide you with beautiful, High Definition (1080p) presentations, as well as Lossless DTS-HD MA 5.1 Audio.
If you have ever seen these films in the theater (I have, when they were first released) you will know that they have never looked, or sounded better, since their first home video releases.
The lurid, blood-pumping, "birth scene" of the damned Frank Cotton, to Kirsty's nightmarish trip to Hell, and even to Julia's fiery hair and blood-red lipstick, not to mention the painfully sweet scenes of sensual torture are all excellent examples of the video quality. These Blu-rays will tear your soul apart. Keep in mind there are a few scenes of graininess, especially in Frank's torture chamber. But these films present a clean and sharp depth of field so, trust me, you won't be disappointed.
As for the audio, the symphonic score and atmospheric sounds of rushing wind, as Pinhead and Kirsty bargain for her soul, will have your head spinning, as you are fully immersed in the furthest reaches of Hell. You cannot escape the Hellpriest and his Cenobite minions. You are forever damned. And you will love it.
I have included a full listing of the special features, and they are all excellent and comprehensive, but my favorites are Leviathan: The Story of Hellraiser .
But, in all honesty, for a fan of this series, all of the extras will have you drooling as each hook settles deeper into your flesh. It will leave you wanting more.
This film is must-have Blu-rays. If you haven't gotten the Scarlet Box that included all three parts, then you should grab these when they drop on September, 24th.
Just as an aside, I reviewed "The Scarlet Box" a few years ago for FlickDirect, and it remains the definitive release. If you missed it, then these individual releases contain enough material to keep you in blood and guts for hours.
They do say that Jesus wept when these films were announced, but don't hold me to that vicious rumor!
Grade: A+
Hellraiser Special Features:
Leviathan: The Story of Hellraiser – A brand new version of the definitive documentary on the making of Hellraiser, featuring interviews with key cast and crew members
Being Frank: Sean Chapman on Hellraiser – Actor Sean Chapman talks candidly about playing the character of Frank Cotton in Barker's original
Soundtrack Hell: The Story of the Abandoned Coil Score – Coil member Stephen Thrower on the Hellraiser score that almost was
Hellraiser: Resurrection – Vintage featurette including interviews with Clive Barker, actors Doug Bradley and Ashley Laurence, special make-up effects artist Bob Keen and others
Under the Skin – Doug Bradley on Hellraiser
Original EPK featuring on-set interviews with cast and cre
Draft Screenplays [DVD-ROM content]
Trailers and TV Spots
Image Gallery
Reversible sleeve featuring original and newly commissioned
Artwork by Gilles Vranckx
Read More Hellraiser Reviews
Leonard Buccellato (A) (Hellraiser: The Scarlet Box Limited Edition Trilogy Blu-ray Review)
For more reviews please visit our film/television review section.
SPONSORED LINKS