Frozen II (2019)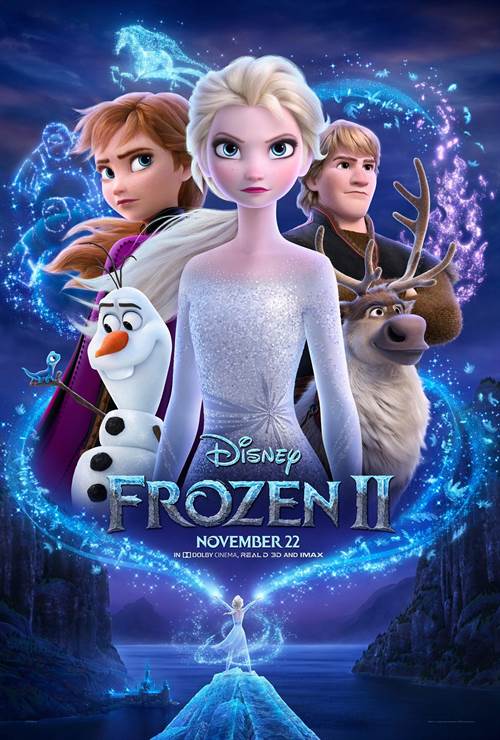 Share this:
| | |
| --- | --- |
| Director: | |
| Writers: | |
| Cast: | |
| Released: | Friday, November 22, 2019 |
| Length: | 103 minutes |
| Studio: | Walt Disney Pictures |
| Genre: | Family |
| Rating: | Some material may not be suitable for children. |
Synopsis
Why was Elsa born with magical powers? The answer is calling her and threatening her kingdom. Together with Anna, Kristoff, Olaf and Sven, she'll set out on a dangerous but remarkable journey. In "Frozen," Elsa feared her powers were too much for the world. In "Frozen 2," she must hope they are enough.

Purchase DVD/Blu-ray/4K UHD physical copy of Frozen II today at Amazon.com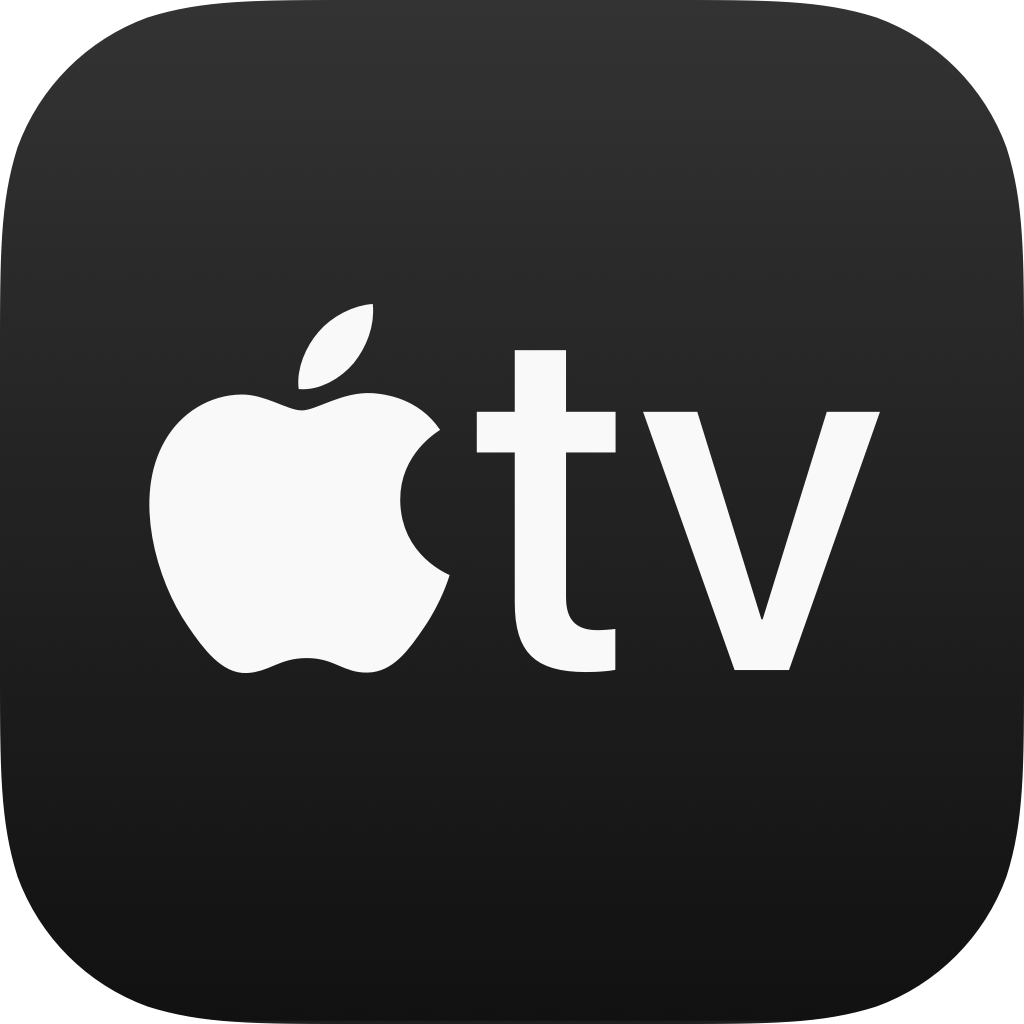 Download Frozen II in Digital HD/4K from the iTunes store.
Listen to the Frozen II soundtrack on Apple Music.
Frozen II images are © Walt Disney Pictures. All Rights Reserved.
Disney Plus to Release Frozen 2 This Weekend Three Months Ahead ...
3/14/2020 9:47 AM EST
Disney has announced that they will be releasing "Frozen 2" on Disney+ three months ahead of schedule beginning Sunday, March 15."'Frozen 2' has captivated audiences around the world through its powerful themes of perseverance and the importance of family, messages that are incredibly relevant during this time, and we are pleased to be able to share this heartwarming story early with our Disney+ s...
More>>
Frozen 2 Sing Along Coming to Theatres January 17
1/10/2020 1:53 PM EST
Walt Disney Animation Studios has announced that a "Frozen 2" Special Sing-Along Engagement will be hitting theatres on January 17 for a limited time. To get in the spirit of the special engagement, check out the sing-along version of the full "Some Things Never Change" sequence from Disney's "Frozen 2" featuring the original song performed by Kristen Bell, Idina Menzel, Josh Gad, and Jonathan Gro...
More>>
Frozen II Breaking Pre-Sale Records
11/19/2019 4:40 PM EST
According to Atom Tickets, Frozen II pre-sales are breaking records. The film has sold more tickets during its pre-sales period than Toy Story 4 and Incredibles 2 combined (in the same time period), it beats pre-sale ticket volume for live-action remakes of classic Disney films including this summer's The Lion King and Aladdin, and it also continues its trend as Atom's 2nd largest pre-sale film fo...
More>>
Frozen II Theatrical Review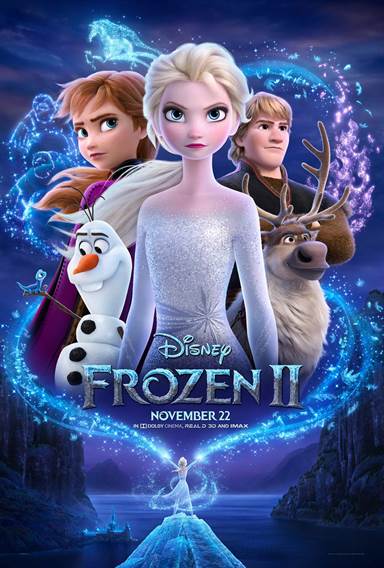 Like it or not, Disney is the undisputed king of feature-length animated movies. From the classics – Snow White and the Seven Dwarfs and Cinderella- and the 1990's revitalization– The Little Mermaid and Aladdin - to today's modern movies – Moana and Ralph Breaks the Internet- Disney knows how to make a wonderful children's film with (sometimes) great songs and important life lessons. In 2013, Disney Animation Studios took us to the country of Arendelle were two sisters, Princesses Elsa (Idina Menzel; Rent) and Anna (Kristen Bell; The Good Place) had to overcome some obstacles to rule over their kingdom in peace and happiness. Six years later, we revisit the Scandinavian land where a new challenge awaits.

Three years have passed since Else, as the older sister, became the queen of Arendelle. The people are happy and the country prosperous. Everything seems perfect until Elsa hears a voice calling to her from the direction of the dark forest. She tries to ignore it but it becomes increasingly persistent, even threatening the well-being of everyone in Arendelle. Faced with no other choice, Elsa, along with Anna, Kristoff (Jonathan Groff; Hamilton) and Olaf the snowman (Josh Gad; Beauty and the Beast) begins the journey north.

When they reach the edge of the forest, they find a dense fog that is impenetrable to everyone…except for Elsa. Once inside the forest the group finds they are trapped and discover an indigenous tribe and some older Arendelle soldiers that have been unable to leave the forest for the last 34 years. Elsa then heads further north to a magical land and discovers not only what happened in the forest 34 years earlier but how she got her magical powers and what really happened to her parents when they were lost at sea six years earlier. What she learns changes her, and her sister Anna's, lives forever.

All of the vocal talent from the original Frozen movie reprise their roles for this sequel. Broadway stars Menzel, Groff and Gad are given vehicles to show off their beautiful voices and Bell matched them note for note with her powerful singing. They are joined a terrific supporting cast including Evan Rachel Wood (Westworld), Jason Ritter (Freddy vs. Jason), Sterling K. Brown (This Is Us), and Alan Tudyk (Firefly). The chemistry between these actors is tangible even though you are only hearing their voices.

The video and audio of this movie are really a treat. The animation is incredible. Probably some of the best I have ever seen. Details are so sharp that every little snowflake or every vein on the leaves can be clearly viewed. The orchestration of the original songs by Kristen Anderson-Lopez (Coco) is masterful and could rival almost any classical piece of music. The songs were obviously created to highlight the level of talent of the actors and they are amazing singing these creations. Unfortunately, unlike the original movie, the songs are not memorable and are not "sing-a-long" like Do You Want to Build a Snowman or Let It Go Clearly are. There is even a cheesy '80's rock ballad in the mix that should have been left on the cutting room floor.

This time around the story is more cohesive than the original film. Frozen seemed to me like a couple of different storylines loosely intertwined while Frozen II is much more consistent with all the characters pretty much on the same path. Olaf is once again adorable and it was great watching him be merry. The story puts to rest some unanswered questions from the first Frozen that oddly makes sense (in a magical sort of way). If only the songs had been better…

Grade: B

Read More Frozen II Reviews
For more reviews please visit our film/television review section.
Watch the full "Into the Unknown" sequence from Disney's Frozen 2 featuring the original s...

Into the Unknown: Making Frozen 2 is streaming June 26 on Disney+ With the clock ticking and le...

Actor Josh Gad sat down with FlickDirect Correspondent Austin Putnam to talk about how the phenomeno...
Why was Elsa born with magical powers? The answer is calling her and threatening her kingdom. Togeth...

Why was Elsa born with magical powers? The answer is calling her and threatening her kingdom. Togeth...

Why was Elsa born with magical powers? The answer is calling her and threatening her kingdom. Togeth...
For this edition of this weekend at the movies, FlickDirect's Austin Putnam gives an early revie...
SPONSORED LINKS