Real Steel (2011)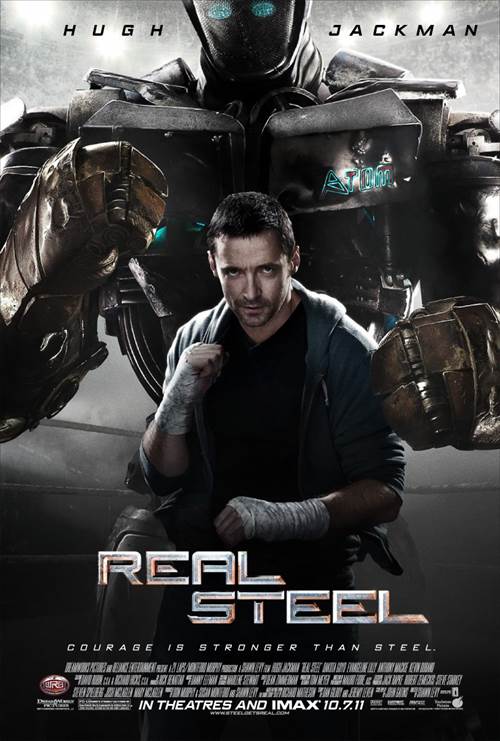 Share this:
| | |
| --- | --- |
| Director: | |
| Writers: | |
| Cast: | |
| Released: | Friday, October 7, 2011 |
| Length: | 127 minutes |
| Studio: | Walt Disney Pictures |
| Genre: | Sci-Fi/Fantasy, Action/Adventure |
| Rating: | Some material may be inappropriate for children under 13. |
Synopsis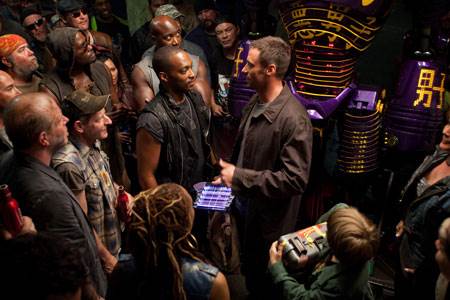 A gritty, white-knuckle, action ride set in the near-future, where the sport of boxing has gone hi-tech, "Real Steel" stars Hugh Jackman as Charlie Kenton, a washed-up fighter who lost his chance at a title when 2000-pound, 8-foot-tall steel robots took over the ring. Now nothing but a small-time promoter, Charlie earns just enough money piecing together low-end bots from scrap metal to get from one underground boxing venue to the next. When Charlie hits rock bottom, he reluctantly teams up with his estranged son Max (Dakota Goyo) to build and train a championship contender. As the stakes in the brutal, no-holds-barred arena are raised, Charlie and Max, against all odds, get one last shot at a comeback.

Purchase DVD/Blu-ray/4K UHD physical copy of Real Steel today at Amazon.com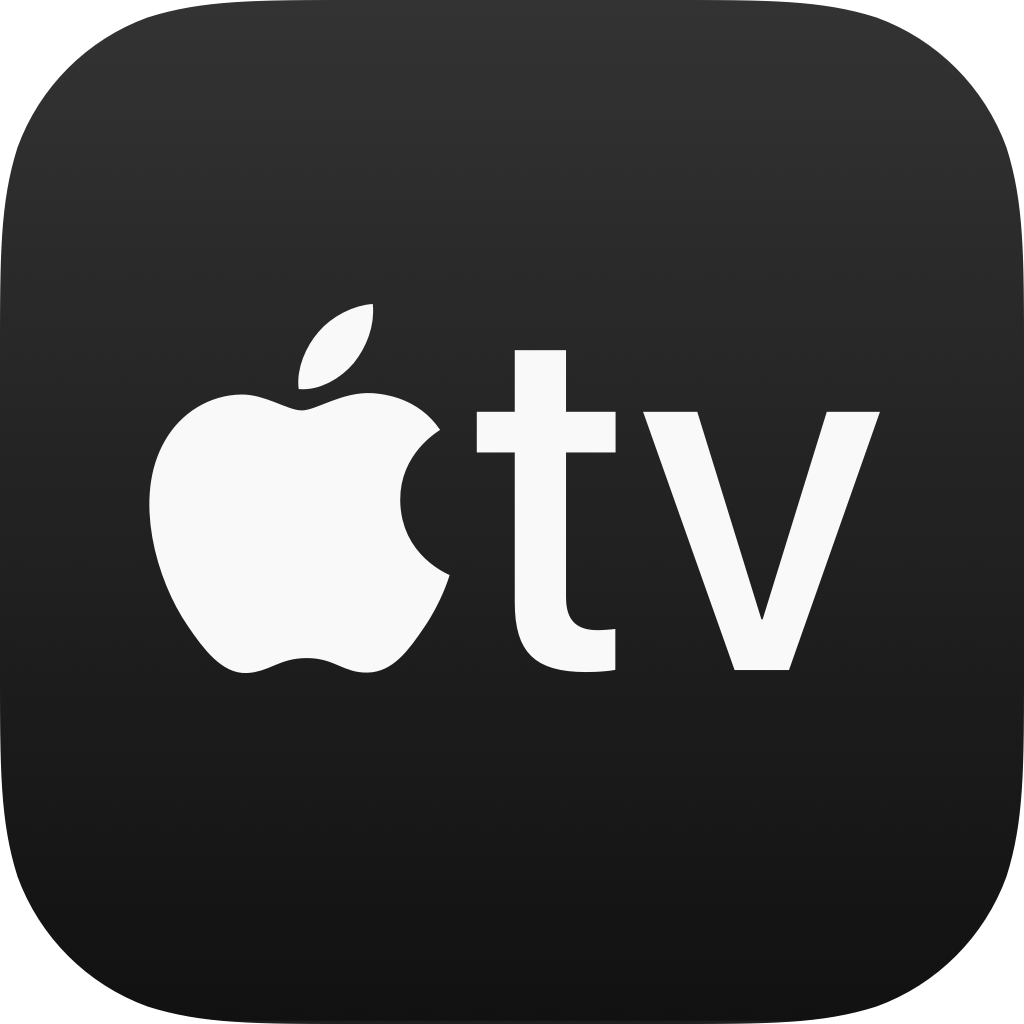 Download Real Steel in Digital HD/4K from the iTunes store.
Real Steel images are © Walt Disney Pictures. All Rights Reserved.
Real Steel Blu-ray Review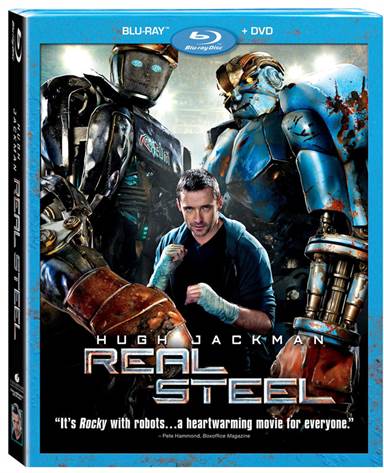 Coming out on Blu-ray and DVD is the fall's almost-blockbuster film, Real Steel. Based partially on Richard Matheson's short story "Steel", Real Steel revolves around Charlie Kenton (played by Hugh Jackman) and his boxing robot(s). In the future, human boxing is basically gone, replaced by robots that can fight to the "death". They are still controlled by humans however, who operate them by remote control.

As the movie goes on, we discover that Charlie is an ex-boxer himself, and that he came very close to beating the heavyweight champion of the world. To console himself, he travels throughout the country using his boxing robot to make barely just enough money to scrape by. After a disastrous run-in with a bull, he returns to his home robot-less, with an unexpected surprise: his son, Max (played by Dakota Goyo). Apparently he thought that he had signed away all rights to his son after he was born, but his mom died and now his custodian-in-waiting needs Charlie to watch Max for a few months. Charlie agrees to do so but only after accepting a hefty fee. Shortly thereafter we learn that Max is just like his father in many respects – by forcing Charlie to take him along on a robot fight.

The movie's weakest parts revolve around Charlie's pseudo-love interest and landlord, Bailey Tallet (played by Evangeline Lilly), who is the daughter of his old trainer. The intent of their romance is there but there isn't enough growth of those two characters to really get a full grasp of it. Another issue is that certain Chekov's Gun plot points, while completely unnecessary to the rest of the plot, are extremely obvious.

The boxing is a secondary part to this story. The real story is a father reconnecting with his long lost son. You will travel along with them as both of them grow during those short months. This movie has been described by others as "Rocky with robots"; I disagree with that. It's more like The Gameplan, where you have someone who doesn't know/act like he's a father forced to take care of their child for a few months, all while continuing to do their 'work'. The big difference is that unlike Rocky, Real Steel teaches you that sometimes, you don't actually have to win to be successful. In doing that the movie delivers its' strongest message. It's the feel good movie of the fall.

The Blu-ray comes chock full of extras: Several featurettes, including the Second Screen mix to go with the app, 'Countdown to the Fight: The Charlie Kenton Story'. 'The Making of Metal Valley', 'Building the Bots', 'Sugar Ray Leonard: Cornerman's Champ', a deleted scene and an extended scene, and bloopers. One of the more amazing items from the extras is that the robots are not just CGI, but also have full size real ones as well depending on the scene. When you watch the movie, you won't be thinking about the CGI at all – it is one of the best blended movies that use a lot of CGI that I have seen in a long time. The sound is crisp and does surround you during the rain and arena scenes. And as it should, the Blu-Ray makes the details of the robots stand out and you can see every dent in the robots, which just adds to the whole idea of being enveloped into the story.

Read More Real Steel Reviews
For more reviews please visit our film/television review section.
A gritty, white-knuckle, action ride set in the near-future, where the sport of boxing has gone hi-t...

A gritty, white-knuckle, action ride set in the near-future, where the sport of boxing has gone hi-t...

A gritty, white-knuckle, action ride set in the near-future, where the sport of boxing has gone hi-t...
SPONSORED LINKS