A Bad Moms Christmas (2017)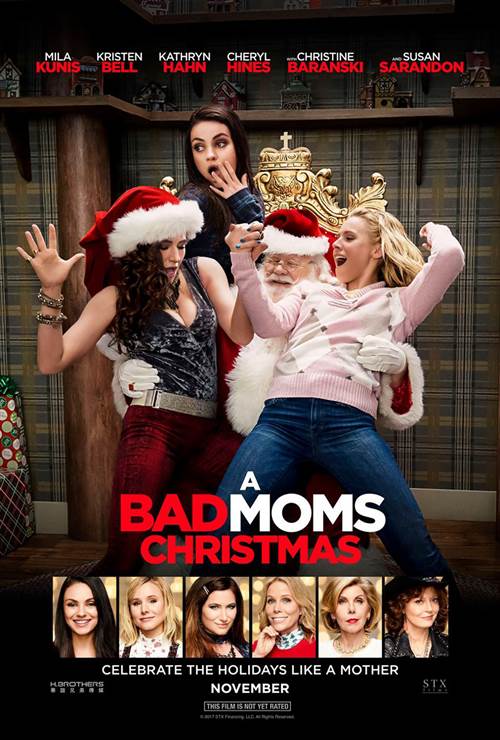 | | |
| --- | --- |
| Director: | |
| Writers: | |
| Cast: | |
| Released: | Wednesday, November 1, 2017 |
| Length: | 104 minutes |
| Studio: | STX Entertainment |
| Genre: | Comedy |
| Rating: | Under 17 requires accompanying parent or adult guardian. |
Synopsis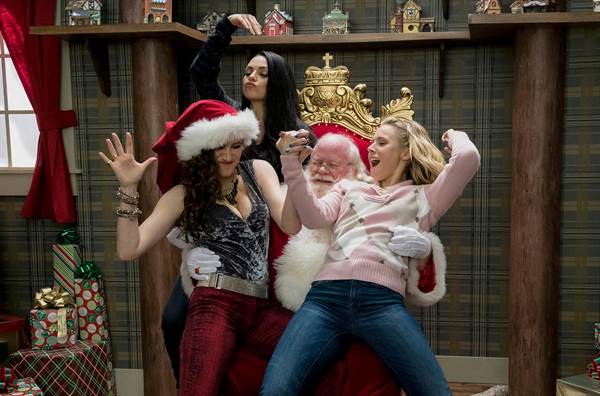 A Bad Moms Christmas follows our three under-appreciated and over-burdened women as they rebel against the challenges and expectations of the Super Bowl for moms: Christmas. And if creating a more perfect holiday for their families wasn't hard enough, they have to do all of that while hosting and entertaining their own mothers. By the end of the journey, our moms will redefine how to make the holidays special for all and discover a closer relationship with their mothers.

Purchase DVD/Blu-ray/4K UHD physical copy of A Bad Moms Christmas today at Amazon.com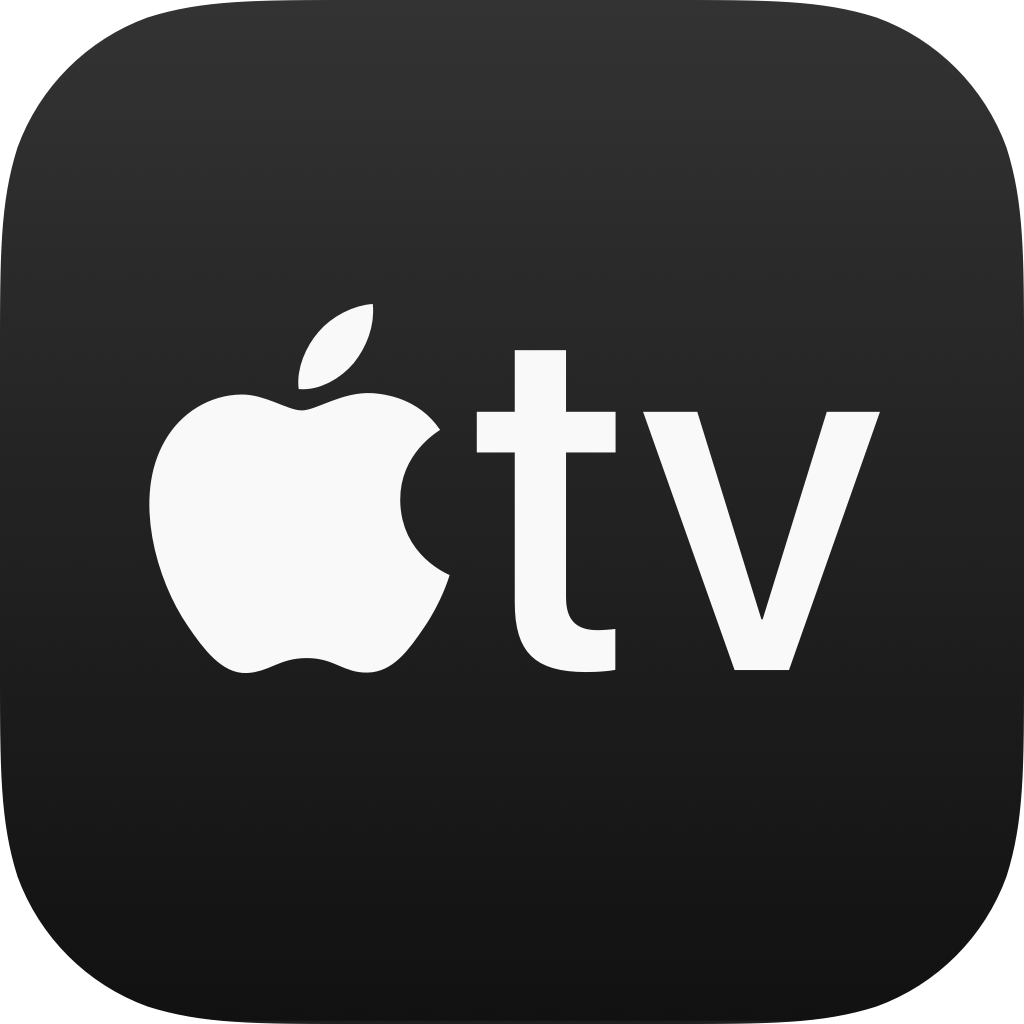 Download A Bad Moms Christmas in Digital HD/4K from the iTunes store.
A Bad Moms Christmas images are © STX Entertainment. All Rights Reserved.
A Bad Moms Christmas Stars Susan Sarandon and Cheryl Hines Talk ...
2/6/2018 9:31 AM EST
How do you follow up a successful film about the trials of motherhood? You make a second movie set during the holidays and add the mothers' mothers into the mix!  When A Bad Moms Christmas hit theaters this past November it once again hilariously reminded us that, as mothers, we aren't going to be able to do everything and no matter how good we are, we are never going to be perfect.  Lucky for us ...
More>>
A Bad Moms Christmas Blu-ray Review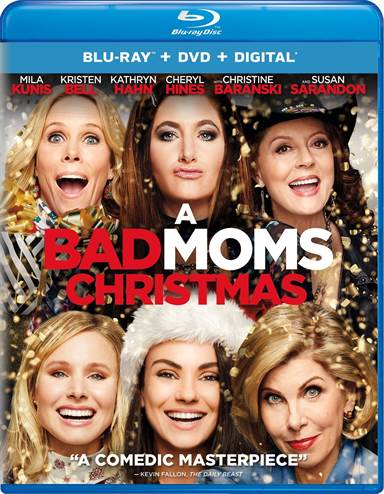 Universal Pictures loves to give us interactive movies with which we can all relate and really immersive sequels. A Bad Moms Christmas definitely fits into that category. While a little over the top and much exaggerated in the plot as to how moms react in real life, the underlying frustration of having to do it all and do it perfectly is spot on so that every mom watching this movie will wonder how Directors John Lucas and Scott Moore (both of Bad Moms) can see into their minds. They manage to provide us with a movie that your sides will split open from laughing so hard while validating our real-life struggles.

Reveling in their newfound freedom found at the end of the first movie, the three moms are trying to plan the perfect (or not so perfect) Christmas for their families. Mila Kunis plays Amy, the divorced but has to have everything perfect mom, Kristen Bell's character, Kiki, wants to please her husband and children in every possible way, and Kathryn Hahn plays Carla the "I'm my kid's friend mom and have no idea how to parent". While the first movie was almost a coming of age movie for the women, this sequel takes the moms right back to their childhood, as their respective moms come to visit during the holidays. Played by Christine Baranski (The Good Fight), Susan Sarandon (Snitch), and Cheryl Hines (Nine Lives), these actors bring the mother/daughter relationship to light in so many different ways that it's impossible not to see your relationship with your own mother while watching this film. Just like their daughters became friends in Bad Moms, so do the mothers eventually bond in A Bad Moms Christmas.

Baranski plays Amy's mom. Like Amy, Ruth (Baranski) is a perfectionist and Amy is always trying to keep up with her mother's expectations, which is nearly impossible. Baranski portrays a rich, hoity-toity, and demanding woman magnificently. When she finally shows the vulnerable side, one is left to wonder if this controlling woman is just playing everyone.

Sarandon's character, Isis, is the exact opposite of Baranski's. Always going to Carla for loans that never seem to get paid back, never keeping a job, and clearly using or drinking at one point or another, she is the epitome of the escapist mom that we have all wished we could be at one moment- however brief that moment has been. Used to seeing Sarandon in more serious characters, it was surprising to see her in such an irresponsible role, but she was as brilliant as ever, showing the audience more so than the other two mother-daughter relationships, that no matter what, the apple doesn't fall far from the tree.

Cheryl Hines (Sandy) was the perfect actor to play Kiki's mother. Kiki, a mousy and timid mom in the movie, always seems afraid to make a decision for herself- or put herself first and when we first meet Hines' character, it's clear as to why Kiki is like she is. Hines' is the typical overprotective mother that can't cut the umbilical cord from her grown- and apparently - only child. Wanting to be Kiki's best friend (in a very weird and creepy sort of way), we find Sandy trying to give sex advice to Kiki and her husband- while they are in bed trying to have sex. As the ultimate Christmas gift, Sandy buys the house next door to her daughter, so they can always be together!

The Blu-ray is presented in 1080p High Definition Widescreen with an aspect ratio of 2.40:1. The snow is white, the decorations gleam, and the Santa outfit on Justin Hartley (This is Us) is definitely red. Details are crisp and clear and color saturation is full.

Audio is presented in English DTS-HD Master Audio 5.1. Background music is appropriate and does not overpower the dialogue. Inflection is clearly heard, which is very important to ascertain Hines, Sarandon, and Baranski's characters personality, as well as the apparent frustration from Kunis, Bell, and Hahn, in most of the scenes.

The Blu-ray set comes with a DVD on which Universal Studios has also provided some bonus material, in addition to the full movie. A Gag Reel, additional scenes not seen before, crew music video, and trailers, are all part of the Blu-ray disc set. In addition, this edition of A Bad Moms Christmas also comes with a Digital HD code that you can watch on iTunes so you can take these moms with you anywhere. While the extras are brief the gag reel and additional scenes are decidedly funny while the crew music video is mildly entertaining.

A Bad Moms Christmas really hits home for most moms – those with children still in the home – and those with children married with families of their own. This is really an adult movie because, besides the R rating, the undertones and message are for moms with grown children. The movie will really show how moms just want the best for their daughters, no matter what the cost. Moms and daughters alike will not identify with just one mom, but all three, as every mom wants the best for her daughter in their own weird way. While we all want to break free of how our moms parented us, A Bad Moms Christmas will bring us back to reality - that there is no escaping becoming your mother, no matter how hard you try, and that when you do break free of that mold, you will realize that you inherited the best things from your mom.

Grade: B
Read More A Bad Moms Christmas Reviews
For more reviews please visit our film/television review section.
A Bad Moms Christmas follows our three under-appreciated and over-burdened women as they rebel again...
SPONSORED LINKS