Hustlers 4K Ultra HD Review
By
Allison Rose
,
Dec 09, 2019 03:47 PM EST
Lopez is the real gem, stealing every moment she is on screen. She is powerful and demands attention whether she is speaking or dancing.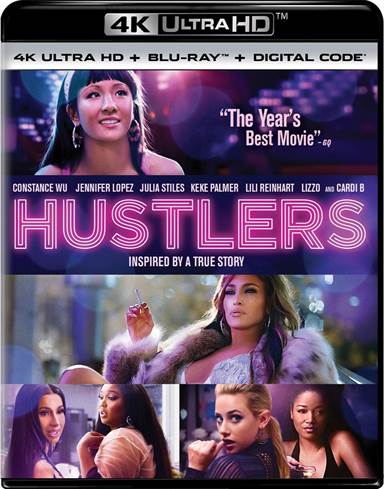 The late 1980's/early 1990s were all about decadence, impulsivity and indulgence in this country and New York City was probably at the center of it all. Investment brokers were making a lot of money and showing it off with expensive cars, beautiful homes, and lavish gifts. They also enjoyed their money and would often blow off steam after work heading to Scores, a downtown strip club, where they could show off their fat wallets stuffed with dollar bills ready to be thrown at scantily clad, curvaceous women eager to please the powerful and rich men. However, some of these enterprising women had other plans. Their story is the subject of this year's hit, Hustlers.

The film, based on a New York Magazine article, stars Constance Wu (Crazy, Rich Asians) as Destiny, a young woman trying to make a living and help support her grandmother. As the new girl at the strip club, she has a lot to learn. Enter Ramona (Jennifer Lopez; Out of Sight) an older stripper who is successful and beloved by the regulars at scores. Ramona takes Destiny under her wing and shows her how to get the most from the clientele. Their partnership makes them unstoppable – or so it would seem.

In 2008, the stock market all but crashes, which affects the brokers who come into scores. Many of them find themselves broke and jobless. Others still have their wealth but there are fewer of them. Ramona tells Destiny they are going to drug their clients and with the men's altered state they get permission to charge exorbitant sums of money on the clients' credit cards. Of course, most of the men never complain, feeling ashamed, but a few go to the police, which eventually causes Destiny and Ramona's arrests, along with the other strippers they are working with to scam these men.

Constance Wu is fine as Destiny but you don't necessarily feel much sympathy for her character. Lopez is the real gem, stealing every moment she is on screen. She is powerful and demands attention whether she is speaking or dancing. For a fifty-year-old, she has a killer body and shows off almost every inch of it. Co-stars Keke Palmer (Scream Queens) and Lili Reinhart (Riverdale) come into their own transitioning from children/teen actors to adults working in their chosen field. Mercedes Ruehl (Married to the Mob) is almost unrecognizable as Mother but her few moments on screen are memorable.

The 4K disc has a 2160p resolution with a 2.39:1 aspect ratio. The picture is sharp and the colors have a variety of shadings giving the movie a rich and textured look. The Dolby Atmos audio is terrific especially with the pulse-pounding of the club soundtrack. What this combo pack lacks are extras. There is a Digital HD code, two different trailers and audio commentary with writer Director Lorene Scafaria. While Scafaria does a very good job offering insights about the cast, shoot locations, etc. it doesn't make up for the behind the scenes videos and cast interviews that so often are included.

Knowing this is based on a true story makes it even more interesting. While most of the cast is good, Lopez gives one of the best performances of her life, elevating the film to an even higher level. The script is very good and Scafaria does a great job here.

While these women are as far from sainthood as a person could be, their clientele were no slouches either and deserved much of what happened to them. I hope that lap dance was worth the price they paid. Hustlers is an intriguing look at human nature wrapped in an entertaining film.

Grade: B


Purchase a DVD/Blu-ray/4K UHD physical copy of Hustlers today at Amazon.com
MPAA Rating:
R
Running Time:
109 minutes
Distributed By:
STXfilms
For more information about Hustlers visit the FlickDirect Movie Database.
Read More Reviews For Hustlers
About Allison Rose