Winter's Tale Theatrical Review
Winter's Tale Is Not the romancer expected.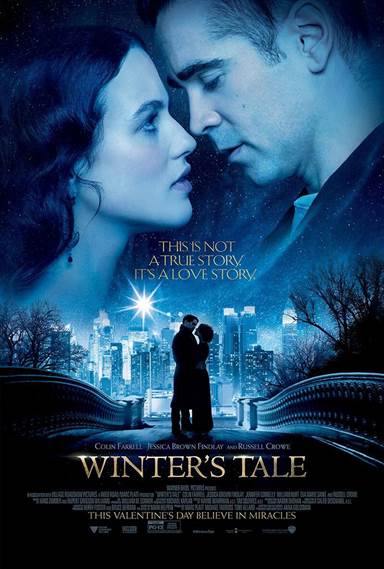 Miracles and Mayhem cloud Winter's Tale, a romantic saga that's extremely predictable and falls short on acting. The film tries to be a mystery of sorts and almost achieves its goal, until the devil comes into the picture and from there on the movie slowly falls apart. Laughable at times, the story loses its passion and any possible empathy for the characters. Even if you are a hopeless idealist, you may make it slightly more than halfway through.

The film opens in 1895 with a couple being turned away from immigration into the United States due to their communicable disease. Aboard ship for their deportation, they scavenge a model boat large enough to fit their infant and set him afloat in New York Harbor. We find the now grown Peter Lake (Colin Farrell) in a confrontation with a gang led by Pearly Soames (Russell Crow) who tries to kill him, but he escapes on Pegasus the winged horse of Greek Mythology.

The story jumps to 1916 where we find Peter entering a mansion to commit a robbery. Just about to finish the job, he hears piano playing in a nearby room by the young Beverly Penn (Jessica Brown Findlay), daughter of successful businessman Izaac Penn (William Hurt). Her beauty mixed with the captivating melody she is playing cause him to be awestruck. He approaches her and they fall in love with each other at first sight. Beverly later lets him know she's terminally ill, but that doesn't deter Peter from wanting to be near her.

When he has to rescue Beverly with Pegasus from Pearly's henchmen and they flee to her winter estate, the couple's future together looks bleak. First time feature director/screenwriter Akiva Goldsman tries very hard to keep his film uncomplicated, but Mark Helprin's novel is not an easy task to make into a movie. Shifting in time there's a lot lost in the translation and although the romantic plot at the center takes hold, it flounders within the time compendium. Much like Cloud Atlas's presentation, he makes his movie a time warp of predictable events with ties to the past.

The film has several star power cameos including a dapper devil played by Will Smith, Jennifer Connelly as newspaper writer Virginia Gamely who sets up the miracle that waiting to happen involving her daughter. Then there's Matt Bonner (TV's "White Collar") plays Peter's father while Lucy Griffith (TV's "True Blood") walks on as his mother playing the immigrating parents in the very beginning of the movie.

The acting gets slovenly off kilter as the film progresses with Russell Crowe leading the way as the antagonist Pearly. Complete with scar on his face, this leader of a gang in New York looks like he's trying to outdo Daniel Day-Lewis's roles as the Butcher. He's the devil's henchman, but shows too much empathy for his prey. Will Smith's character Satin provides a big laugh the moment you see him on screen and his star power destroys the role he's playing. However I did like the make-up and morphing of the devil's head when he shows his wicked teeth to Pearly.

As for the leads, except for a romantic spark or two from Jessica Brown Findlay as Beverly and Colin Farrell as Peter, there's not much else. Please don't get me wrong here as Findlay's performance is magnificent, but the chemistry between the two is flat. The winged Pegasus provides a bright spot in the film with the beautiful white horse jumping fences and off of cliffs to save the stars from certain death. William Hurt adds nothing poignant to the film with his very unemotional performance considering his daughter is dying. Pasty looking throughout, the make-up crew failed miserably on his character presentation.

Winter's Tale has been rated PG-13 by the MPAA for violence and some sensuality. There's not a lot of either in the film. For violence there not much more than what is in the trailer and sensually only a gorgeous silhouette of Jessica Brown Findlay.

FINAL ANALYSIS: Not the romancer expected. (C-)
Purchase your copy of Winter's Tale today at
Download Winter's Tale from the iTunes Store in Digial HD.
MPAA Rating:
PG-13
Running Time:
129 minutes
Distributed By:
Warner Bros.
For more information about Winter's Tale visit the FlickDirect Movie Database.
Read More Reviews For Winter's Tale
About John Delia