Get On Up Theatrical Review
By
Allison Rose
,
Jul 31, 2014 09:45 AM EST
Of course the real star of the movie was the music itself.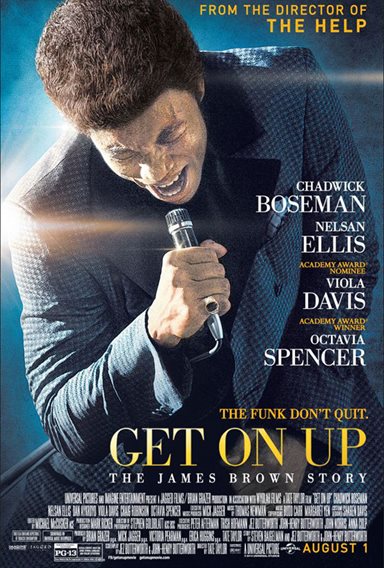 Get on Up: the James Brown Story" combines drama, heart and great music to tell the fascinating life story of the Godfather of Soul. Chadwick Boseman (Draft Day) Plays the lead and Nelsan Ellis (True Blood) plays Brown's best friend Bobby Bird. Dan Aykroyd (Ghoptbusters, The Blues Brothers) portrays Brown's long time manager and promoter Ben Bart. Oscar Nominated actress Viola Davis (The Help) and Lennie James ( Hung) round out the cast as Brown's parents.

Get on up takes the audience on a journey from Brown's poverty stricken upbringing in the backwoods of Augusta,Georgia and his time in prison to his eventual rise as a superstar and legend in the world of music. It pulls at our heartstrings showing him as a poor boy who is left by both parents and his struggle to survive the harsh reality of abandonment. It takes a less sympathetic turn when showing the "show business" side of Brown, how he treats his band, and his abusive dealings with his wife, DeeDee, played by Jill Scott (Why did I get Married) .

The movie explores Brown's calculated business dealings while having less than a tenth grade education during a time in American History when blacks were considered lesser human beings. It shows Brown's love of music from an early age and how he not only heard the rhythms and the beats but felt them to his soul. It touches on his downward fall towards he end of his career. However, it ultimately stresses the events in his life that made him who he was and shaped him into a musician who has had a profound effect on music to this day.

Boseman is excellent as Brown, not only mimicking the mannerisms, speech pattern and pigeon-toed walk, but giving the audience glimpses of the little boy still yearning beneath the powerful man he was. The scenes when he is singing Brown's music are incredibly powerful and truly convey Brown's soulfulness to the audience. Ellis is terrific as Bobby, a man who obviously has a deep-rooted friendship with the singer but who also shows moments of restraint when he would really rather give Brown a piece of his mind. I also enjoyed Aykroyd's portrayal of the older, Jewish music promoter whose death leaves Brown with yet another sense of abandonment. I found the whole cast to be strong which enhanced the almost two hour experience.

I didn't like Tate Taylor's (The help) direction as much. There were several moments when he had Boseman as Brown speaking directly to the audience. I found it disjointed and little caricaturish and I felt it distracted from the story. I also didn't enjoy that the film jumped so much from era to era and sometime revisited an earlier scene later in the film. While I can understand flashbacks to Brown's childhood, I felt the constant jumping around was confusing.

Of course the real star of the movie was the music itself. So many classic Brown hits created the soundtrack which added it's own level of emotion to the storytelling. It was also incredible to see the recreation of some famous Brown concerts which, I understand were shot step by step as how brown had originally performed them live, the attention to such detail make those scenes extra special to watch. Overall it was an interesting insight into the life of a complicated man who will never be forgotten for all he has contributed to the world of music. B-

Purchase a DVD/Blu-ray/4K UHD physical copy of Get On Up today at Amazon.com
MPAA Rating:
PG-13
Running Time:
138 minutes
Distributed By:
Universal Pictures
For more information about Get On Up visit the FlickDirect Movie Database.
Read More Reviews For Get On Up
About Allison Rose