Crank 2: High Voltage Theatrical Review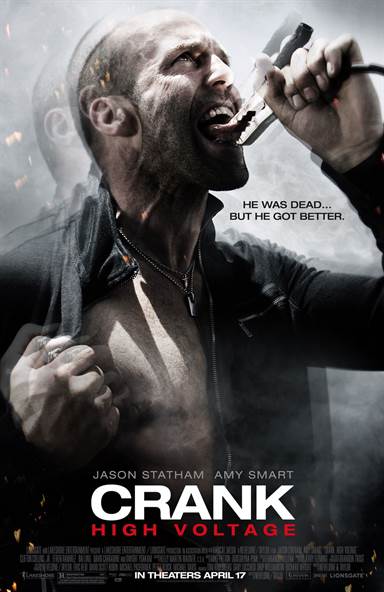 A budding action star, Jason Statham, stared as Chev Chelios in a low budget film entitled Crank in 2006. Set in a surreal world that basically was a cinematic version of the
Grand Theft Auto
video game series, Chev (Statham) had one hour to get a lethal Chinese poison cocktail out of his system before he died.
While quirky and extremely insane at times, this film worked and went on to cult status on DVD and Blu-ray.
Enter 2009, Lionsgate tries to recreate history with a sequel entitled Crank: High Voltage. In this sequel, Chev Chelios launches himself on an electrifying chase through Los Angeles in pursuit of the Chinese mobster who has stolen his nearly indestructible heart.
However, unlike the first outing, Crank: High Voltage fails on every level!
Crank: High Voltage picks up exactly where the last film ended…with Chevy Chellos falling from a helicopter, hitting the top of a car before bouncing seemingly dead on the side of the road. However, this is not the case; the Chinese triad has scrapped up his body to harness his organs for the black market.
At this point, the movie launches into a world of utter nonsense with the next 85 minutes being a slew of "in-your-face" action/violence, gratuitous nudity and a nonsensical story line.
It appears that the writer and director team of Mark Neveldine and Brian Taylor threw any notion of creating a decent film out the window, while trying to experiment on how far they could go with this film and still try to keep an audience from walking out of the theater.
Most of the original cast is back for the sequel and although they try their hardest to at least create a reason for this film being made, nothing could help Crank: High Voltage from being one of the worst films that I can ever remember.
If you are a fan of the first film or just looking for some mindless entertainment then I suggest you watch the original Crank on Blu-ray instead of seeing this mess of filmmaking in the theater.
One can only hope that Crank 3 (which seems unlucky from this weekend's box-office grosses) will help the filmmakers see what worked in the first film and realize the mistakes they made with Crank: High Voltage.
Purchase your copy of Crank 2: High Voltage today at
Download Crank 2: High Voltage from the iTunes Store in Digial HD.
About Nathan M Rose
comments powered by

Disqus
Today's iTunes Digital HD Deals