Ocean's 8 Theatrical Review
By
Allison Rose
,
Jun 06, 2018 03:42 PM EST
While the mostly female cast might make it seem like a girls night out movie, this is a film both men and women alike can enjoy.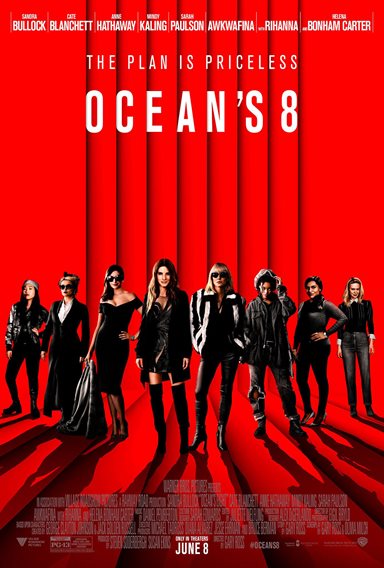 The year was 1960 and the "rat pack"…Frank Sinatra, Dean Martin, Sammy Davis, Jr., etc. starred in Ocean's 11 about a group of guys who attempt to rob five Las Vegas Casinos in one night. Forty-one years later the film got a reboot (titled Ocean's Eleven –not 11) and starred Brad Pitt (Mr. & Mrs. Smith) and George Clooney (Up in the Air). The success of that movie prompted two sequels Ocean's Twelve in 2004 and Ocean's Thirteen in 2007. Eleven years later we are now getting treated to an all-female spinoff starring Sandra Bullock (The Blind Side) and Cate Blanchett (Thor: Ragnarok) called Ocean's 8.

Danny Ocean's (Clooney) younger sister Debbie (Bullock) has just spent the last five years in a New Jersey jail plotting the perfect heist (aren't they all). When she explains the plan to her partner Lou (Blanchett) they decide to form the perfect team. As the heist revolves around the Met Gala they realize they will need fashion designer Rose Weil (Helena Bonham Carter; The Harry Potter Series) to create a dress for an unsuspecting star named Daphne Kluger (Anne Hathaway; Les Miserables). They also recruit a hacker named Nine Ball (Rhianna; Battleship), a Jeweler named Amita (Mindy Kaling; The Office) a pickpocket named Constance (Awkwafina; Neighbor's 2: Sorority Rising) and a fence, Tammy (Sarah Paulson; American Horror Story).

On the day of the heist, everything seems to go like clockwork and the team steals a six-pound diamond necklace from Cartier called the Toussant. As an added bonus, Debbie manages to frame her ex-boyfriend, art dealer Claude Becker (Richard Armitage; The Hobbit Series) who was the one who framed her and sent her to jail five years earlier. Once the necklace is discovered stolen, Debbie, of course, becomes a prime suspect and the others come to find out that Daphne was also recruited to help in order to earn a cut of the profits. In the end, they each walk away without landing in jail and the knowledge that they executed a well-planned and organized heist.

Let's face it… this cast is a who's who of Hollywood's elite actresses and each plays their part nicely. Bonham Carter is a stand out amongst them and much better than she is in Harry Potter. Bullock and Blanchett are both good but these roles aren't really a stretch for them. I've seen better performances from both. Rhianna and Paulson are both good but I prefer the latter in her AHS roles. Kaling has some decent scenes as well. There are a number of cameos both at the Met Gala as well as a few bones thrown in from the previous Ocean's films.

While the original Ocean's remake and subsequent sequels had a grittier feel and more stylized visuals that director Steven Soderbergh (Out of Sight) is known for, this spin-off, directed by Gary Ross (The Hunger Games) is glossier, cleaner and more "Hollywood". The picture isn't as grainy, the music is slicker hip-hop beats as opposed to the Jazz Soderbergh seems to favor and the punchlines are funnier. If you thought you were going to another Ocean's sequel you would be incorrect. Instead of a sibling, you get a distant cousin.

That isn't to say Ocean's 8 is a good film in its own right. As mentioned previously, it's got a great cast who seem to work well together and some funny dialog that made for an enjoyable experience. It also has an interesting and unforeseen twist that wraps the heist up nicely with a neat bow on top. While the mostly female cast might make it seem like a girls night out movie, this is a movie both men and women alike can enjoy, especially if you liked the trilogy from the earlier 2000s.

Grade: B

Purchase a DVD/Blu-ray/4K UHD physical copy of Ocean's 8 today at Amazon.com
MPAA Rating:
PG-13
Running Time:
110 minutes
Distributed By:
Warner Bros.
For more information about Ocean's 8 visit the FlickDirect Movie Database.
Read More Reviews For Ocean's 8
About Allison Rose