The Current War Theatrical Review
By
Alyn Darnay
,
Oct 25, 2019 10:14 AM EST
If you're a 'Turn of the Century' history buff you might like this movie. I did not.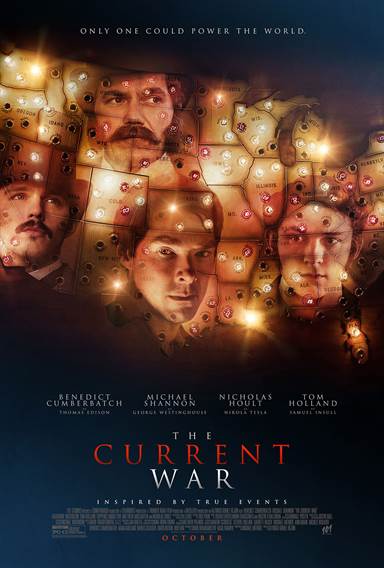 It's that time of year again, just before the Holiday Blockbusters hit the theaters, and the distributors are pushing their leftover stock of mediocre films. "The Current War" is a prime example. It sat on the shelf unreleased for two years, ever since its less than spectacular premier at the Toronto Film Festival. However, during that time, in an attempt to fix the movie, the filmmakers reshot, added, and deleted scenes. It didn't help.
What we have here is a clear illustration of a great story killed by a poor script and an attempt at some kind of stylistic visualization that falls flat on its face. It's a shame that so much time, money and such great actors were wasted on this project. I certainly didn't expect that to be the case, especially coming from the director of the Indie film "Me and Earl and the Dying Girl", which I enjoyed a lot.
Also befuddling is the fact that it's being presented with the added "Director's Cut" to the title, as though it has been released to the public before. I'd like to know who came up with that marketing gem. Oh well, such is the film business.
Here's The Storyline…
The year is 1880 and the industrial revolution is upon us. The two greatest inventors of the time, Thomas Edison (Cumberbatch) and George Westinghouse (Shannon) begin a battle of technological ideas to determine whose electrical system will power this new age.
Edison, funded by billionaire magnate J.P. Morgan (Macfadyen), believes his DC current system is the ideal method for bringing electric light to a country still using candles to illuminate their homes. Westinghouse, on the other hand, sees the 'risky' Alternating Current (AC) as a better way to generate the power needed to light up the world, and with the help of futurist Nikolai Tesla (Hoult) develops his system.
Thus begins one of the greatest no holds bared corporate feuds in American history.
It's a great story. Also, historically correct as told. However, in this film, by the time it concludes I found myself bored and disappointed. Here are a couple of reasons why:
The film starts out on the fly, literally at breakneck speed, without out much explanation of what's happening, you have to figure that out for yourself, and added to that, is this confusing funky stylistic filmmaking that is jarring and hard to get used to.
Next, there are important scenes that never have any impact, for instance, when Manhattan is finally lit up, it's still dark, I mean Dark. No big change. You would expect the first lighting up of America to have great visual impact; it had none.
The whole film is like that; it builds up your expectations and then lets you down. The only consistent parts of the movie are the performances of the actors. Michael Shannon is the best he's ever been here, and Benedict Cumberbatch is a wonderful young Edison.
My take… If you're a 'Turn of the Century' history buff you might like this movie. I did not.
Rating: D