In Time Theatrical Review
By
Chris Rebholz
,
Oct 31, 2011 10:26 PM EST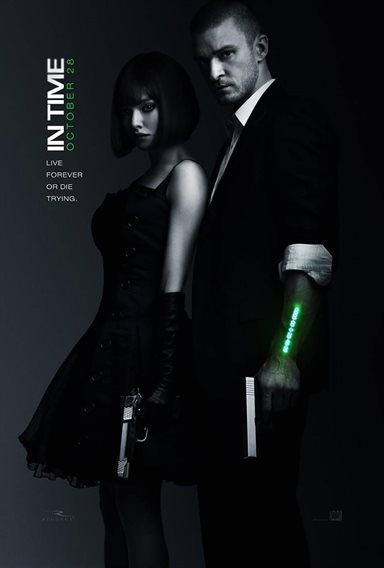 Writer/director Andrew Niccol's films make you pause and require some smart thinking. His film Gattaca, which he wrote, was also his first directing debut and a favorite of some sci-fi fans. Next came The Truman Show, starring Jim Carrey and written and produced by Niccol, which received three Academy Award nominations, including Best Screenplay. Now his latest flick In Time, Niccol taps into one of the world's biggest obsessions -- remaining young.

Full of action, adventure and the ever popular ticking clock, Niccol sets up an even more intriguing world in the future where people only age till 25 and then cease aging but are only allowed to live one more year. That would be great if it wasn't also a world where everything is run by hours and minutes, including how long someone might live. The rich can buy time from the bank, but the poor are left to barter or steal.

Will Salas (Justin Timberlake) lives with his mother (Olivia Wilde) in the time zone of Dayton. He works hard every day at an unfriendly factory hoping to add a few hours to the green illuminated clock ticking away on his forearm. He's always on the short end of hours -- usually less than 24 hours left to live -- but manages to squeak by. He even downloads some hours to his mother from time to time or uploads some to her.

One day Will does not meet his quota at work, so he receives no time. He realizes he must find his mother quickly since she gave him her time when he left for work and was supposed to give it back. While frantically looking for time, Will aids Henry (Matt Bomer), a rich man, from a gang that's looking to steal time. Henry -- now 105 -- has tired of this world, so as he and Will hide out and sleep; he downloads a century of time to Will. With only minutes left, Henry jumps off a bridge and dies.

Naturally Will is then accused of murder and chased by the Timekeeper Leon (Cillian Murphy). Not being able to find a decent place to hide in Dayton, he makes his way to the rich area of New Greenwich. Now on the other side of the hour's dilemma, he must keep his arm constantly out of site. At this point, the plot becomes more intense as Will becomes involved with Sylvia (Amanda Seyfried), daughter of the banker (Vincent Kartheiser) who controls time.

Anyone who questions if Timberlake could take on a role that at one time would have gone to Bruce Willis need not worry. Every minute he's on screen here, Timberlake appears exciting and believable. This believability on screen comes from his years of honing his skills in small roles on SNL and in last year's award winning film The Social Network.

Director Niccol thought Timberlake was just right for the role saying in recent roles that Timberlake "was totally convincing and after watching him on camera I could not have imagined anyone else in this part." With that kind of endorsement from your director and such an ease being in front of the camera, it won't be surprising to see Timberlake take on even more challenging roles.

A fine cast keeps the farfetched In Time believable, and great cinematography helps create the film's bizarre world. Niccol manages to generate a world full of danger, split-second choices and even a romance -- all of which may mesmerize viewers. This entertaining movie should sustain a lot of buzz weeks after its release.


Purchase a DVD/Blu-ray/4K UHD physical copy of In Time today at Amazon.com
MPAA Rating:
PG-13
Running Time:
115 minutes
Distributed By:
20th Century Fox
For more information about In Time visit the FlickDirect Movie Database.
Read More Reviews For In Time
About Chris Rebholz