The Sweeney Theatrical Review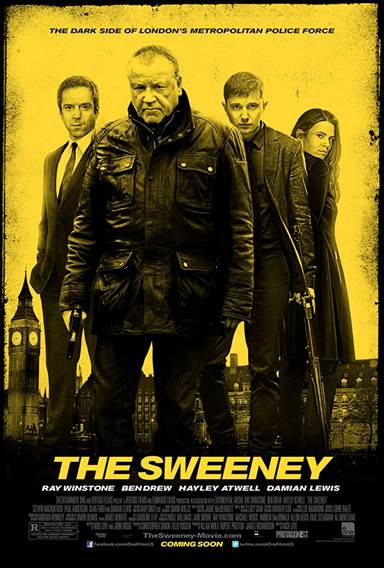 TV in the UK in the 1970's may not have been unqualifiedly describable as brilliant, but one of the shining lights from that era was cop show "The Sweeney", which starred the late great John Thaw and Dennis Waterman as Regan and Carter. The Sweeney is now on the big screen, set in modern day London with Ray Winstone and Ben Drew playing the roles of London's toughest cops.
The Flying Squad, Scotland Yard's unit for the prevention and investigation of serious armed crime or "Sweeney" for short (in cockney rhyming slang, by way of "Sweeney Todd"), has a reputation of getting results, and to the men and women of the squad it doesn't matter how you get them, even if it does ruffle the feathers of the superiors, and the film wastes no time establishing that. Slow to start, the plot, centered on Regan (Winstone) and Carter (Drew), opens with a jewellery store robbery; it isn't too long until Regan has his hands on his prime suspect, Francis Allen (Paul Anderson), a man with whom Regan has an unpleasant history. So the scene is set for a good guy/bad guy scenario to be played out through the remainder of the film, with a couple of side plots - one involving Nancy (Hayley Atwell, Captain America), that is played out well and that keeps you interested.
For Winstone, who is familiar with playing the cockney tough guy, the role of Jack Regan was one that was simply made for him. Drew (aka PlanB), playing the once juvenile criminal who turned away from a life of crime to instead fight it, was, let's say, less accomplished. On his own, Drew seemed a little plastic, but when both were together we were treated to some visual and witty one-liners; e.g., keep a lookout for Carter's unique interrogation technique. Other notable actors are Damien Lewis as Haskins and Steven Mackintosh as Lewis, both of whom could have done with having more screen time, especially Mackintosh.
The screenplay was easy to follow, but a word of warning to anyone who does get to see this in the US - some of the slang used may be a little confusing, but in no way should it detract from the film.
It would be quite easy to pick holes in The Sweeney; there are plenty. However, the one big positive is that once it gets going, it's pure adrenaline-rush entertainment, full of dramatic car chases, violence and offensive language. It's certainly director Nick Love's best film to date.
Forget about any similarities with the 1970's TV series; notwithstanding main characters and a few catchphrases, there aren't any. Nick Love has bought Regan and Carter right up to date and on reflection, and it was about time.

** Please note this movie is only currently showing in the United Kingdom
Purchase your copy of The Sweeney today at
Download The Sweeney from the iTunes Store in Digial HD.
MPAA Rating:
R
Running Time:
112 minutes
Distributed By:
Entertainment One Studios
For more information about The Sweeney visit the FlickDirect Movie Database.
Read More Reviews For The Sweeney
About Paul Kates