Lincoln Theatrical Review
By
John Delia
,
Nov 15, 2012 01:54 PM EST
A great historical event, but not a biopic on Lincoln.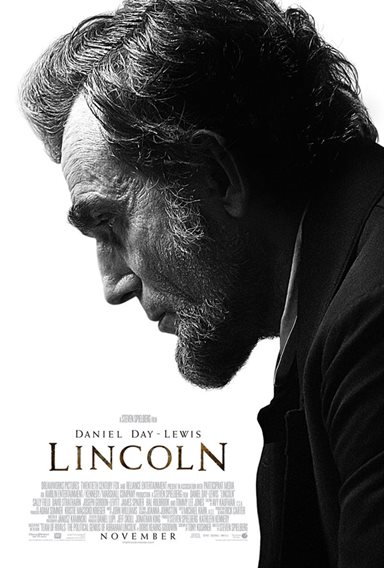 The biopic film Lincoln provides a look at how politics changed the United States in the final months of the 16th President's life. It's a dark boding story that takes you into the heart of a historical political debate, a congress divided and a family being pulled apart. If you like films with educational substance, excellent acting and dark cinematography, then Lincoln should top your "must see" list.

The Civil War continues to drag on with over 600 thousand casualties and there doesn't seem to be an end to the continental dispute. Republican President Lincoln (Daniel Day-Lewis) finds himself getting close to an amicable exit plan, but he wants to tack on an emancipation bill. It will take major compromise on the part of the Democrats in order for Lincoln to win. While the Republicans are pro abolition and start rumors that this would help end the war, the Democrats stand staunch against having slaves freed. They cite several reasons including that it could lead to damaging rights like allowing voting and citizenship for the liberated race.

Needing two-thirds vote of the House of Representatives, a branch of Congress that's nearly equally divided between Republicans and Democrats, Lincoln pressures his leaders to do anything they can to get the 13th Amendment to the Constitution passed. Bringing the amendment to the floor happens to be a challenge, but getting the necessary vote to ratify the Amendment looks daunting. The Democrats are dominating the soap box with slurs and damnation trying to intimidate their opposition on the floor of the House.

Fighting for the Democratic side is New York Congressman Fernando Wood (Lee Pace) who takes the position on slavery of the Southern Confederacy. Extremely vocal in opposition to the Amendment, his fellow Representatives cave at his esteemed elocution. With Pennsylvania's Thaddeus Stevens (Tommy Lee Jones) a radical Republican and three lobbyists, Lincoln sets up a plan to win over the necessary votes needed for ratification. But it would not be easy with time running short and the odds against them winning considered nearly impossible.

The acting by Daniel Day Lewis as Lincoln provides a grim and worn out leader who holds strong during one of the most trying times in American History. Cunning, impatient and obsessed, his Lincoln portrays a man determined to win at any cost so he can end one of the bitterest wars while ridding slavery in a land built on Freedom. Lewis certainly deserves high accolades for his performance and an Oscar nomination would not be out of the question.

Other actors deserving recognition are Sally Field as Mary Todd Lincoln with a controlling performance showing Mary's determination to protect her husband's place in history. Taking on a very pivotal role, Tommy Lee Jones makes his representative from Pennsylvania a shrewd bargainer and staunch articulate speaker without showing smugness that he holds the winning hand in more ways than one.

Director Steven Spielberg spools his film out at a slow pace interjecting snippets of Lincoln's private life, his attendance at the warfront, the eldest Lincoln child's determination to join the Union Army, Mary Todd's involvement, drab monologues and most of all the ugly politics. The film's political battle loaded with a House of Representatives fight that's more embarrassing than constructive. It felt like I was watching the House of Commons in the Britain Parliament yelling across the aisle. Off the mark of showing Lincoln's presidential legacy and instead a political satire and for what, a closing scene so staged there wasn't a moist eye in the house at a recent screening. Was Lincoln the 'great emancipator' or just a crafty politician?

The film Lincoln has been rated PG-13 for an intense scene of war violence, some images of carnage and brief strong language.

FINAL ANALYSIS: A great historical event, but not a biopic on Lincoln. (C )


Purchase a DVD/Blu-ray/4K UHD physical copy of Lincoln today at Amazon.com
MPAA Rating:
PG-13
Running Time:
150 minutes
Distributed By:
DreamWorks Studios
For more information about Lincoln visit the FlickDirect Movie Database.
Read More Reviews For Lincoln
About John Delia