The Incredible Hulk Theatrical Review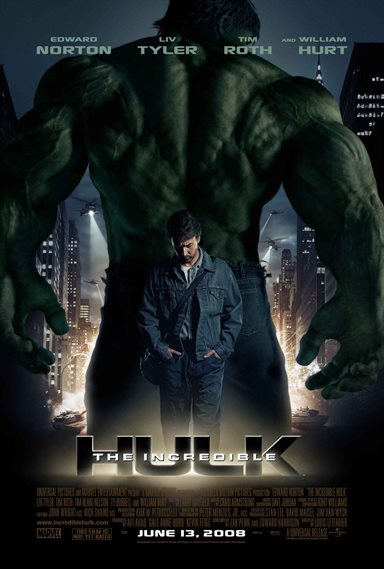 Ever since
The Crow
was released in 1994 and refined the superhero genre, it seems Hollywood cannot get enough of superheroes. This year is no exception with last month's Iron Man, next month's The Dark Knight, and this month's superhero, The Incredible Hulk.
The Hulk has a lot of ground to cover, and Marvel is taking a large chance "rebooting" the franchise after the disastrous Ang Lee "Hulk", released in 2003. This time, the directing goes to
Transporter 2
Director, Louis Leterrier, and stars Edward Norton, Liv Tyler, Tim Roth, William Hurt, and Tim Blake Nelson.
Living in the shadows -- cut off from a life he knew and the woman he loves, Betty Ross (Liv Tyler), Banner struggles to avoid the obsessive pursuit of his nemesis, General Thunderbolt Ross (William Hurt), and the military machinery that seeks to capture him and brutally exploit his power.
As all three grapple with the secrets that led to The Hulk's creation, they are confronted with a monstrous new adversary known as The Abomination (Tim Roth), whose destructive strength exceeds even The Hulk's own.
The film starts off with a perfect homage to the 1978 television series opening credits by perfectly mimicking them and invoking a large sense of nostalgia in the audience and just explodes from there.
What makes a perfect superhero movie is a balance between drama, cinematography, and, of course, action. While Ang Lee's Hulk had the drama, it really lacked all the other elements. This time around, Louis Letterier, performs everything to perfection; never letting up and always giving the audience what it wants.
While the movie clocks in at a running time of 1 hour and 56 minutes, there will supposedly be an additional 70 minutes on the DVD and Blu-ray, which should keep the audience craving hulk for a long time to come.
Also be sure to pay very close attention at the end of the film. You will see a guest appearance by another Marvel superhero and a possible foretelling of a future Avengers' film.
Purchase your copy of The Incredible Hulk today at
Download The Incredible Hulk from the iTunes Store in Digial HD.
About Nathan M Rose
comments powered by

Disqus
Today's iTunes Digital HD Deals